Why Visit Lisbon? 7 Reasons to Visit The Portuguese Capital
ARE YOU ASKING: WHY VISIT LISBON?
In 2017 CNN named Lisbon one of the coolest European cities, and today that still rings true. This Portuguese capital perfectly balances old and new, filled with historical treasures and modern charms. It is a city known for its food, nightlife, colorful buildings, fado music, and friendly locals.
Lisbon is also one of the oldest cities in Western Europe, with a history of 2,700 years. Due to its excellent trading location, the Phoenicians settled in Lisbon around 1200 BC. The city is the second oldest in Europe, after Athens, and is said to be four centuries older than Rome. Can you believe that?
Today it is a city teeming with life. A city is full of color, character, and creativity.
So why should you visit Lisbon? Well, here are just a couple of reasons to visit Lisbon or at least add it to your travel bucket list.
Why Visit Lisbon? The Pros:
Located in Western Portugal, Lisbon lies at the mouth of the Tejo River. It is a hilly coastal capital city that enjoys an average of more than 300 sunny days a year. Lisbon is, among other things, known for its unique historical center, stunning architecture, colorful azulejos (ceramic tiles), and fantastic food.
It also has a fascinating history, filled with rulers, invasions, destructions, and re-constructions. History aside, Lisbon is a fantastic place to visit. So why visit Lisbon? Here are a couple of reasons why we think you should visit Lisbon, Portugal.
1. The Weather Is Great
Why visit Lisbon? Well, as mentioned previously, Lisbon is a sunny city. It is, in fact, the sunniest capital city in mainland Europe. It also has a great climate year-round.
In the summer, Lisbon experiences bright, sunny, and hot summers. July is the sunniest month, with an average of 352 hours of sunshine. The average temperatures during these months range between 25-27°C but can go as high as 30°C. Summers are hot in Lisbon. That is why most people beat the heat by visiting the many beach towns around Lisbon, including Cascais, Ericeira, and Costa da Caparica.
The great thing about Lisbon is that it is equally pleasant to visit during the shoulder seasons. During spring (March to May) and fall (September to October), the temperature is still quite warm, while the crowds are not as bad. During these seasons, expect temperatures to be around 18°C to 22°C.
Nevertheless, if you come during the shoulder seasons, pack some warmer clothes as the temperature drops during the evening and nighttime.
⭐️Insider tip: One of the best times to visit Lisbon is at the end of September. The weather is still pleasant, but most of the crowds have dissipated, and the prices have stabilized. And the party isn't over yet, as plenty of events are still going on. For example, most of the beach bars in Costa don't close until October. Finally, water around Lisbon is the warmest in September, clocking in at a comfortable 20°C—perfect for an ocean dip.
Finally, winter in Lisbon can be quite mild, with an average daytime temperature of 15°C. The nights are, however, colder, especially in December and January. Though the days are chillier, Lisbon is still a great place to visit during the wintertime. However, expect rainfall. If you come during the winter, make sure to rent an apartment with a good heating system—more about this later.
All in all, why visit Lisbon? The city is known for its sunshine and beautiful warm weather. Overall is a great city to visit year-round.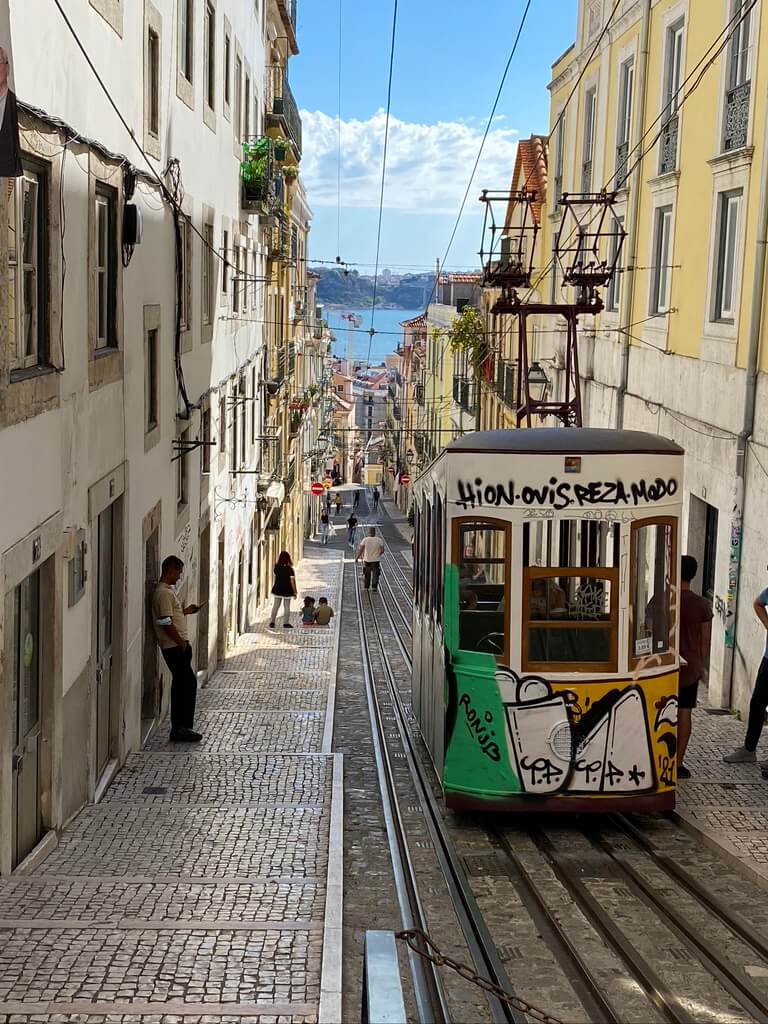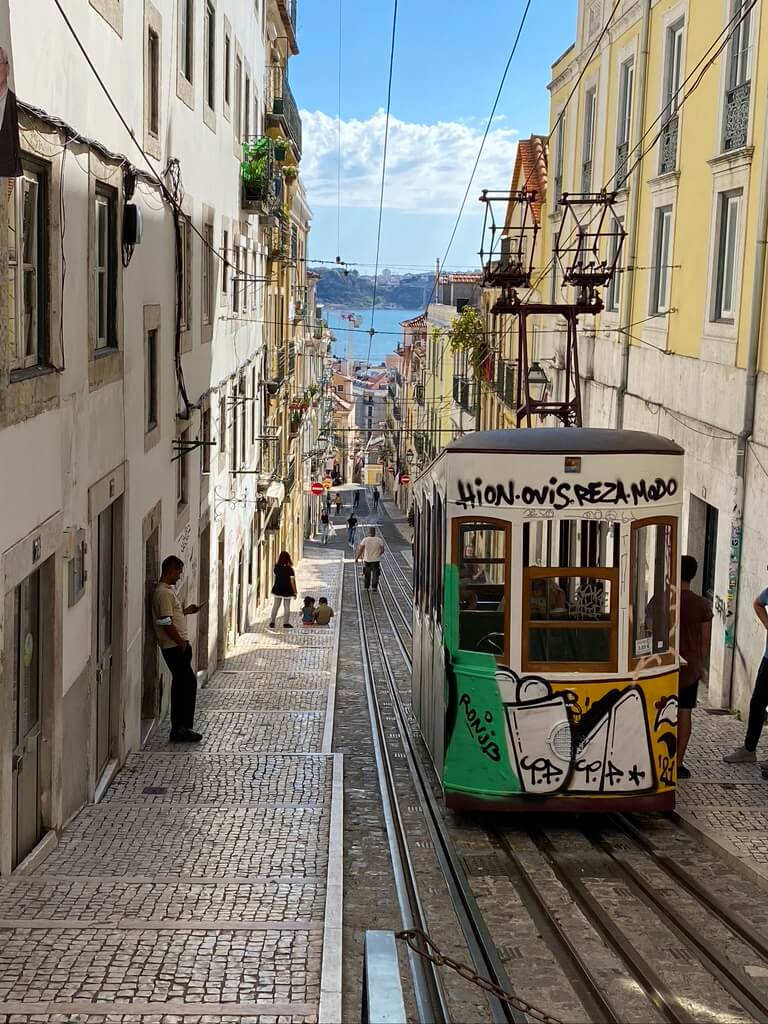 2. Delicious Cuisine
Lisbon is a melting pot of cultures and ethnicities, which also means it is home to many restaurants. Whatever craving you might have, there is probably a restaurant serving that type of food.
But, let's focus on Portuguese food. What food is Lisbon known for? Well, Portugal, in general, is known for its seafood, which includes a Portuguese favorite, bacalhau, also known as salted cod.
Seafood is a must in Lisbon, and if you are Googling restaurants, you've probably already heard of Cevejario Ramiro, which was featured on an episode of Somebody Feed Phil. Although we might not recommend this particular restaurant, there are a lot of traditional Portuguese restaurants that you can try.
Here are some dishes that you should consider ordering:
Bacalhau à Brás: shredded cod, fried potatoes, eggs, onions, black olives, olive oil, and a little parsley.
Pasteis de Bacalhau: cod fritters
Bacalhau à Lagareiro: cod with cream
Polvo à Lagareiro: octopus with olive oil and potatoes
Porco preto: Iberian black pork
Caldo Verde: a popular soup that includes finely shredded collard greens, potatoes, olive oil, black pepper, and salt, mainly flavored with onion and garlic
Bifana: a traditional Portuguese sandwich that comprises a bread roll filled with marinated pork cutlets
Then there is the famous pastéis de nata. Make sure you try one (or five). Also, try the Pastel de Belém, which, if you didn't know, is the original pastel de nata. In 1837, these little cakes were sold by a monastery and quickly became known under the name "Pastéis de Belém." Unfortunately, the recipe was never shared publicly, and to this day, only a few people know it. Those who have learned the recipe have to sign a non-disclosure agreement. As a result, no one has ever been able to truly replicate the original Pastéis de Belém. Thus they created the next best thing, pastéis de nata.
Finally, don't forget about the wine. Some of the best wine in the world is found in Portugal. And we've also put together a list of seven wine shops you can check out on your trip to Lisbon.
3. Great place for nightlife
Considered to be among the best in Europe, Lisbon is well known for its nightlife. Lisbon nightlife is fast making a name for itself as one of Europe's most exciting, innovative scenes. So, whether you're looking to sip cocktails while listening to live music or want to dance the night away, there's something for everyone.
Before we start, let's go through some basic tips. Like many Southern European neighbors, dinner is always a late affair in Lisbon. Late dinners mean later parties. If you plan to go to the bars, make sure to head out after 11 pm. Bars in Lisbon tend to be free entry and open until 3 or 4 a.m. Nightclubs, however, will charge an entry fee and close around 6 a.m.
⭐️ Insider's tip: Lisbon is a hilly city, so make sure to leave the heels and flip-flops at home—you'll thank us later!
If you are looking to party, then there are four key areas that you can head on over to:
Whatever neighborhood you choose, we are sure you will enjoy Lisbon's nightlife.
4. An Eclectic Mix of Old & New
So what is Lisbon famous for? The city is known for its monuments, landmarks, architecture, and museums. But it also has a lot of modern-day charm.
Lisbon is home to the oldest bookstore in the world, the Livraria Bertrand, which opened in 1782. Then there is the Mosteiro dos Jerònimos built in the early 1500s. The monastery, located in the Belem district, is one of the most decorated churches in Portugal. It is also designated a UNESCO World Heritage Site. Then there are the churches, the Sé de Lisboa, built in 1147, and the Convento do Carmo, built between 1389 – 1423.
But along with the old, there is the new, hip, and trendy. Our favorite example is the LXFactory, which transformed a manufacturing complex that housed a fabric company back in the 1800s into a hip, trendy spot filled with restaurants, shops, cafes, and galleries.
Lisbon is about neighborhoods—each with its distinct vibe, ready to be explored. It is a city filled with old and new magic and is the perfect place to wander around and get lost in.
5. The Views Are Unforgettable
Lisbon is known as the city of the seven hills. Yes, walking up all those hills can be a pain, but the views can be magnificent once you get to the top. Also, this is an excellent option for people looking to answer the question: "what to do in Lisbon for free."
Lisbon is home to many different viewpoints or miradouros, each with a different view of the city below. Some even offer views of the April 25th bridge and parts of Margem Sul. Here are a couple of our favorite miradouros: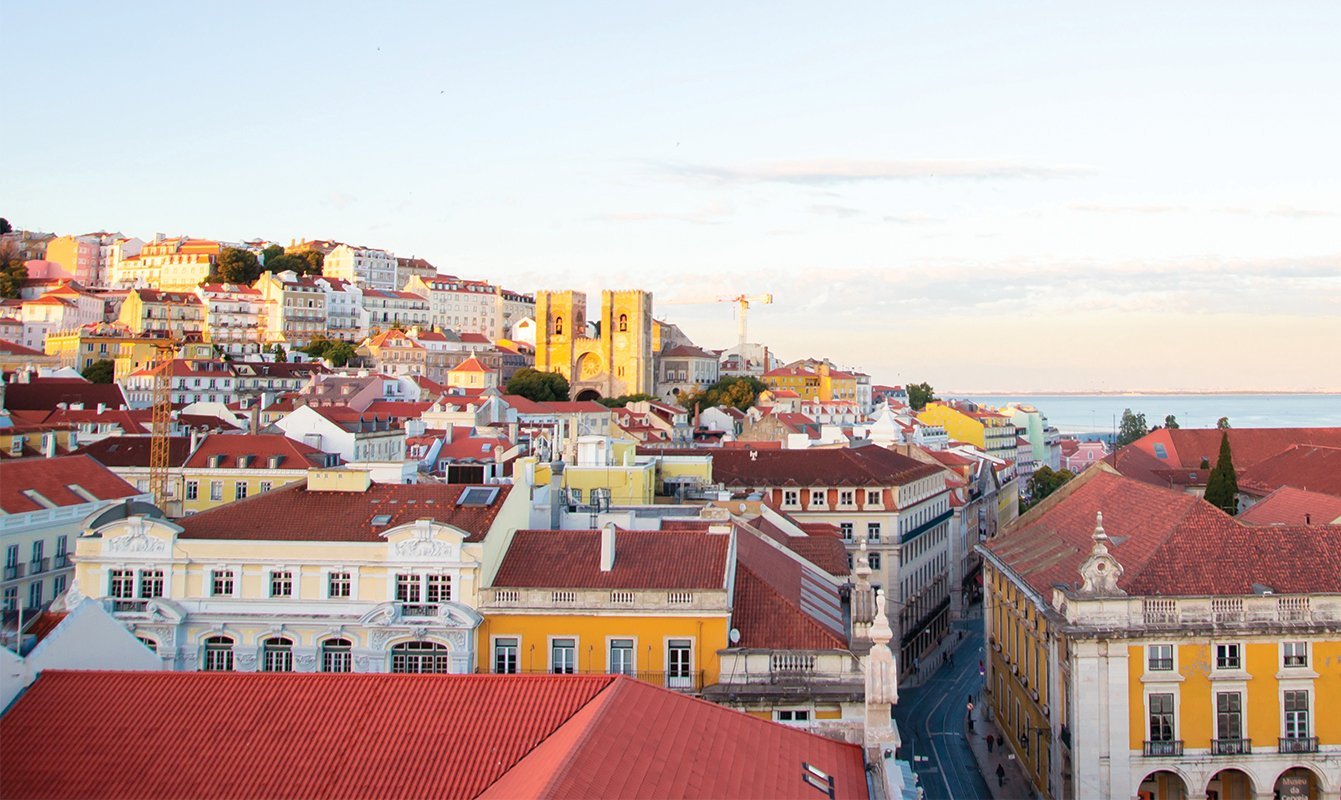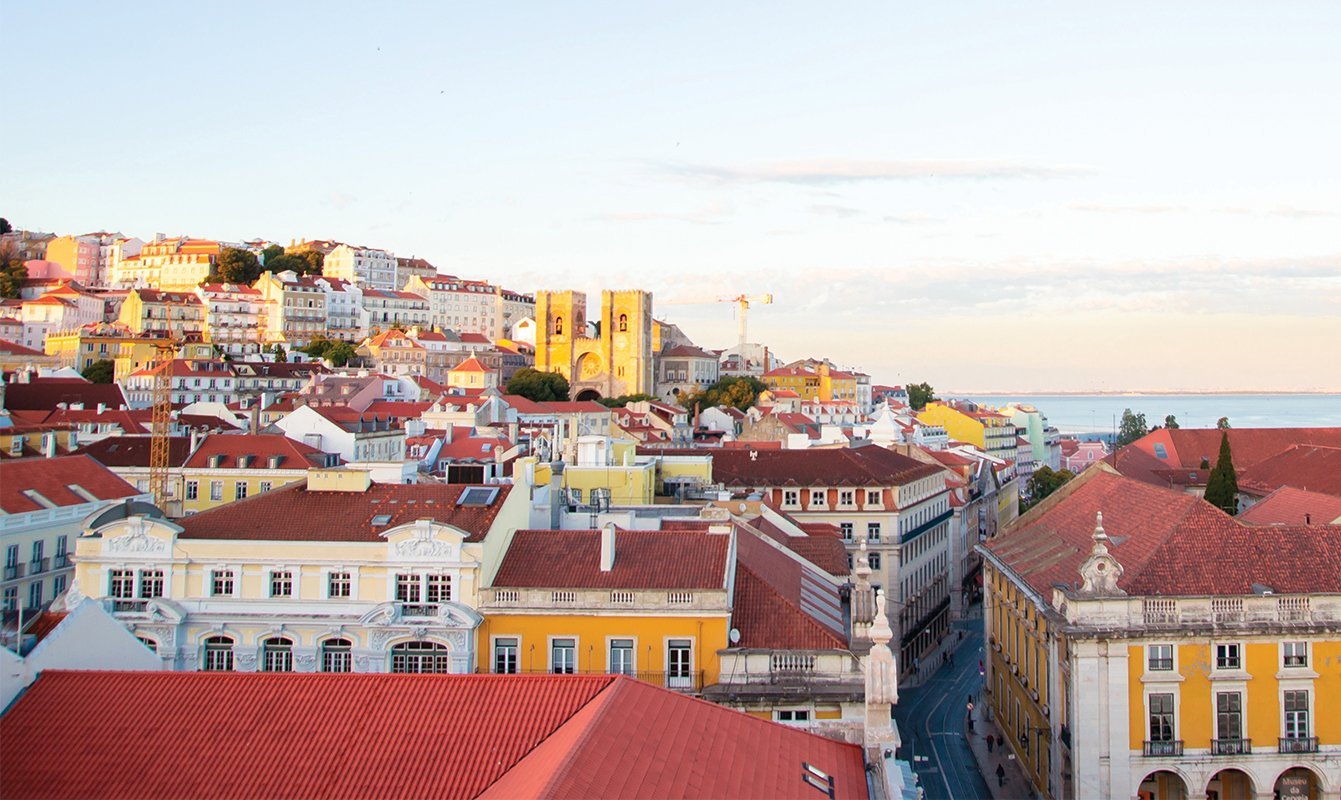 6. Very Well Connected
Why visit Lisbon? Well, it is a city smack-dab in the middle of Portugal, meaning it is the perfect jumping-off point to explore what Portugal has to offer. Many people head directly to Porto, but there are so many different places to visit other than Lisbon and Porto.
If you have a limited amount of time, several day-trip options are available around the city. Our recommendations?
The magical city of Sintra is home to palaces, forests, villas, and ruins.
The traditional Portuguese fishing village of Ericeira is also a popular surfing spot near Lisbon.
The towns of Margem Sul, including Costa da Caparica for surfing, Sesimbra for relaxing (or scuba diving), Azeitao for wine & food, or Setubal for food, wine, and beaches.
The medieval town of Óbidos, where you can also try the famous ginja.
The stunning Berlengas Islands and the surfing town of Peniche.
If you have more time to explore, Lisbon is a great spot to start your Portuguese adventure. Travelers can go south towards the Algarve, stopping off in the Alentejo region, known for its wine, rolling hills, historic fortified towns, and beautiful coastline. Or travelers can go north to explore the Silver Coast from Lisbon to Porto (and beyond). There are plenty of tours from Lisbon to Porto if you are limited on time but still want to visit this magical northern city.
Another option is to go inwards and explore the various cities in Central Portugal, from the Templar city of Tomar to Coimbra, up to Guimarães, the birthplace of Portugal.
The options are endless, so where do you want to go?
7. It is Quite Safe
Being a politically stable, progressive, and liberal city, Lisbon is amongst the safest capital cities of Europe. This doesn't mean it has a zero crime rate—you always have to be aware of petty crimes like pick-pocketing and drug trafficking.
Remember to avoid excessive drinking, stay away from drug pushers, and always be aware of your surroundings. Also, please do not be rude or insensitive to locals. If you do visit Lisbon, please be a responsible traveler.
Finally, is Lisbon safe for LGBTQ+ travelers? Well, Lisbon is amongst the most gay-friendly travel destinations in the world. It is also emerging as one of Europe's top destinations for LGBTQ+ travelers, with many LGBT-friendly bars and clubs opening their doors in recent years. Some bars we recommend include Trumps, Shelter Bar, and Posh Lisbon.
Why Visit Lisbon? The Cons
The above-stated reasons to visit Lisbon do not mean the city is without any faults. Below are the things you should know before visiting Lisbon and can answer the question: why visit Lisbon?
1. The Hills & Streets
Lisbon is perched on seven hills. And although the views are magnificent from above, it can be quite exhausting walking up all those hills—especially during the hot and humid summer months.
If you are a person that loves to hike or walk uphill, then Lisbon is the city for you—but for most of us, it can be a challenge.
Lisbon is a walkable city. However, it also has a great transportation system if you aren't keen on walking. Hundreds of eager tuk-tuk drivers can easily zip you and your family up any of the steep hills. Last but certainly not least, UBER works well in Lisbon and can be cheap.
Remember, Lisbon's steep, narrow, cobblestoned streets are not for the faint of heart. They are also not made for high heels or flip-flops. If you plan on coming to Lisbon, switch out those heels or flip-flops for more sensible walking shoes—your feet will thank you. Finally, if you are traveling with kids, consider leaving the stroller at home or come with other options.
2. Lisbon Has Become Overcrowed
For many tourists, Portugal has become a bucket list destination. In 2019, 27 million tourists visited this relatively small country. The majority went straight to the cities, including Lisbon.
Trish Lorenz, a journalist and resident of Lisbon, states, "In both Lisbon and Porto, the central downtown areas have become more or less only for tourists. Lisbon's Baixa district, for example, which covers an area of 1.5 square kilometers, now has more than 70 hotels, while tourist-oriented restaurants, souvenir shops, and big international brands have displaced local businesses."
What does this all mean? Queues, crowds, tourist prices, and ultimately a lack of authenticity.
In the summertime, streets in the central area are flooded with tourists, almost elbow-to-elbow, making the experience in the city much less magical. In a sea of tourists, we recommend going off the beaten path a little. And when Lisbon gets a little too much for you, opt to explore lesser-known cities and areas instead of going to the obvious places, like Sintra and Cascais.
There is so much more to Portugal than Lisbon and Porto. And if you want to beat the crowds, maybe come during the shoulder season.
3. Lisbon CAN Be Expensive
One of the reasons you might question why visit Lisbon is the price. Unlike many European capitals like Paris and London, Lisbon can be less expensive. However, prices have increased drastically due to overtourism and an influx of digital nomads and ex-pats who have recently to the city.
The assumption usually is that Lisbon is a "cheap" place to travel to, but that isn't necessarily true.
Nowadays, prices for hotels, restaurants, and activities can rival other top European destinations. Like any city subject to overtourism, tourist traps have also multiplied. These establishments have brought with them higher prices. For example, a cocktail at a bar with a view can cost around €10-15. Dinner at an upscale restaurant can run you over €200 or more.
However, the trick is to avoid tourist areas and instead look for local bars, restaurants, and activities. The price will be drastically different, and the experience will likely be more authentic.
So, is Lisbon cheap? No, but it doesn't have to be expensive.
4. Parking Is A Nightmare
If you travel to Lisbon by car, beware of the parking situation. No matter what neighborhood you stay in, parking can be a nightmare.
Lisbon's narrow, winding streets are not meant to make parking your car easy. Be extra cautious about where you park and whether you need to pay for parking. Some hotels offer parking at an additional cost, but this cost can be upwards of 15-18 euros per day—which is a little insane.
Also, there are specific streets where only residents can park. If you leave your car overnight on these streets, you may not only get a ticket but a boot on your car. And getting that boot off your car can be an incredibly frustrating and expensive experience.
The takeaway is to read all the signage on the street before parking your car. And if in doubt, ask a local.
5. Lack of Central Heating
Central heating is not common at all in Lisbon. Houses and apartments in many of the tourist areas are older buildings that have been renovated but are often still poorly insulated. These buildings almost never have central heating of any kind, although some may have an air conditioning unit with a heat function.
This is not a problem during the summer months, but if you plan on renting an Airbnb apartment in the wintertime, then make sure to double-check what type of heating system is installed in the unit. However, this is not a problem in most hotels.
Now that you have read our pros and cons, have you decided: why visit Lisbon?
Final Verdict: Why Visit Lisbon
So why visit Lisbon? Lisbon is one of the most beautiful cities in Europe, filled with stunning architecture, gorgeous museums, delicious cuisine, and unique attractions.
However, if you plan on coming to the city, we recommend sticking around for 2-3 days and then moving on to another part of Portugal. Lisbon is a relatively small city, and you can see everything that you need to see during this period of time.
If it is your first-time visiting Lisbon and you want to see as many spots as possible, then purchase the Lisbon Card. The card gives you free access to the public transportation system for 24, 48, or 72 hours. It also gives you free access to many top attractions in the city and is even valid on trains going to Sintra and Cascais.
So have we answered the question: why visit Lisbon? Are you convinced yet?
Lisbon is worth visiting with its perfect weather, incredible architecture, ancient history, and modern hipster vibes. Once you come here, you will fall in love with its magic. We hope this article helps you with your answers on why visit Lisbon! So is Lisbon worth visiting? What do you think?
Also, if you are planning a trip to this city, this Ultimate Guide to Lisbon will help you.