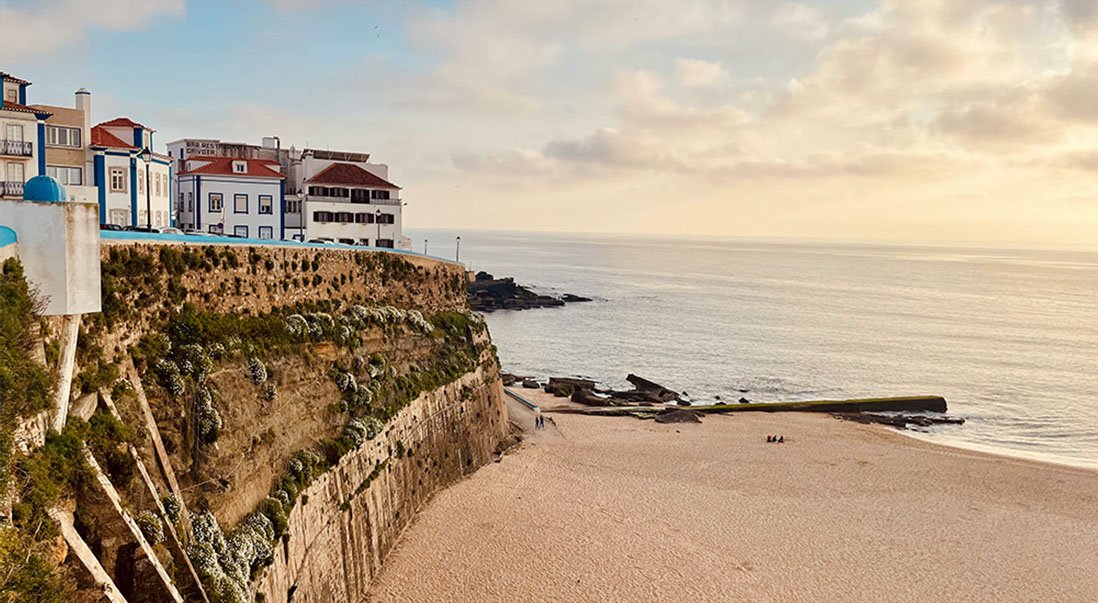 Also known as "Onde O Mar É Mais Azul" [the place where the sea is the most blue], this small beach town has everything you need including, beautiful beaches, epic landscapes, heavenly gastronomy, animated nightlife, rich Portuguese culture, and its biggest attraction: unforgettable surf conditions.
In 2011 Ericeira was named as an official World Surfing Reserve by the Save the Waves coalition. By then it was only the second World Surfing Reserve in the world, and until today still the only one in Europe. It was chosen because of its high quality and consistent waves, special environmental characteristics, and the town's significant culture and surf history.
In this ultimate guide to Ericeira, prepare to get all the information you need to spend an epic time in this little surf town. We are covering things like restaurants, accommodation, bars and of course beaches and the best surf spots.
First things first, a little historical background knowledge is in order:
The history of Ericeira dates back to around 1000 BC. Its first charter date of 1229 was granted by the then Grand Master of the Order of Aviz, Dom Frei Fernão Rodrigues Monteiro, who thus instituted the county of Ericeira.
Legend has it that the name Ericeira means, originally "land of sea urchins", due to the numerous sea urchins that abounded on its beaches. However, more recent investigations point to the hedgehog and not the sea urchin as an inspirer of the name. This animal is a small, spiny mammal of the subfamily of Erinaceanie. "Ouriçio-caixeiro" is its Portuguese name and is associated with the Phoenician Goddess Astarte.
Ericeira was such a famous spot for bathing thanks to the saying that it was a focus of major concentration of iodine on the Portuguese coast. The beaches were frequented by the Queen herself Maria Pia of Savoy and the Royal Family in the 1800s. The bishop of Coimbra took regular baths in Ericeira as well.
Dom Manuel II, the last king of Portugal, and the Portuguese Royal Family escaped the October 5th, 1910 revolution by fleeing on the royal yacht Amélia IV that was docked at the Praia Dos Pescadors in Ericeira. The monarch was only 20 years old at the time and was accompanied by Queen Amélie of Orleans and Queen Mother Maria Pia. He lived the rest of his life in exile in England.
At the end of the 19th century, Ericeira had an exponential economic growth due to its popularity with Lisbon's local aristocracy who began to build their vacation houses in and around this fisherman's town.
The development of the commercial port also had a big impact on Ericeira's economy. It became one of the most important ports in the country—exporting principally wines and spirits. However, due to the inauguration of the western railway and the popularity of land transportation the port lost its strategic edge and returned to being a fisherman's harbor.
Ericeira is a small village, and everything is pretty close, which makes it easy going around just walking and enjoying the views if you prefer taking Uber for traveling to the town the prices are really cheap, no more than 6 euros for one side to the town to the other and the service works perfectly 24 hours.
HOW TO GET TO ERICIEIRA
Lisbon to Ericeira: There are many options to get to this surf town, including:

Take a Bus → take the bus from the Campo Grande terminal, located near the Lisbon airport. It takes 1 hour 47 min and costs around 5 to 8 euros. Buses run every 90 minutes from 8 am to 11 pm.
Rent a car → Renting a car in Lisbon airport is the most comfortable way to travel to Ericeira if you are bringing along luggage and a surfboard. If you want to discover the surrounding area and little villages close to Ericeira then renting a car is your best option. You can go all along the coast to the south and visit Cascais or to the north to visit Peniche (another surf town).
Take a Taxi → a taxi ride takes around 50 min and costs approximately 75-95 euros.
Uber → Taking an UBER is also 50 min and costs around 40 euros with the regular size car and the UberXL is around 60 euros.
BEST TIME TO VISIT
May – June; September – November if you want to surf (obviously, you can visit during other seasons)
Ericeira is located next to the Atlantic Coast and has its own microclimate. The region is about 5 degrees colder than Lisbon and windier than most regions in Portugal. This means that it doesn't get too hot in Ericeira, but the weather can change suddenly. The weather in Ericeira is highly unpredictable. The nights are also cooler, so it is important to pack long pants and a sweater for those chillier nights.
The best time to visit Ericeira is between May and October. July and August are the real high season. Lots of sunshine, lots of daylight hours, lots of north/west winds, and lots of foggy mornings. If you are looking to surf, the best months are September to November. These months are, in general, good for surfing, and the weather can still be warm and sunny. Sunsets can be spectacular. Then there is the winter, which isn't too bad, but don't expect many sunny days. Winters in Ericeira are humid, cold, and can be rainy.
WHAT TO WEAR
Our biggest advice when it comes to this lovely town is always to have a sweater and pants packed even if it's summer season. Also, make sure to always have some cash on hand as some delicious locals establishments only accept Portuguese cards.
may // june
This is the spring season in Ericeira. All the flowers are blooming and the views in the cliffs are amazing, perfect for doing some hiking and biking tours. In these months it can rain a lot but when the sun comes just looking at the views is totally worth it. What should you pack then?
Sportive clothes and comfortable shoes perfect for those hikes
Pants and sweaters for the chilly nights
Shorts and light clothes for the hottest days
A swimsuit is always a must in Ericeira
Your favorite shirts and t-shirts
Hat and sunglasses and all those accessories you prefer for protecting yourself from the sun
And some cash, remember some locals don't accept international cards
july // august
The summer season is also the high season in Ericeira. Summertime means a lot of sunlight, beach, people and a lot of fun. It is by far the best season if you like to meet new friends, go surfing and just enjoy the party vibe and all that this town has to offer. Make sure that you pack:
Swimsuit, glasses, sandals, hats, sunscreen, wetsuit, and your board for enjoying the beach days the most
Light sweaters for the nights
Water, you will need it (trust me)
Nice summer dresses and for guys nice shirts for the night and day parties
Money (again)
september // october
The days start to become shorter as Autumn arrives in Ericeira and the temperatures start to drop. Make sure you pack:
Beach items, still amazing days for going to the beach and the waves are more beginners' friendly
Sweaters, jackets, and warm clothes
Comfortable shoes
Light clothes as shorts and t-shirts because there are still a lot of summer days to enjoy
Money
DIGITAL NOMAD LIFE
Ericeira has a fast-growing digital nomad community. So what makes this surf town so special for remote workers? Let's look at the main reasons:
Relaxed beach vibe
English is widely spoken. Even if you don't know any Portuguese, everyone speaks English. The town is full of expats and friendly tourists and an already a thriving
Locals are friendly and open to tourism.
Ericeira is full of activities such as surfing, yoga, hiking, mountain biking, and volleyball. There is always an outdoor hobby you can do.
The town is known for hosting multiple events like markets, networking sessions, parties, beach cleanings, meditations, skate events, and much more.
Fast internet connection, the average speed in Ericeira is 36 mbps. Internet service provider: Nos, Meo, Claranet, Vodafone and Artelecom.
A number of great co-working and co-living spaces have opened up over the years, including:
If you prefer to work in a coffee shop instead, then why not try:

58 Surf Shop (Nacional 247, 2655-483) → Quiet and perfect to work
Dear Rose Cafe (R. de santo António 12A)
Ribeira d'ilhas Surf Restaurant & Bar (Estrada Nacional 247) → Sea View
Sunset Bamboo Ericeira (Travessa do Jogo da Bola, 3)
Pu.ro (Rua central 16, Ribamar) → Next village 10 min from ericeira beautiful to relax and change views
7 desejos (Tv. Mar de Sargaços 1, 2655-319)
Brunch me (Rua 5 de outubro, 22)
ACCOMMODATIONS
This town is one of the most affordable places to live or spend a couple of days/weeks on vacation. The town has many co-living spaces, hostels, long-term apartments, and Airbnb options. The majority of the places truly take the surf culture into consideration with their interior design.
Long-term Renting
If you are looking to rent something long-term then the prices can vary depending on if it is high or low season. The average monthly price for a T2 is around 800 euros and 1100 euros for T3. In high season the prices normally increase by 100 to 200 euros. Be aware that some landlords rent apartments either in the high season or low season—but not both. For example, they'll rent an apartment from December to May, but once the high season starts they'd rather rent out the property weekly or daily. This is simply because they can make more money during the summer months.
These are some places where can find the perfect house or apartment:
Hotels and hostels
Ericeira has plenty of options in terms of hostels, beautiful hotels, apartments, and even beach houses, these are some of our favorites options:
Hotels
Hostels
WHERE TO SURF
Surf, Surf, and more surf. Surfing is one of the major attractions of this town. Ericeira is a surf town through and through. When walking through town, for example, you'll notice how much surf really influences the town.
As mentioned previously Ericeira is home to some of the best surf spots in Europe. And whether you are a beginner or an expert surfer, there is something there for you. In fact, there are over 65 surf spots located in Ericeira!
If you are thinking of coming to surf, remember that the sea in Portugal is cold. So make sure to pack, buy or rent a 4/3mm wetsuit for the winter months or a 3/2mm wetsuit for the spring and summer months. It is also important that you have special surfing shoes because the sea has some sharp rocks. Last but certainly not least, ALWAYS use sun protection (and make sure it's reef-friendly). We recommend Swox, which is locally produced in Portugal with the surfer in mind.
Now that we've covered that, let's look at some surf spots depending on your level:
Beginners
Foz do lizandro → One of the most beautiful surf beaches around. It's also the perfect location if you fancy eating something delicious or having cocktails in one of the many bar restaurants are a long day of surfing. The beach itself has a lot of peaks with both lefts and rights. It also has sand bottom so is recommended to go in mid-tide. The exit point of the Rio Lizandro is where you'll find some of the best waves for beginners in Ericeira
Sao Juliao → Long sandy beach where you can find a wave even when most of the beaches are flat. It is truly a beginner's jewel.
Praia do sul → This beach is recommended for beginners with some surf lessons already under their belt. The waves are easy but strong.
Intermediate
Matadouro → This beach is located right in front of one of the biggest surf shops in Ericeira, 58. It offers left-hand rides and has many peaks. It is definitely a fun place to surf.
Ribeira D'ilhas → One of the most famous and recommended beaches, Ribeira D'ilhas is always full of tourists and life. Even if you don't surf, make sure to come to check it out as the sunset and food a 10/10.
Sao Lourenco → Reef break with multiple peaks but the most consistent is a right hand on the right of the beach. It is a big wave spot with huge swells. It can hold up to 5 meters, more than any other break in Ericeira. Not for beginners. It is also located in the north of Ericeira next to the town of Ribamar.
Advanced
Coxos → The wave at Coxos comes from deep water, resulting in a powerful wave that unloads on a series of rocky shelves. It is indeed a legendary beach. Coxos is a right-hand point break and is not for the faint of heart.
Cave → A right hand reef break only for the most experienced surfers
Praia da Empa → Famous for breathtaking tubes and powerful waves
Another beach recommendation for spending the day and just relaxing:
Praia Pescadores → Perfect for going with small kids as it is the flattest and central beach in Ericeira.
SURF SCHOOLS
OTHER ACTIVITIES
If you don't surf, then don't worry, there are plenty of other activities that you can do in Ericeira. Here are just a couple of options:
Bike tours → Ericeira is full of cliffs and natural paths. Biking is the perfect way to exercise and enjoy the view at the same time.

Seasidebike (+351911 738 431) is the best bike tour and rental company in Ericeira. Make sure to book a sunset tour that includes a table reservation at 58 Restaurant.

Beach Volleyball → Beachvolley Ericeira is a group that plays at Praia do Pescadores and Praia Foz de Lizandro. They play every Thursday at 18h00 and Saturday at 11h00
Stand-up Paddleboarding → the Lizandro River flows into Foz do Lizandro beach and is the perfect place for stand-up paddling.

Ericeira SUP offers a variety of experiences, including river, ocean, or harbor experiences.

Hiking → Is a must. Ericeira is full of natural paths all over the coast. Our favorite one is the Coxos trail that ends at Ribeira D'ilhas beach.
Yoga → Besides surfing, yoga is the second most popular activity in town. You will find in every corner! There are a lot of schools and hostels that offer a variety of different yoga classes.
Padel → A little similar to tennis, padel is easier to play and learn.
Skateboarding → When there is no surf, but you still want to ride something, go skateboarding! Right outside the Quiksilver store -with bar and terrace- there's a big concrete skatepark that's open for everyone. You can even check the waves at Matadouro and enjoy the sunset from here.
Visit the Mafra's National Palace → Built in the 17th century and classified by UNESCO as a World Heritage Site in 2019, the Palace stretches over 40,000 m2 in the center of Mafra.
FOOD & DRINKS
Ericeira is a fisherman's town, so seafood is one of the more popular options in most restaurants. The seafood here is not only delicious, but it is fresh. Make sure to order shrimp, fish, or mussels and pair it with a good glass of local wine. Perfection. The gastronomy of this town is full of surprises, including a range of exquisite local and international restaurants. Here are some options:
B r e a k f a s t // B r u n c h
GiG – Green is good (Tv. Misericordia 16) → is a healthy breakfast concept
Brunch me (R. 5 de Outubro 22) → Nutella crepes and a cappuccino is a must
Sunset Bamboo (Tv. Do Jogo da bola 3) → Try the avocado with poached eggs toast
Dear Rose Cafe (R. De San Antonio 12A) → Best coffee in town
Pão da vila (Praça da República 12) → located in the main street makiing it perfect for breakfast
Kayak bar (Praia dos pescadores, 2655) → Beach bar with chill music
L u n c h // D i n n e r
Low Budget Restaurants
Lebre Escondidinho (Rua da Misericórdia 3) → Prego lebre (meat sandwich) with a beer is the perfect combination.
Calavera – Mexican Food & Tequila bar (R. dos Ferreiros 2) → Nachos and the Pollo Loco taco 10/10
Lucky Star (Largo da Fonte do Cabo n.11) → Chinese and sushi buffet
Tasquinha do Joy (Largo das Ribas n. 34) → Delicious seafood
Mid-Range
Tik-Tapas (R. do ericeira 15) → Famous tourist restaurant with meat and seafood options
Adega bar (R. Alves crespo 3) → Tapas restaurant, try the cheese with honey, flaming sausage and pica-pau (meat with vegetables)
Cervejaria 7 janelas (R. 5 de Outubro 11 rc) → Try the filet mignon with beer sauce
Cucina 37 (R. Prudencio Franco da Trindade 18) → Small Italian restaurant
UniSushi (R. da fonte do cabo 44A) → Central sushi restaurant
Pepe Verde Pizzeria (R. Mendes Leal n.22) → Order the Burrata and Portofino pizza
Barbatana (Rua do Passadiço, bar 2) → Sea view
Maika'i (Av. São Sebastião n.36 – B) → Live music and the menu is delicious
Expensive
Mar de latas (R. Cap.Joao Lopes 24A) → The meat and seafood is just a dream
Avó (R. dos Ferreiros n.6) → Typical portuguese
PRIM (R. 5 de Outubro 12) → Meat and portuguese
Casa Portuguesa (R. 5 de Outubro 8) → Typical portuguese
El Chilito (R. da Boa Vista 3) → The restaurant of the hostel Selina, Mexican food and amazing drinks
Jangada (R. das Silvas, 2655-431) → You and the sea restaurant
Pedra dura (R. Dr. Eduardo Burnay 36A) → Trying the meat is a obligation
Ti Matilde (R. Dr. Manuel Arriaga 29) → One of the best seafood restaurant with a seaview
Miyabi Sushi by Rodrigo Mattos (R. Dr. Miguel Bombarda) → The best sushi chef in town
Golfinho Azul (R. das ribas 24) → Seafood with a beautiful view
Indigo (R. Dos Ombros) → Live music and the view from Praia Foz de Lizandro
Predio (R. Do Caldeira n.62) → Rooftop
B a r s // N i g h t l i f e
The nightlife in Ericeira is amazing. All the tourists and local people get together to appreciate the live music, drinks, and spectacular food. Here are some of the best bars to
Jolly Good Fellow (Rua dos Ferreiros 5) → Small bar frequented mostly by locals
Tubo Ericeira Bar (Tv. da Esperança 3) → Outside tables
Oh la la (R. Dr. Eduardo Burnay n.32) → Instagrammable bar
Jukebox (R. Dr. Miguel Bombarda)
Barzinho (R. Sao Joao 18) → Located in Ribamar, 15 min away from Ericeira. Live music and very good local tapas.
Boardriders (Largo Sao Sebastiao 36A) → Friday, after a surf session, enjoy live music at the biggest surf shop in town
Ouriço (Tv. Do Caminho Novo 7) → The oldest nightclub in Portugal
SHOPPING
Ericeira is full of small local stores which sell second-hand clothes, surf gear, kombucha, vegan food, art, and much more. This little surf town and its small and winding streets, painted in blue and white colors, make shopping even more enjoyable. There is nothing better than getting lost and stumbling upon a quaint little shop filled with local trinkets. So make sure that you get lost and explore! We promise you won't regret it.
Make sure to check out Mercado Municipal, which is a three-story building located close to the main square. The market is not very big, but they do have everything from flowers, fruits, and vegetables to meat and fish. On the second floor, there are a couple of handicraft stores.
// Hope this guide is helpful for you, and the last thing to do is just pack and start the trip to Ericeira.
Boa Viagem!
…
Photos in the articles were taken by: Bruna Click Photography & Marina Rosa