40+ Best things to do in Albufeira: The Ultimate Guide

LOOKING FOR THE BEST ALBUFEIRA THINGS TO DO?
Albufeira has quickly become one of my favorite cities in all of Portugal — at least during the shoulder and off-season. Summer can be crazy, but that shouldn't dissuade you from coming and exploring this Algarve city.
So why do I love it? It's simple. Albufeira's central location makes it the perfect base for Algarve adventures. It's not just about the convenience, though; this city is a treasure trove of experiences.
You'll find everything you need here – cozy cafes, lively bars, and restaurants that offer an array of delicious cuisine. The natural scenery? Absolutely breathtaking. Think stunning beaches and majestic cliffs, each offering its own unique view.
But what should you do in Albufeira? Welcome to ULTIMATE travel guide for Albufeira — it's around 10,000 words long 🤯🤯🤯 so make sure to bookmark it and use the table of contents!
It's your one-stop shop for planning the perfect Albufeira adventure, ready let's go!
Top Things To Do in Albufeira
1. Albufeira Old Town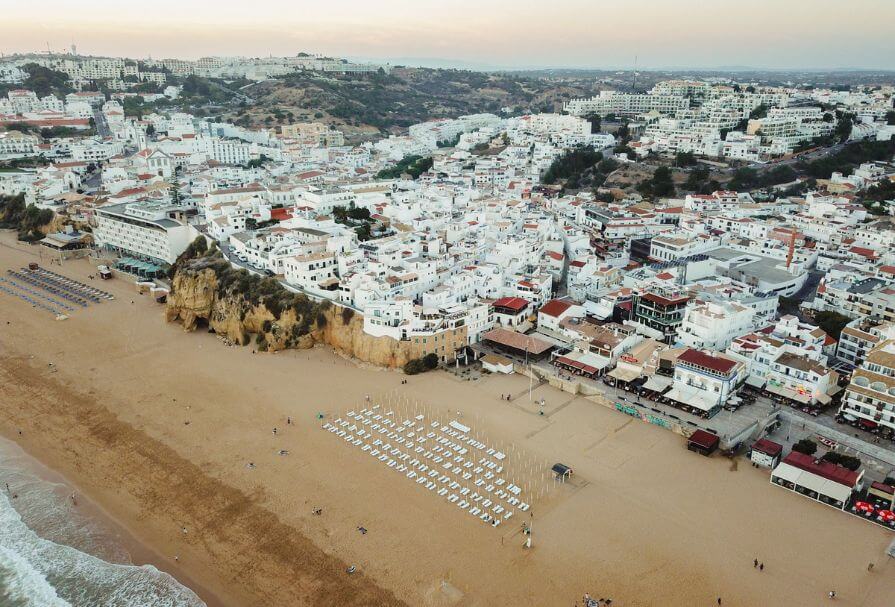 Albufeira's Old Town is charming yet bustling with restaurants, bars, and shops. While the city has become more of a resort town in recent years, Old Town shows off what the city once was — a quaint fisherman's village.
Wandering the cobbled old Albufeira town streets is a great way to taste the city's vibes. Start in Old Town Square (Jardim Público de Albufeira), the city's beating heart, but then work your way away from that center.
It's down smaller alleyways where you'll find the whitewashed buildings of a picture-perfect Portugal. Don't be afraid to get a little lost in them.
One of the best things to do in Albufeira old town is to wander around during the daytime, but if you're looking for a party after dark, this is where you'll want to be. In its peak summer months, Old Town in Albufeira bars overflow with tourists and can get very rowdy.
2. Albufeira Tunnel
Albufeira Tunnel is a unique stretch that connects the historical world of Old Town to the natural world of Praia do Tunel. The tunnel is completely pedestrianized and lit up at night. Passing through it is a fun transition between these two sides of Albufeira.
The man-made tunnel cuts through 20 meters of cliff (about 20 yards) under the Sol e Mar hotel. Note that, to access the beach, there are a few steps down, so the route is not completely accessible for anyone with limited mobility.
The beach you'll come out to on the far side is officially called Praia do Peneco but is more commonly referred to as Praia do Tunel — so don't be confused if you hear both names —they're the same place.
3. Private Yacht Cruise
Whether you are looking for things to do in Albufeira with kids for a special family occasion or just a decadent afternoon out with friends, going on a private yacht cruise is the perfect treat to enjoy during your visit to Albufeira.
You'll get to lounge out on the luxury 55-foot yacht and customize your day's itinerary according to what you want. The cruise will bring you past the famous and picturesque Benagil cave as well as the Alfanzina Lighthouse.
4. Tuk-Tuk Tours
Albufeira is small but incredibly hilly. So instead of walking around or calling a UBER, another option is to hail town a tuk-tuk to take you from point A to point B.
You can take a tuk-tuk for a short trip, but you can also book a tuk-tuk tour to take you to some of the best spots in and around Albufeira.
For groups of up to 6, join Tony on one of his Tuk-Tuk Tours where you'll see multiple highlights, including The Strip, the Old Town, the Fishing Port, and the Marina. Alternatively, if you want a unique experience this tour will take you down the coast and interior of Albufeira, and you'll also stop for a traditional Portuguese lunch.
⭐️ UBER drivers tend to cancel trips, especially if it's a short trip—it's just not worth it for them. When visiting Albufeira, it might be easier to take a tuk-tuk or walk wherever you need to go.
5. Take a Boat Tour
Experience the essence of Albufeira by indulging in Albufeira activities like organized boat trips, the perfect stress-free way to admire the breathtaking coastal scenery.
Combine sightseeing by land and sea on this tour, combining a jeep safari with a boat tour. Absolutely, everything will be handled, with hotel pickup and drop off and transportation between villages, farms, and a tour to Benagil Cave.
Alternatively, enjoy a scenic day cruising the coast on this all-inclusive tour. You will visit the famous Benagil Cave and secluded beaches that can only be accessed from the sea. You'll also stop for a beach BBQ.
6. Peneco Beach & Elevator
The Paneco elevator allows easy beach access and exceptional views across the water. Behind the elevator is an extended viewing platform about 28 meters, or nearly 100 feet, above the beach.
The elevator is free to ride and enclosed in glass, so you can enjoy the views all the way down (or up). The elevator not only saves a whole lot of sweating as you go up and down the stairs, but it also makes Paneco Beach accessible.
The elevator grants access at the west end of Paneco Beach — the same beach as the Albufeira tunnel, which is to the east, in the middle of the beach.
7. Parasailing
Experience the contrast of the golden brown cliffs with the twinkling blues of the sea on this once-in-a-lifetime parasailing adventure in Albufeira. Seeing the Algarve coast from the land is beautiful, from the sea is awesome, but from the sky is something else entirely.
You'll head out on a boat with your group, and once you're out at sea and appropriately briefed, you'll get into the right gear and go up into the air for a 10-minute parasailing ride. The maximum height you'll reach is about 80 meters, or nearly 270 feet, above the water.
8. Rent a Jet Ski
For anyone looking for more adrenaline rush on the water, a jet ski rental may be just the answer. You'll pick up your jet ski in the marina and head out for up to 30 minutes.
Before leaving, you'll be told all about how to operate the jet ski, and you'll be given a full safety briefing and a life vest. You can ride the jet ski solo, or two people can go out together.
9. The Strip & Estrada de Santa Eulália
Have you heard of the Albufeira Strip? Also known as Avenida Dr. Francisco Sá Carneiro, it is a popular area known for its lively (often crazy) nightlife. The Strip is a long avenue lined with various bars, clubs, restaurants, and shops.
The Strip is a party zone, where the atmosphere is intense and energetic well into the early hours of the morning. Recently the Estrada de Santa Eulália has been dubbed as the Albufeira new town strip.
⭐️ Travel trip: one of my favorite American-style restaurants in Albufeira is the Bull Dog Bar on the Strip—it is also the place where I've had the best ribs of my life. This family-owned business is small, with limited seats, and has great portions for great prices. Make sure to bring cash 💵 .
10. Dolphin Watching
Several species of dolphins make the Algarve coast their home, including the 'smiling' bottlenose dolphin. So, if spotting dolphins in the wild is on your bucket list, Albufeira is the perfect place to set out on a dolphin watching cruise.
Hop aboard this tour on a small boat that can move quickly through the water to get you to a pod of dolphins as soon as they've been spotted. In addition to dolphin spotting, you'll visit the Benagil Cave and stop for a dip in the ocean.
For an opportunity to see dolphins and explore the caves and grottos of the coast, plus a stop at Beach of Carvoeiro, this half-day tour is the perfect one to book. After exploring the rocky coastline, you'll get to cruise along in hopes of spotting a pod or two at play.
11. Professional Photoshoot
Albufeira is stunning—the beaches, coastline, and limestone cliffs are the perfect backdrop for a professional photoshoot. Introducing Nahal, the founder of Beyond Passion Photography.
Nahal is an Algarve and destination photographer. But she is much more than that—she is a storyteller who finds the true perspectives at the right time.
But why book her? Beyond her incredible eye and photography style, she provides many photos available a week after your shoot. She even gives you preview pictures (around 20) within 24 hours of your shoot.
12. Shopping
Itching to go shopping? Well, you'll have plenty of options in Albufeira. First, the Albufeira old town square shops are filled with leather goods, knick-knacks, and straw purses made in Portugal and Morocco. Another central shopping spot is the Av. da Liberdade shopping street.
But if you are searching for something larger, there are a couple of options within driving distance of Old Town Albufeira. Algarve Shopping is a big mall that is around 6km (3.73 miles). Home to around 100 stores, you can find everything and anything you need here.
A little bit outside of Albufeira—36km (22 mi) to be exact— is the Designer Outlet Algarve Mall. An outdoor mall, it is home to around 70 designer stores and is next to the MAR Shopping Centre, which also is home to an Ikea.
13. Wine-Tasting
If there's one thing you shouldn't leave Portugal without doing, it's tasting the local wine. The Algarve hasn't always been the most popular wine region in Portugal, but that has gradually changed as new winemakers have moved to the area. .
There are four DOCs in the Algarve — that means wine areas that are delineated and controlled. Albufeira sits in the Lagoa region.
The best way to make it out to the nicest wineries in the region without having to worry, is by going on an organized tour. On this half day tour, you'll visit orange groves and cork forests before stopping at a local winery. There, you'll sample the wine, local cheese, cured meats, and jams.
If you want to learn more about winemaking, check out this tour, which combines a visit to a winery and a tour from the winemakers with some time in the small local town of Silves. You'll have free time to explore the small fishing village before returning to Albufeira.
🍷 Although a little out of the way, one of my favorite experiences in the Algarve was at Morgado do Quintão, where I sampled wine and ate delicious food underneath a 3,000-year-old olive tree. Read about my experience here.
14. Quad Bike Experience
Embark on a quad bike or buggy adventure to explore the arid landscapes dotted with cacti and cork forests inland—a must for the things to do around Albufeira.
On this off-road adventure, you'll get dusty and dirty as you navigate your own quad bike. Prepare to bounce along rough tracks, cross rivers, and explore the Algarve backcountry.
This buggy adventure is a great option for a bit more comfort, and it allows for kids as young as seven to come along and ride shotgun. You'll traverse terrain that cars can't get you to. In addition, this tour will take you to the ancient Berber Paderne Castle.
⭐️ Drivers on both tours will need a valid driver's license.
15. Private Jewellery Workshop
A totally unique must do Albufeira experience that will have you accessing your creative side, this jewelry workshop is a great way to spend half a day. By the end, you'll walk away with your own creation — whatever that may look like.
At Nini's workshop on the west side of Albufeira, you'll engage hands-on with an expert silversmith, learning to saw, stamp, and solder your own memorable piece of jewelry.
There are not many souvenirs that are as memorable as one you get to craft yourself.
16. Albufeira Marina
The marina in Albufeira is known for being the most sheltered marina in all of Europe. In addition, the marina has been awarded a Blue Flag award — showing that it's sustainable and being rated 5 out of 5 Gold Anchors, indicating that the marina is operating at the highest level — similar to that of a five-star hotel.
In addition to being a home for fisherman's boats and those who arrive in Albufeira by sea, the marina is also very likely where you'll leave from for any boat tours in the area.
On land, the marina has an impressive amount to do. From bowling and go-karting to bars, shops, and restaurants, this is a bustling center of life in Albufeira. If you're searching for centrally positioned accommodation, villas and apartments are available here.
17. Scuba Diving
Albufeira has created several artificial reefs to draw a rich diversity of marine life, making it a hotspot for divers. With diving experiences tailored for all levels of expertise, from beginners to advanced, Albufeira offers an array of reef and wall diving adventures.
The serene Atlantic waters here are well-suited for both newcomers to diving and those with more experience. If you are a beginner scuba diver, you can take an introductory scuba course, which still starts with safety dive in a pool before your first dive in the sea. But if you are already certified, then opt for a two-dive trip. Remember to bring your certification card.
18. Eat Lots of Seafood
Food, food, and more food — is there anything better to do on your vacation than try the local dishes? If you can, try Catapalana, a traditional Algarve dish that is a seafood lover's delight. Named after the clamshell-shaped pot it's cooked in, this stew combines fresh fish and shellfish with a rich tomato sauce, creating a hearty and aromatic meal perfect for sharing.
The best way to explore the regional delicacies is to go on a food and wine tour. This Wine and Traditional Tapas Experience is the perfect option. If you are feeling a little more adventourous, you can head to Olhão for an oyster farming experience or even take part in a Cataplana cooking class.
19. Horseback Riding
As a horseback rider, I can't think of anything better than riding along long stretches of beach — which is exactly what you'll get to do on this tour. You'll ride along the coast above the picturesque Albufeira lagoon.
Your journey starts with a personal pickup and a visit to the area's secluded spots. Then, it's time to meet your horse. After a detailed briefing, you'll be all set to experience the coastline's beauty from the unique perspective atop your equine companion.
21. Ponte da Baleeira
Located east of Praia dos Arrifes beach, Ponte da Baleeira offers a panoramic viewpoint that provides stunning vistas of Albufeira harbor, Baleeira Beach, and the striking golden cliffs.
This scenic spot is a lesser-known treasure in Albufeira, allowing for quieter moments away from the bustling tourist areas. Access to this viewpoint is completely free, and visitors can reach it by following the coastal cliff-top road.
20. Galeria Municipal João Bailote
João Bailote is known as one of the most famous and best-selling Portuguese artists, especially when he was at the top of his game, from the 1960s through the 80s. Bailote was originally from Albufeira and is a beloved member of the city's history. Walking around, you may notice a city street named after him.
The Galeria Municipal João Bailote is full of his pieces, which are contemporary works. The space is open from Monday through Saturday from 9:30 a.m. to 5:30 p.m., with a lunch break from 12:30 to 1:30 p.m. It is also closed on Sundays.
22. Igreja Matriz de Albufeira
This church is incredibly unassuming against the white buildings it blends in with. It is, however, one of the best examples of neoclassical architecture in the Algarve. Inside is its highlight — an altarpiece that features Nossa Senhora da Conceição, the patron saint of Albufeira.
The church also houses a 15th-century statue of Nossa Senhora da Orada, the fishermen's patron saint. Each year, on August 15th, a procession is held by local fishermen. The statue is returned to where it was initially kept in the nearby Convento de Nossa Senhora da Orada.
The Igreja Matriz de Albufeira is open Monday through Saturday from 9:00 a.m. to 12:30 p.m. and from 3:00 p.m. to 6:00 p.m. Sundays, the church is open from 9:00 to 12:00 pm
23. Water parks & Theme parks
In Albufeira, thrill-seekers and families can enjoy a day out at Aquashow Park, known for its water slides and wave pools, or Slide & Splash, which boasts a vast array of slides for all ages. For those looking for a more relaxed atmosphere, Aqualand offers an array of gentler rides and pools, suitable for younger visitors.
⭐️ Travel Tips: For things to do in Albufeira water park options, purchasing tickets online often comes with a discount, and arriving early can help avoid the crowds. Remember to pack sunscreen and hats, as shade can be limited, and consider renting a locker for valuables.
Beaches in Albufeira
Albufeira shines as a coastal haven with its stunning beaches, each offering a unique slice of paradise. The sun-soaked shores are a must for those wondering about things to do in Albufeira.
From the lively to the serene, the beaches cater to every mood and are quintessential in any list of what to do in Albufeira. Whether it's a family day out or a solo retreat, the beaches will surely be a highlight of your trip.
⭐️ Travel tip: Each beach is home to at least one restaurant, and although these spots are great for a snack and chilled glass of wine, eating here is not recommended. Yes, the food is good, but the prices are astronomical—you are essentially paying for the view.
🗺️ ALBUFEIRA BEACH MAP
24. Fisherman's Beach
Fisherman's Beach (Praia dos Pescadores in Portuguese), another blue flag beach, is easily accessed directly from central Albufeira. You, you can literally step from street to sand.
The many bars, restaurants, and cafes around Fisherman's Beach are great places to sit and watch the sunset while enjoying a glass of wine or a cold beer.
The name of this beach comes from the colorful fishing boats which used to fill the water. The number of boats slowly decreased until the ones left relocated to the Albufeira marina. Now, the beach is covered by bathers and their colorful towels instead.
The easiest access point to Fisherman's Beach is from the 25th of April Square. There are sunbeds for hire on the beach and toilet and shower facilities. In the summer, there is a lifeguard on duty.
25. Praia da Falésia
Located near Albufeira and Vilamoura, Praia da Falésia (translated to Beach of Cliffs) is one of the longest beach beaches in the Algarve. Stretching over 6km (3.7 mi) long, the beach is known for its red and orange-colored sandy cliffs.
In 2018, Praia da Falésia was considered the number-one beach in Portugal, the third-best in Europe, and TripAdvisor's 12-best beach worldwide. Its natural beauty and relatively calm sea conditions make it a great spot for swimming and enjoying water activities.
26. Praia da Coelha
Praia da Coelha encapsulates all that the Algarve is — rugged cliffs, clear blue waters, and bright sand — the wild, abundant nature of the region surrounds the little beach.
This beach is a favorite among locals, so while it is quiet on weekdays, it fills up quickly on weekends. Of course, this is because it's a great place for everyone, including families. The sand is soft, and the water is nice for an easy paddle. However, if you venture farther from shore, the ocean floor drops off, and the current becomes quite strong.
The beach is about 5 km (3 mi) west of Albufeira center. The easiest way to access it is by driving. Taking the public bus is also an option, but you'll walk about 10 -15 minutes down to the beach.
27. Praia da Oura
Praia da Oura is most well-known for its wild nightlife scene. The beach is located about 3 km (1.8 mi) east of the center of Albufeira but is walking distance from the strip. The party from the strip often flows onto the beach late at night and into the early morning hours.
That said, during the day, Praia da Oura is calm, clean, and a great spot to set up your beach towel. There are lifeguards on duty during the summer.
You can enjoy water sports here, like diving, jet skiing, or parasailing. The bars and restaurants which run along the edge of the beach are also much tamer during daylight hours.
28. Praia Santa Eulália & Praia da Balaia
Praia Santa Eulália is a haven for families, nestled just 4 km (2.5 mi) from Albufeira's bustling center. With easy parking and access via a gentle slope, it's a hit for all ages. The beachfront is lined with a variety of restaurants and bars, perfect for a midday snack or a refreshing drink.
Facilities are top-notch, with sunbeds available for a comfortable day by the sea. Lifeguards are on duty during peak season, ensuring a safe environment for everyone.
A stone's throw away Praia Santa Eulália, Praia da Balaia offers a more secluded vibe. At just 3 km (1.9 mi) east of Albufeira, it's a quiet retreat for those looking to unwind. The beach is smaller, with fewer facilities, making it a peaceful alternative to the more popular spots.
It's accessible by a short walk down from the main road. Keep in mind there are no lifeguards here, so swim with caution. Both beaches promise a delightful day out, with Santa Eulália catering to convenience and Balaia to tranquility.
29. Praia de São Rafael
Praia de São Rafael is best known for its beautiful rock formations and the gorgeous sunsets you can catch from the top of the cliffs above the beach.
The water is very comfortable to swim in, and it's a great spot for snorkeling. You can also wander along the sand and explore the caves and grottoes. At low tide,
ou may also discover small secluded beaches on either side of the main beach.
There are paths along the top of the cliffs which offer great views across the water.
Praia de São Rafael is about 4 km (2.5 mi) west of Albufeira Algarve. Once you arrive, there is a wooden path thatwhich leads to the beach, but you will have to take a few steps down as well.
30. Praia dos Arrifes
Praia dos Arrifes is the best beach to visit in Albufeira for snorkeling. There are several rock formations in the ocean, just out from the shore, which attract a variety of fish and small sea life so it's easy to spot many species within an easy swim out.
This is the smallest beach in Albufeira, but at low tide, there is a lot to explore. You'll want to make sure you're wearing good water shoes as the ground is very rocky and uneven. But you can find small rock pools dotted around and can spot little critters like crabs or small fish skirting around them.
🦶 The beach itself is also a rock-sand mixture, so it's not the best spot to go barefoot.
31. Praia da Galé
Praia da Galé, a serene expanse of beach within easy reach of Albufeira center—just 6 km (about 3.7 miles) away—offers a unique blend of accessibility and leisure.
Unlike many Algarve beaches, there's no need to navigate steps, making it welcoming for disabled visitors or those who prefer a straightforward stroll from car to sand.
Here, the beach bars and surf schools pepper the long stretches of soft sand, creating a lively yet laid-back atmosphere. You can rent loungers and wind protectors for a comfortable day by the sea.
Praia da Galé is also appreciated for its practical amenities that cater to diverse needs, including easy accessibility for a stress-free beach outing.
32. Olhos de Água
Olhos de Água Beach, or Eyes of Water, is known for the natural springs that run through the beach at low tide, thus giving the area its name.
This beach is located in a village of the same name, about 6 km (4.5 mi), east of Albufeira. While the clearest water for swimming is on the east end of the beach, walking west is where you'll likely find more space on the sand to lay down your beach towel.
This village used to be a small, sleepy fishing village. And you can still see the colorful fishermen's huts which line the backside of the beach.
At low tide, you can walk east along the coast all the way to Vilamoura — about 6km (4 mi) away.
Day Trips from Albufeira in Algarve
There are various places to visit near Albufeira in Portugal that can enrich your holiday experience. The Algarve region is dotted with charming towns, historical Albufeira attractions, and breathtaking Albufeira sights, all within a short drive. Whether you're seeking adventure, history, or just a change of scenery, there's a nearby destination waiting to be discovered.
33. Benagil Cave
The famous Benagil cave, also known as Algar de Benagil, features a stunning hole in its ceiling, creating a natural skylight illuminating the sandy beach. It's a must-visit spectacle for anyone venturing into fathe Algarve Albufeira region.
The cave is close to several popular Algarve destinations, including Albufeira (30 minutes away).
📍HOW TO GET TO BENAGIL
As of September 2023, Benagil Cave is temporarily closed to certain watercraft, including canoes, kayaks, and stand-up paddleboards. At the moment, the best way to get to Benagil is by boat tour. There are various boat tours that take you to Benagil from the Albufeira marina.
But is the Benagil Cave closed? No, it is not. It's open year-round, and weather permitting and sea condition permitting, you can still enter by boat. For more infomation click here.
34. Marinha Beach
Marinha Beach, or Praia da Marinha, is hailed as one of the Algarve's iconic coastlines, with its golden sands and towering limestone cliffs. Situated about 8km (roughly 5 mi) east of Lagoa, this beach is a poster child for the region's natural beauty, often gracing the covers of travel guides.
The beach is famed not just for its picturesque scenery but also for its clear, calm waters, making it an ideal spot for snorkeling and swimming.
🥾 Praia da Marinha is the starting point the Percurso dos Sete Vales Suspensos (Seven Hanging Valley) hiking path.
📍HOW TO GET TO MARINHA BEACH
If you're driving, it's a straightforward trip that takes about 30 minutes. Head east on the A22 motorway and exit for Lagoa. From there, follow the signs directing you towards Praia da Marinha. The route is well-signposted, and you'll find a car park near the beach.
Alternatively, if you're relying on public transport, take a regional bus to Lagoa, and then transfer to a local bus service that heads towards the coast. There are also tour operators in Albufeira offering half-day or full-day excursions to Marinha Beach,
35. Ferragudo
This quiet fishing village has beautiful cobblestoned shopping streets, amazing seafood restaurants, and some of the best beaches in the area. So if you're craving something more peaceful and a chance to escape the bigger resort towns, a day trip to Ferragudo is the perfect answer.
Check out the long, sandy stretch of beach at Praia Grande or the riverside beach of Praia da Angrinha, and stop in to A Ria for an amazing selection of grilled fish.
Overlooking the river and the beach is the medieval Fort of São João de Arade — unfortunately, as the fort is now privately owned, you can't enter. Still, the, but the view of the fort against the sea is pretty spectacular.
📍HOW TO GET TO FERRAGUO
The easiest way to get to Ferragudo from Albufeira is by car or taxi. The drive is about 40 kilometers, or 25 miles, and takes about 40 minutes.
Alternatively, you can take a bus, but you'll need to switch over. The, the fastest trip takes you through Lagoa — about an hour in total. Or you can travel through Portimao, which will take about to two hours. Bus timetables can be found on Vamus Algarve.
36. Silves
Once the capital of the kingdom of the Algarve, in Silves, you can still see the castle, which is the same one the Moors once used to defend the city from invaders. The history of Silves is as enticing as its present-day lifestyle.
The small city sits on the banks of the Rio Arade, and it has a relaxed way of life about it. Enjoy a visit to a cafe and stroll the laneways. And make sure to stop by the Cathedral of Silves, which is built in a Gothicgothic style with some elements of baroque architecture.
📍HOW TO GET TO SILVES
To get to Silves from Portugal Albufeira you can take a direct bus which takes about 45 minutes. Or you could go on a day tour.
On this tour, you'll visit key Silves landmarks like its castle and cathedral, then head to Mount Foia and Cape Saint Vincent for panoramic views. Your journey continues with the caves at Praia da Cordoama and ends in the historic town of Lagos, offering a diverse experience of the Algarve in just one day.
37. Paderne
Padernea is a perfect day trip for anyone trying to escape the hustle and bustle of the coast. You can relax in the friendly village, explore its history, and tuck into the surrounding nature.
At the center of Paderne, you'll find Igreja Matriz de Paderne — the main church of the village, which was built in the 16th century. The architecture combines Portuguese late Gothic with a Renaissance style. You can also visit the Corte-Real Gallery, housed in a traditional Quinta. The gallery has artworks ranging from ceramic pieces to exotic light displays.
If you want to explore beyond the village, start at the ancient Paderne Castle ruins and follow the Paderne castle trail, or PR1, in a 10 km (just over 6 miles) loop through the arid Algarve countryside.
📍HOW TO GET TO PADERNE
You can get to Paderne from Albufeira easily on a direct bus (the number 4) run by Vamus Algarve. If you choose to drive, it should take you around 20 minutes door to door.
38. Lagos & Ponta da Piedade
Ponta da Piedade is a stunning testament to nature's artistry in the Algarve, where the relentless sea has sculpted 20-meter-high cliffs and winds into a labyrinth of caves, grottoes, and arches.
The cliffs stand proudly near Lagos, which complements these natural wonders with its own array of attractions. Lagos not only boasts a rich history evident in its maritime heritage and preserved old town, but also offers culinary delights, with seafood as a staple.
The city's beaches, marina, nightlife, and cultural scene make Lagos one of the best towns to visit in the Algarve.
📍HOW TO GET TO LAGOS
Lagos is a 50-minute drive from Albufeira, or you can take several public bus routes, which take 90 minutes to two hours.
Alternatively, many guided tours provide pick-ups in Albufeira. This full day tour will bring you first by boat to admire the dramatic cliffs before enjoying a guided tour through Lagos. Visit the Baroque Church of Santo António, and the nearby Castelo dos Governadores, which has stayed standing since before the Holy Wars. You'll also have time to explore the city.
39. Sagres
Known as the end of the world, Sagres sits out in one of the most remote regions of Portugal — at the westernmost tip of the Algarve. The area has barren landscapes, stunning beaches, and amazing surf. The small coastal town has a relaxed atmosphere.
Visit at least one of the beaches and admire the raging sea. Praia da Mareta is a good pick for surfers and easy to access from town. You can also visit the Fortaleza de Sagres, a sea fort that utilizes the ocean as part of its protection and has more amazing views.
🚘 If you're driving, go out to Cabo de São Vicente headland where, if you have the time to stay late, you can experience one of the most magnificent sunsets.
📍HOW TO GET TO SAGRES
The drive from Albufeira to Sagres is about an hour. If you want to go by public transport,t you're looking at a trip of close to three hours by bus, with a transfer to Lagos.
Day tours can also be a great way to make the most of your time and really see a lot in the area. This full day trip focuses on the region's history. It includes stops in Silves, Mount Foia — the highest point in the Algarve, Cabo de São Vicente headland, the rugged Praia da Cordoama, and finally, the historichistorical center of Lagos.
Alternatively, move at a slightly slower pace with this day trip that makes stops just in Silves, Mount Foia, and Lagos, and ends the day at the beautiful Cabo de São Vicente headland in Sagres.
40. Olhão & Ria Formosa
Olhão is a small town brimming with charm, authenticity, and lots to do. Fishing was, and continues to be, a main infrastructure in the town and you can find amazing fresh seafood in the Mercado de Olhão — one of the most famous markets in the Algarve.
Wandering through the center of town, you'll pass the beautiful yet simple, white-washed fisherman's homes with flowers growing from the terraces and balconies and overflowing into the streets.
The nearby Ria Formosa is a lagoon system that houses the most important wetlands in southern Portugal. There, you'll be able to spot amazing birdlife, such as the unique purple swamphen, which is the park's symbol.
📍HOW TO GET TO OLHÃO
If you're driving, Olhão is about 45 km (28 mi) east of Albufeira. The journey typically takes around 45 minutes via the A22 highway. While it is possible to take public transport to Olhão from Albufeira, the trip will take about 90 minutes on the bus or a train with a change in Faro.
Your best bet is to go on a guided tour. This trip brings you from Albufeira to Faro — the capital of the Algarve, then to Olhão for a visit to the fish market. From there, you'll head to explore the cobblestone streets of Tavira and finish the day in one of the easternmost towns in the Algarve — Vila Nova de Cacela.
41. Loulé & Estoi Palace
Loulé's main attraction is its covered market. Inspired by similar markets in the Arabian peninsula, it overflows into the surrounding alleyways. The town is a throwback since not much has changed since medieval times, but now it has a much more peaceful, calm way of life. While in town, you can also visit the medieval Castelo De Loule.
From Loulé, you can find the Rococo design Estoi Palace, just 17 km (about 10 miles) to the east. The palace dates back to the 18th century but has been recently refurbished and now stands in all its pink splendor with an array of beautiful azulejo (Portuguese blue tiles) murals.
The palace now functions as a hotel, but many of the rooms and French-style gardens are still open to the public.
📍HOW TO GET TO LOULÉ
It's about 33 km — or around 20 miles from Albufeira to Loulé by car. The drive should take around 30 minutes. From there, it's another 20 minutes to the palace. There's no great way to do this day trip by public transportation, so a guided tour may be your next best option if you prefer not to drive.
This full day trip goes in-depth with what Loulé has to offer by visiting the market, the castle, and the municipal museum, which will reveal more about the region's history. After that, you'll visit the 16th century Nossa Senhora da Conceicao Hermitage and the ancient Islamic hammam. The tour ends at the Estoi Palace.
42. Salgados Nature Reserve
Salgados Nature Reserve offers a serene getaway, ideal for nature enthusiasts and anyone keen on a day away from the bustle. It's a sanctuary for birdwatchers, boasting species such as the showy flamingo and the elusive purple swamphen among its residents. Spanning a generous area, the reserve promises ample space for visitors to roam and discover.
📍HOW TO GET TO SALGADOS NATURAL RESERVE
The reserve is about 14 km from Albufeira, roughly a 20-minute drive. There's not much in the way of buses or trains that get you there, so driving is your best bet.
If you're not into driving, you might want to grab a taxi or a UBER, or if you're feeling sporty, a bike could be a fun way to roll up to the reserve. It's a bit out of the way, but definitely worth the trip if you're into nature and need a break from the buzz.
Where is Albufeira located? 
Albufeira is centrally located in the Algarve region of Portugal, approximately 40 kilometers (25 miles) west of Faro and roughly 250 kilometers (155 miles) south of Lisbon.
Nestled along the coast, it offers easy access to the region's picturesque beaches and is a prime spot for enjoying the Algarve's sunny Mediterranean climate.
For anyone coming fro Lisbon, Albufeira awaits at the end of a 250 km (approximately 155 miles) journey south. This road trip will take you through the heart of Portugal's diverse landscapes, from rolling hills to the sea-kissed horizon, making the travel part of the adventure itself.
Whether you're coming to Albufeira from Faro or the historic grandeur of Lisbon, Albufeira is an accessible retreat that promises the essence of Portuguese coastal charm.
How to Get to Albufeira
Albufeira is reachable by car, train or by bus from throughout Portugal. Of course you can also rent a car and drive there or even take a private transfer.
How to get from Faro to Albufeira?
If you're flying into the Algarve from overseas you'll land at the airport in Faro. From Albufeira it's a distance of just under 50 km, or around 30 miles.
There is a local bus which leaves from the airport — number 56. It's a direct connection to Albufeira, and takes around 50 minutes.
Alternatively, the Alsa bus goes from the airport, making just one stop in Faro center before continuing on directly to Albufeira. Because of the stop in the center this actually takes a bit longer at about an hour total.
Other options include taking a taxi/UBER or a private FARO airport transfer to Algarve Albufeira.
How do you get to Albufeira from Lisbon? 
To get to Albufeira from Lisbon, you can take a direct train or bus, which takes about 2.5 to 3 hours, or drive via the A2 and A22 motorways.
The Rede Expressos bus makes a super easy connection from Lisbon to Albufeira. It's about two hours and 45 minutes leaving Lisbon's Oriente station and not stopping anywhere else.
There is also a train going from Oriente, but this trip takes a little over three hours (with several stops) and terminates at Albufeira's Ferreiras station, about 7 km (4 miles) north of town.
Best Time to Visit
What is the Albufeira weather? Well, Albufeira shines throughout the year, yet it truly comes alive in the summer with bustling beaches and vibrant nightlife—ideal for those who love the heat and high-energy atmospheres. Expect temperatures around 28-35°C (82-95°F), or more, but prepare for larger crowds.
Winter in Albufeira has its own appeal, with mild conditions and average temperatures of 15-18°C (59-64°F) and minimal rainfall. It's a serene period to explore the Algarve, with the cooler weather deterring many beach-goers, leaving you with tranquil vistas and a peaceful ambiance.
For the best balance of weather and experience, the shoulder seasons win hands down. With temperatures pleasantly warm at 18-25°C (64-77°F), the ocean remains inviting, and you can enjoy the city's charm with fewer tourists.
🤯😱 Albufeira has a population of around 40,000 people in the low season. The number increases to around 500,000 in the summer busy season (July-August). In the summer, prepare for lines and packed parking lots. If you do come during the summer season make to to book everything months in advance.
What to Pack
A best of Albufeira guide isn't complete without a guide on what to pack. Here is our travel guide to what to pack for your trip to Albufeira.
Spring & Fall
The weather in Albufeira is never too cold, and it starts getting warm around April. In fact, you'll probably see people already swimming in the ocean as early as March.
Temperatures are warm Apr-Sep, the peak travel time. The warmest (without being too hot) times to travel to Albufeira are between May-June and Sept-Oct. The weather isn't too hot and not too cold; it's just about right. So what should you pack?
summer
The months of Jul–Aug are hot, sunny, and dry. So make sure that you pack:
winter
The weather gets cooler from November until March. Nevertheless, the Algarve is the only region on mainland Portugal that doesn't get too cold during the winter months. If you come to Albufeira during the winter, you should pack.
If you are looking for a general Portugal packing list, read ➤ Portugal Packing List: Everything You Need to Bring.
Where to Stay in Albufeira
Deciding where to stay in Albufeira can be as simple as choosing between the allure of Albufeira hotels and the charm of the Albufeira area itself. Each location offers its unique take on hospitality, comfort, and access to the city's highlights.
Praia Inatel – Praia dos Alemaes
For anyone seeking a blend of tranquility and convenience, the area around Praia Inatel and Praia dos Alemaes strikes the perfect balance. Offering serene beach views and a quieter location, it's the best place to stay for easy access to all local attractions.
You're just a leisurely 10 to 20-minute stroll from the old town, yet far enough to enjoy a peaceful retreat.
Some of the best-rated hotels in this areas include:
Albufeira Old Town
In the pulsating heart of Albufeira, the Old Town is where all the action is. With is long sandy beach and a huge variety of restaurants, bars, and cafes, it's the epicenter of local life.
Be mindful that during the high season, the area is abuzz with energy, people, and sounds. If your idea of a getaway includes lively nights and social vibes, this is the place to be. But make sure to bring ear plugs.
Some of the best-rated hotels in this area include:
Praia da Oura
Praia da Oura is perfect if you're after a mix of sun-soaked days and lively nights. With the beach just a stone's throw away and a cluster of restaurants to choose from, you're all set. The Albufeira Strip is also within an easy stroll, offering a slice of the famous Albufeira nightlife.
Just a note: the beach is down a steep hill, so be ready for a bit of a climb back to your hotel. It's also a bit further from the Old Town, but if you don't mind the walk, the journey's part of the adventure.
Some of the best-rated hotels in this area include:
Santa Eulalia – Praia da Balaia
If you're hunting for tranquility with easy access to sandy shores, Santa Eulalia and Praia da Balaia should be on your radar.
Nestled on the eastern side of town, about 3.5 km (just over 2 miles) from Albufeira Old Town, it's the perfect spot to dodge the hubbub but still pop into town whenever the mood strikes. Ideal for families who want a serene retreat.
Some of the best-rated hotels in this area include:
Olhos de Agua
Olhos de Agua gives you that small-town vibe with all the beachy goodness you'd expect. If you're looking to stretch your euros a bit further and still soak up the sun, this is your spot. Plus, it's just 6 km (around 3.7 miles) from the Albufeira Old Town, so you're never too far from the action.
Some of the best-rated hotels in this area include:
Albufeira Marina
Over at Albufeira Marina, you've got lively vibes without breaking the bank, and you're in the middle of some of the best Albufeira restaurants and activities
It's the launchpad for most boat tours, and you're only about a 20-30 minute walk from the Old Town—that's roughly 1.5 km (just under a mile). No big hotels here, but a bunch of apartment options make it another family-friendly winner.
Some of the best-rated hotels in this area include:
Food & Drinks
Considering Albufeira's size, the city has an unreal number of restaurants and bars. There are many fish restaurants and regular debates about which is best. But there are also vegetarian options, great steak houses, and lots of international food options.
⭐️ Be aware that Albufeira is a seasonal town, meaning that some of these restaurants might be closed during the low season between November to March.
Breakfast & Brunch
Lunch & Dinner
Drinks & Party
Is Albufeira safe?
Yes & No — Albufeira is generally considered safe for tourists. Like any popular tourist destination, it has a well-established infrastructure to ensure the safety and security of its visitors
However, as with all travel, it is wise to take standard precautions such as safeguarding your belongings, being aware of your surroundings, and avoiding unlit or less populated areas at night.
Instances of crime are usually low, but petty theft like pickpocketing can occur, especially in crowded areas or during peak tourist season. Always exercise common sense and follow local guidance to ensure a safe and enjoyable visit.
Is Albufeira safe at night?
Yes & No — Albufeira has a lively nightlife that sometimes gets pretty wild, especially in the Old Town and on the Strip. You'll see a lot of partygoers and sometimes things can get out of hand with too much drinking.
There aren't many cops around, but they do step in if there's a fight. It's smarter to stay clear of any trouble spots, especially if things look like they're heating up.
Living in Albufeira: Things to Consider
So you are thinking about living in Albufeira? Well, there are a couple of things that you need to think about before making the move, according to Dorina Owindi, founder of Monversation who is happliy living in Albufeira.
First off, let's talk about why you would even consider moving here.
(1️⃣) Albufeira's charm lies in its perfect mix of city amenities and countryside calm, sitting at the Algarve's heart. With a car, the whole region is your oyster, from Spain to the cliffs of Sagres.
(2️⃣) Next, even if your Portuguese is a work in progress, locals are patient and helpful, making settling in smoother. Plus, a lot of places, including government institutions, have people that speak English.
(3️⃣) The community here is active and friendly; it's common to see people out for strolls, enjoying the cafe culture. (4️⃣) The sense of safety, combined with the (5️⃣) scenic drives and hikes, makes Albufeira more than a home—it's a lifestyle 😍.
Digital Nomads in Albufeira
Albufeira is fast becoming a hotspot for digital nomads, with a growing international community drawn to its charm. Recognizing this trend, the local government is keen on nurturing this sector, fostering an environment conducive to remote work.
💻 Looking for a middle to long-term renting option in Albufeira? I recommend Flatio. Flatio is a platform for monthly rentals with hand-picked, deposit-free, and reasonably priced listings in over 300 destinations, mainly in Europe. I personally stayed in this apartment (with my dog and cat) and LOVED it.
The rise in coworking spaces is a testament to Albufeira's commitment to accommodating the digital nomad lifestyle. This city is particularly appealing for anyone looking to escape to a warmer climate during the off-peak season, offering the perfect blend of work and leisure.
Renting in Albufeira
Finding a long-term rental in Albufeira can be quite a challenge because many landlords prefer short-term vacation renters. The best strategy is to network locally; often, someone you meet could lead you to available properties.
It's wise to be cautious on housing platforms like Idealista or Facebook to avoid scams. Never send money before confirming the property and owner are legitimate. Also, beware of individuals offering to search for rental properties on your behalf for a fee.
To get a feel for different neighborhoods, try the local hop-on-hop-off bus tour. And when you find a potential home, thoroughly check its condition.
If you're into the lively scene, consider areas like the Old Town or the Marina, as they're a short distance from the city's center. Keep in mind that resort areas can get noisy during peak tourist season. If you prefer quiet, look for places off the beaten path.
For a quieter life, Olhos de Água is peaceful, and Ferreiras suits families well. Don't hesitate to look beyond the usual spots—visiting various neighborhoods can uncover hidden gems.
It may take time—up to several months—but with persistence and a little local help, finding the right place is possible.
Albufeira: Facts & FAQs
Is Albufeira worth going to?
Absolutely — from exploring idyllic beaches and participating in water sports to enjoying the local gastronomy and experiencing its lively nightlife, Albufeira offers a rich blend of cultural and recreational activities.
Albufeira is a worthwhile destination for its vibrant atmosphere and unique things to do in Albufeira. It's a place where scenic coastal beauty meets a bustling tourist scene, ensuring that every visitor finds something memorable to enrich their travel experience
What is Albufeira best known for?
Albufeira is renowned for its stunning coastline and vibrant nightlife, making it a magnet for those seeking sun, sea, and entertainment.
It's the Albufeira tourist attractions like the lively Albufeira Strip, the historic Old Town, and the numerous picturesque beaches that make it a popular destination in the Algarve region.
How many days do you need in Albufeira?
3-4 days in Albufeira is ideal to fully embrace the things to see in Albufeira and enjoy the must see Albufeira spots.
This timeframe allows for relaxation on its golden beaches, exploration of local markets, and indulgence in the nightlife. If your itinerary includes other cities in the Algarve or day trips to regions like Lagos, you might want to extend your stay to accommodate those excursions.
What is the best month to go to Albufeira?
The best time to visit Albufeira is during the shoulder season, which typically includes the months of May, June, September, and October.
During these times, visitors can enjoy the favorable combination of pleasant weather, fewer crowds, and more competitive prices for accommodations and activities.
Is Albufeira walkable?
Yes — Albufeira has a compact and tourist-friendly center that is very walkable, with most hotels, beaches, and attractions such as bars and restaurants within easy walking distance.
For anyone staying close to the town center or along the main beach areas, a car is often not necessary. However, if you wish to explore the wider places to visit in Algarve Albufeira and the other Albufeira places to visit, public transport or a car might be required.
Do you need a car in Albufeira Portugal?
No — In Albufeira, having a car is not strictly necessary, especially if you're staying in the town center where most amenities are within walking distance.
Yet, for those planning to visit more secluded beaches or surrounding towns, a car offers flexibility and convenience. It's also helpful for carrying beach gear or making large grocery trips if you're self-catering. You can also use UBER, taxis or tuk-tuks if you don't want to rent a car.
Is the sea warm in Albufeira?
The sea temperature in Albufeira can be quite refreshing, especially outside of the peak summer months. From June to September, the water is warmest, making it comfortable for swimming and water sports. Outside of these months, the sea may feel a bit cool, which some swimmers might still find invigorating.
Is Faro or Albufeira better?
Choosing between Faro and Albufeira depends on the type of experience you're looking for. If you're interested in cultural experiences and a quieter stay, Faro might be better. If you're looking for vibrant nightlife and beach-focused activities, Albufeira would be the recommended choice.
Faro, the capital of the Algarve region, offers a more authentic Portuguese experience with historical sites, such as the old town and Faro Cathedral, and a less tourist-centric atmosphere. It's also the gateway to the natural beauty of the Ria Formosa lagoon.
Albufeira, on the other hand, is better known for its lively atmosphere, beautiful beaches, and a wide array of dining and nightlife options. It caters more to tourists looking for a bustling seaside resort experience with plenty of activities and albufeira sightseeing attractions.
Final Thoughts: Things to do in Albufeira Algarve
As you can see, Albufeira Portugal Portugal is a treasure trove of things to do. Whether you're looking for a party, to learn more about the region's history, or to escape into nature — Albufeira's got you covered.
And of course, that's in addition to the stunning beaches, the amazing sparkling sea, and the drop dead gorgeous coastline. It's one of the best places to go on holiday.