A look at the wines of Portugal and a journey through some of the best wine experiences the country has to offer.
Once one of Europe's best-kept secrets, Portugal is quickly becoming one of the world's leading travel destinations thanks to its gorgeous weather, long stretches of white sandy beaches, and turquoise waters – and, of course, its architectural and historical wonders.
Since 2019 alone, nearly 27 million tourists have come to the most-Western part of the continent to appreciate everything this wonderful country offers. This includes Portugal's rich gastronomy and wine culture. Among the keepers of the oldest wine traditions, Portugal has recently become one of the world's largest producers and exporters of wine. So much so that these days the Alto Douro Valley is a World Heritage site protected by UNESCO.
Portugal has long boasted one of the oldest and best wine traditions in Europe and worldwide. Each Portuguese region produces a broad range of high-quality wines from the world-renowned Alentejo and Douro Valley to the Lisbon area. This comprehensive wine offering is a good representation of the diversity of the Portuguese landscape. From the Northern Vinho Verde (Green Wine) to the sweetness of Port, the variegated topography of the region delivers all kinds of delicacies.
In this article, we will cover:
hide
The Evolution of Portuguese Wine Throughout History
The country's wine history has long been perpetuated by oral tradition. Notwithstanding, the most accurate estimation dates Portuguese wine back to 2000 BC by the hands of the Tartessians. They are believed to be pioneers in vineyard planting in the region of Tejo and Sado. Over the centuries, dozens of civilizations took it upon themselves to maintain and perfect these vinicultural practices—namely the Phoenicians, Celts, Greeks, and Romans.
Since the recognition of the Kingdom of Portugal in 1143, wine production was largely left in the expert hands of Cistercian and Benedectine monks. To this day, their winemaking practices still play a relevant role in wine production across the Iberian Peninsula.
Nevertheless, it wasn't long before Portugal understood the great value of its wine. Early records of wine import-export date back to the 1300s, when the country began its long-lasting diplomatic alliance with England—eventually culminating in the 1703 Methuen Treaty. This treaty further encouraged the trade of Port wine by setting a much lower rate of English duty for Portuguese wine rather than for French wines. In 1757, the first minister of Portugal, the powerful and influential Marquis of Pombal, carried out the first detailed classification of the vineyards of the Douro, grading them according to quality and establishing prices for their production. These reforms effectively established Port as the world's first appellation d'origine contrôlée.
Despite its ups and downs and several disruptions caused by different strands of vineyard plagues in the 19th century alone, the Portuguese wine market managed to remain relevant. This brings us to the present day, where the total value of wine exported from Portugal averages 804 million Euros every year. That's insane.
The most commonly found wines come from Douro, Alentejo, and Dão, but that's just three of the country's dozen-plus wine regions. Here is a great map of the Portuguese wine regions created by Atlast Lisboa.
What Are the Main Wine Regions of Portugal?
Wine quality is often a result of weather, quality of soil, proximity to the sea, and even wind. For this reason, the vastly diverse Portuguese territory is home to dozen of wine varieties, each boasting its unique characteristics and flavors.
In the scope of this article, where we talk about the wines of Portugal, we will be focusing on four main regions: Alentejo, Douro, Vinho Verde Valley, and Lisbon.
Alentejo
Situated in the South-central rural area, the Alentejo covers about ⅓ of the Portuguese territory yet is home to only 5% of the population. Its name is derived from its geographical position, which literally means beyond the Tagus River. Famous for its intense summer heat exceeding 40°C, the area is still somewhat untouched by mass tourism despite its beautiful beaches and medieval walled towns. This seemingly virgin area is home to a broad range of traditional Portuguese wines widely appreciated for their intense and fruity scent.
Alentajans take their wine business very seriously. To maintain their traditional ways of winemaking and trading, many producers in the area have joined one of the six co-ops producing most of the wine exported outside of the region. Some of the most prestigious bottles from this region include Tempranillo, Portalegre, Redondo, and Viguideira.
Alentejo's Must-try Wines
First and foremost, a prolific cork region, over the last few decades, Alentejo has slowly but surely been put on the map as one of the best wine regions on earth—interestingly despite its less than favorable weather conditions.
The Best Winery to Discover in Alentejo
Much of this wine country's fame is due to its beautiful Alentejo reds. The first, more traditional variety is characterized by intense, earthy, slightly sour notes and hints of wild fruits. Some of the more refined of these bottles can date a few decades back. Other, more modern selections such as Esporão wines are also very fruity but lighter in their texture.
ADEGA DA CARTUXA
Located in the city of Évora, in the heart of the Alentejo region, Adega da Cartuxa is proudly invested in keeping the Alentejan culinary and wine tradition alive. Among the experiences offered by this distinguished heritage establishment, you will find wine tastings, guided tours of the cellar, and cheese sampling. Operating six days a week, Adega da Cartuxa serves wholesome and affordable traditional Portuguese food for a 360-degree gastronomical experience.
Location: Q.ta de Valbom, Évora, Portugal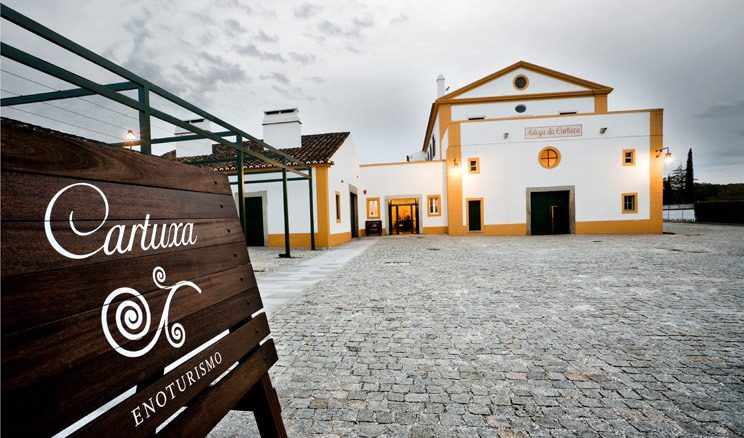 What to Try at Adega da Cartuxa?
Floral Devora Tinto: Among the delicacies currently available at Adega da Cartuxa we find Foral Devora Tinto, a fresh and fruity red wine with honey, herbs, and apricot notes. Perfect to be enjoyed over lunch or brought home as a souvenir; this exclusive bottle is sold on-site or at Adega da Cartuxa's boutique.
Pera Manca Branco 2002: This delicate white happens when you combine two delicious Portuguese blends in one bottle. Produced on-premise, Pera Manca Branco is, in fact, a combination of Arinto and Antao Vaz grapes. It is a fresh yet subtle wine with a hint of herbs and a wholesome texture.
Douro Valley
Located in Portugal's northern region, the Douro Valley is among the most treasured wine areas in the world. Its delicious wine selection has even earned it the title of a UNESCO World Heritage Region. Traditional landholders have produced wine in the Alto Douro Region for some 2,000 years.
The characteristic landscape is shaped by the Duro river and schist mountains that are primarily covered in vineyards. A world commodity, Port wine, a wine of a quality defined and regulated since 1756, is produced here. Over the last 2,000 years, most of the Port winemaking process has been mechanized: from automated lagars to destemming grapes. The one thing that machines can't do is pick the grapes. The ancient terraces are protected by UNESCO and are too narrow for tractors. Even though there are many unique grape varietals in the Douro, most are picked together, destemmed together, and fermented together. The only thing that really matters is that they are picked at the right moment.
What's So Special About Port Wine?
Exclusively produced in the Douro Valley due to its 1756 region denomination by the hand of the Marquês de Pombal, Port wine is derived from a blend of grape varieties resulting in a sweet red wine with a rich and slightly heavy texture. Available in a sweet or medium-dry variety, Port is fortified by adding aguardiente, a typical Iberian liquor. This, in turn, brings this wine's alcohol content up to an average of 20%. Interestingly, fortification also warmed the body and made port wine a good substitute for whisky during the long winter months.
The Best Winery to Try in Douro Valley
QUINTA DA PACHECA
The oldest wine estate in the area, dating back to 1738, Quinta da Pacheca consists of 75 hectares of vineyards planted in UNESCO-certified Humanity World Heritage soil.
Located in the Baixo Corgo village of Cambres, this Quinta offers a wide range of experiences, from winery tours and tastes to hands-on harvesting and even SPA treatments.
The refined and elevated heritage atmosphere of the estate makes it the best hotel to spend a few nights and enjoy some of the tastiest wines in the world.
Address: Rua do Relógio do Sol, 261, 5100-424 Lamego, Portugal
What to Try at Quinta da Pacheca?
Quinta da Pacheca Tawny Port: Being among the first estates to label its wine, Quinta da Pacheca is one of the best places to try this characteristic sweet red wine most Portuguese enjoy with dessert.
The friendly customer care reps at Quinta da Pacheca suggested we try their very own Tawny Port. This slightly amber-colored red brings you a delicate combination of fresh fruit, nuts, and berries rigorously aged in wooden barrels for 4 to 7 years.
Pacheca Lagar Nº 1 – Reserva 2017: Obtained from the Quinta's Touriga Franca and Touriga Nacional grapes, this wine is produced following a meticulous process and left to ferment in French oak barrels for 18 months. The result is a dark, ruby red with hints of ripe fruit deliciously mixed with chocolate notes from the barrels.
Vinho Verde Region
Translated as the Green Wine Region, the Vinho Verde area is one of Europe's largest demarcated wine spots. It is situated in the northwest of Portugal between two rivers, the Douro and the Minho. The vastness and variety of this territory are reflected in its broad wine production. So much so, the area is further divided into nine sub-regions: Monção and Melgaço, Lima, Basto, Cávado, Ave, Amarante, Baião, Sousa, and Paiva. Despite each sub-area boasting an individual and recognizable flavor, they all produce a low-alcohol, fresh and sparkly green wine perfect for a hot summer day.
What's So Special About Vinho Verde?
First originated in the historical province of Minho (nowadays Douro), vinho verde owes its name to the young grapes employed in its production. Though predominantly a white wine, vinho verde exists in red and rosé varieties. This local delicacy is characterized by its freshness and fruity hints along with its slight sparklingness and low alcohol content ranging between 8.5 to 15% depending on the grape strands employed—Loureiro, Arinto, Trajadura, Avesso, Alvarinho, and Azal for white and Viñhao, Borraçal, and Amaral for red. Rosé vinho verde less frequently comes from the Padeiro and Espadeiro varieties.
The Best Winery in The Vinho Verde Region
QUINTA DE SANTA CRISTINA
Situated in Celorico do Basto, a municipality in the Braga district full of amazing historical wonders, ancient ruins, and breath-taking vineyard views alike, Quinta de Santa Cristina offers a broad range of activities from wine tasting to walking and even segway tours! Along with its guided activities, the Quinta allows you to enjoy its wonder at your own pace by organizing delicious wine and cheese-themed picnics on the beautiful estate.
Address: Rua de Santa Cristina, 80, Veade, 4890-573 Celorico de Basto, Portugal
What to Try at Quinta de Santa Cristina?
Vinho Verde Azal Branco 2017: Quinta de Santa Cristina recommends you try Vinho Verde Azal Branco 2017. This 12% alcohol bottle brings you all the excellent taste of vinho verde along with its characteristic strong wild fruit notes. Slightly sparkly and reminiscent of citrus with a touch of green apple, Azal Branco pairs wonderfully with seafood and spicy meals alike.
Santa Cristina Tinto 2020: Red wine lovers can appreciate Santa Cristina's very own tinto. This wine is carefully produced following a secular stomping tradition. It is characterized by an intense red fruit aroma, slight acidity, and firm texture.
Lisboa Wine Region
You might be surprised to discover that while most of the main wine regions of this beautiful country are somewhat off the grid, Portugal's capital city region is also responsible for a considerable share of the country's wine export.
In the North of Lisbon, you'll find what was once known as Estremadura, one of the most high-yielding wine regions in Europe. So much so, the area is divided into nine sub-zones, each boasting a total of thirty grape varieties. The most famous among these zones are Alenquer and Bucelas. Both areas have played an essential role in popularizing vinho de mesa—unpretentious and affordable table wine for everyday consumption.
Red wine lovers should look at bottles coming from the Alenquer sub-zone. These wines, such as Tempranillo, are highly appreciated for their full-bodied texture and aroma. On the other hand, white wines are primarily produced in Bucelas and are renowned for their fresh, gentle, and light flavors.
Where to Taste the Best Wines in Lisbon
The beauty of the wine-sampling experience is it can be adapted to everyone's preferences. So far, we have discussed the many Portuguese Quintas in the country's rural areas. These estates are perfect for those looking for a relaxing retreat away from the hustle and bustle of urban areas. Notwithstanding, if you are a city person or simply willing to discover what Lisbon has to offer without giving up on great wine sampling, we have scouted two places you shouldn't miss. We've also written an article about the 6 Best Wine Shops in Lisbon. All of these spots are conveniently located a short walk from the city's main attraction and just a stone's throw away from transit.
WINES OF PORTUGAL
A refined yet affordable sala de provas (wine-tasting room) located right by Praça do Comércio, Wines of Portugal is dedicated to promoting regional wines. Reminiscent of high-end hotel dining rooms, the lofty tasting room features sleek shared tables and plenty of natural light.
The whole experience consists of a series of samples to choose from. Along with some of the best wines of the Lisboa region, this venue offers you the opportunity to try a broad selection of Douro, Alentejo, and Vinho Verde bottles alike. The sommelier will be there to guide you through the history and details of every single wine and help you choose your favorite bottle to bring back home with you.
Location: Terreiro do Paço, 1100-148 Lisboa, Portugal
ADEGA BELÉM
In the historical Belém neighborhood, Adega de Belém is an urban vineyard and promoter of the authentic Portuguese wine-tasting experience.
As well as producing wine on-site, Adega is also committed to bringing some of the best reds, whites, and rosés from across the country. The space features indoor and outdoor areas and offers wine tastings, vineyard tours, and workshops. In a word, this spot is your all-inclusive wine destination in one of the best European cities.
Location: Tv. Paulo Jorge 9, 1300-444 Lisboa, Portugal
The Wines of Portugal
The richness of Portugal's culinary and wine tradition provides visitors and locals alike with virtually infinite opportunities to plan the wine experience of a lifetime. The offering is sometimes so broad; you risk being spoiled for choice. To make the best out of your wine tours, workshops, and tastings, some planning can go a long way. Make sure to take the time to browse through your many options and find the perfect experience for you!
And there you have it, our introduction of the wines of portugal. Did we miss anything? Let us know in the comment section below.