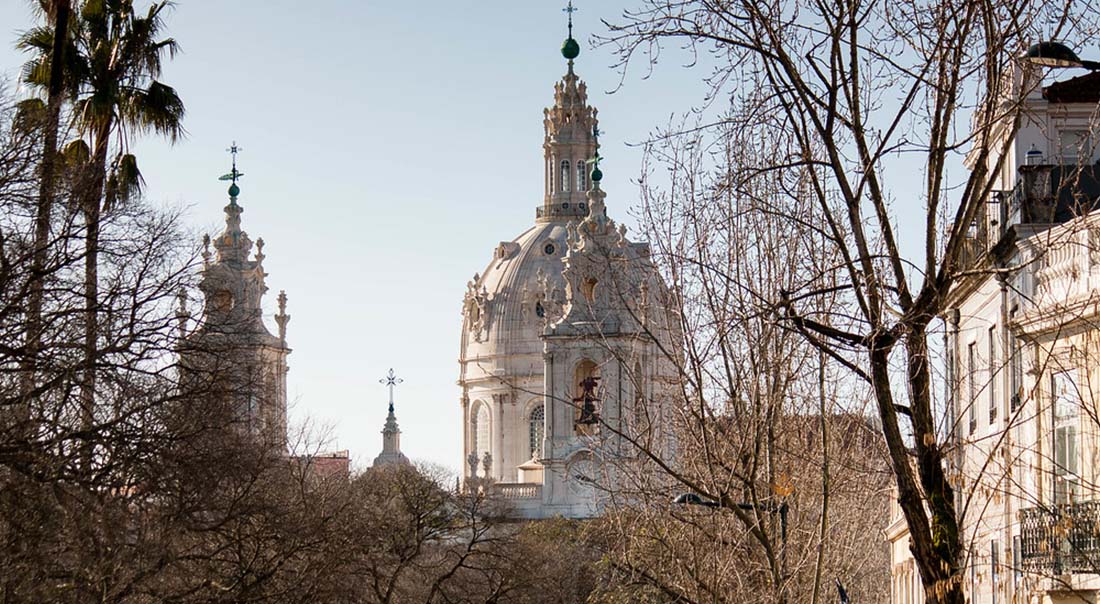 Estrela means "star" in English. Its name comes from the five streets that fan out from the main square in front of the Basilica de Estrela but also emanates from the majestic feeling you get when wandering its streets.
The name "Estrela" is relevantly new. In 2012, the Administrative Reform of Lisbon merged the former parishes of Lapa, Santos-o-Velho, and Prazeres and created Estrela. Surrounded by Campo de Ourique to the south, Misericordia to the west, and Alcantara to the east, Estrela is essentially at the center of Lisbon and is close to everything.
The neighborhood is a blend of classic and modern; new and old, quiet and vibrant. If you are looking for somewhere peaceful with lots of parks and green spaces, you have Estrela and Lapa. If you want some entertainment, São Bento is the place to go.
So, if you are planning to move to Estrela, already living here, or looking for a place to visit in Lisbon away from tourists' huff and puff, buckle your seatbelts as we take you through Estrela's best cafés, restaurants, and green spaces. In this guide, we will cover everything, from where to eat, where to relax, where to stay, and what not to miss.
How to Get Around
Estrela is located halfway up the hill between São Bento and Campo de Ourique, in the historic center of Lisbon. Unfortunately, there is no metro station in Estrela, but buses (709, 713, 720, 727, 738, 773, and 774) and trams (28 and 25) pass through the district. You can also get around by using taxis or UBER. Since Estrela is close to everything, taxi fees are not expensive. They range from €4.00 to €11.00, tops.
You can also visit the area on foot. Estrela is hilly, but not as much as other Lisbon districts, such as Alfama or Bairro Alto. However, it can be challenging. So, if you love walking, we recommend exploring this neighborhood on foot. Walk on to Larga de Estrela to bask in the beauty of the Basilica da Estrela before continuing to Lapa. If you didn't know, Lapa is home to beautiful buildings that were once royal mansions but now have been transformed into embassies overlooking the Tagus river.
Things to do in Estrela
If we wanted to list all the things you could do in Estrela, the list would go on and on endlessly. Estrela has a lot to offer, from museums to green landscapes, excellent restaurants, and a beautiful atmosphere.
However, here are a few not-to-miss things you should do if you find yourself in Estrela.
Visit the Basilica da Estrela
Take the time to visit and admire one of the most attractive landmarks in Lisbon and discover its surrounding area. Famous for its two bell towers, you can see the Basilica's monumental white dome from afar.
The Basilica da Estrela, dedicated to the Sacred Heart of Jesus, was built at the end of the 18th century. Its interior is a combination of sculptures, paintings, and geometric patterns. The Basilica houses the tomb of Queen Mary I of Portugal, who vowed to build the best church in Lisbon if she had a male heir. Unfortunately, he died of smallpox at 17, two years before the building was completed.
Enjoy the Basilica's ornamental white façade and lavish interior, and don't miss out on one of Portugal's most magnificent nativity scenes, with over 500 clay and cork figures.
If you love Miraduros as much as we do, you must take the spiral staircase to reach the rooftop. Once you arrive at the top, you will enjoy splendid views of Lisbon, especially of the São Jorge Castle and the 25 de Abril Bridge.
While visiting the Basilica is free, seeing the nativity scene costs €2, and going to the Basilica terrace costs €4.
How to get there? Trams 25E and 28E stop just in front of the Basilica. However, they sometimes get packed with tourists, so use bus 727 or 738 instead.
Take a stroll in Jardim da Estrela
Facing the Basilica, you will find the Jardim da Estrela, a wonderful green space in the neighborhood and one of the most beautiful parks in Lisbon.
Families can sit on the lawn and enjoy the beautiful weather or go to the kiosk/café, which sells food and drinks and offers outdoor seating. We recommend you relax in the shade of a tree, sitting on one of the easy-to-find garden benches with a cup of coffee, a glass of wine, or a fast snack. There are also picnic tables and people jogging or exercising. There is even a kiosk for the municipal library at the center of the Jardim.
If you enjoy photographing nature, this is your ideal place. You will find many exotic trees like jacarandas, dragon trees, and araucarias here. Expressive sculptures also adorn the garden's paths, transforming the area into an alfresco museum where visitors can admire art or simply rest.
Make sure to check out the "O Despertar" ("The Awakening") and the "O Cavador" ("The Digger") sculptures.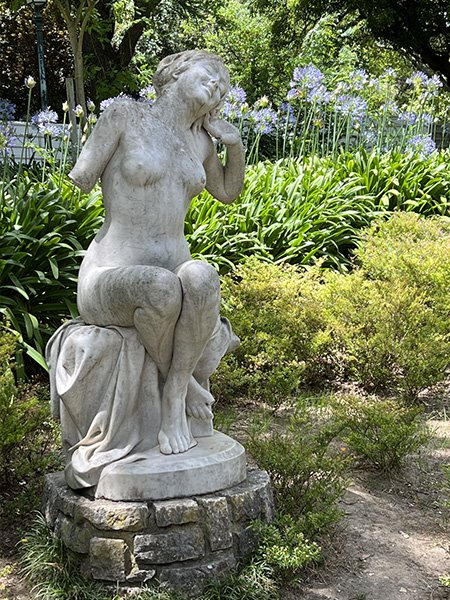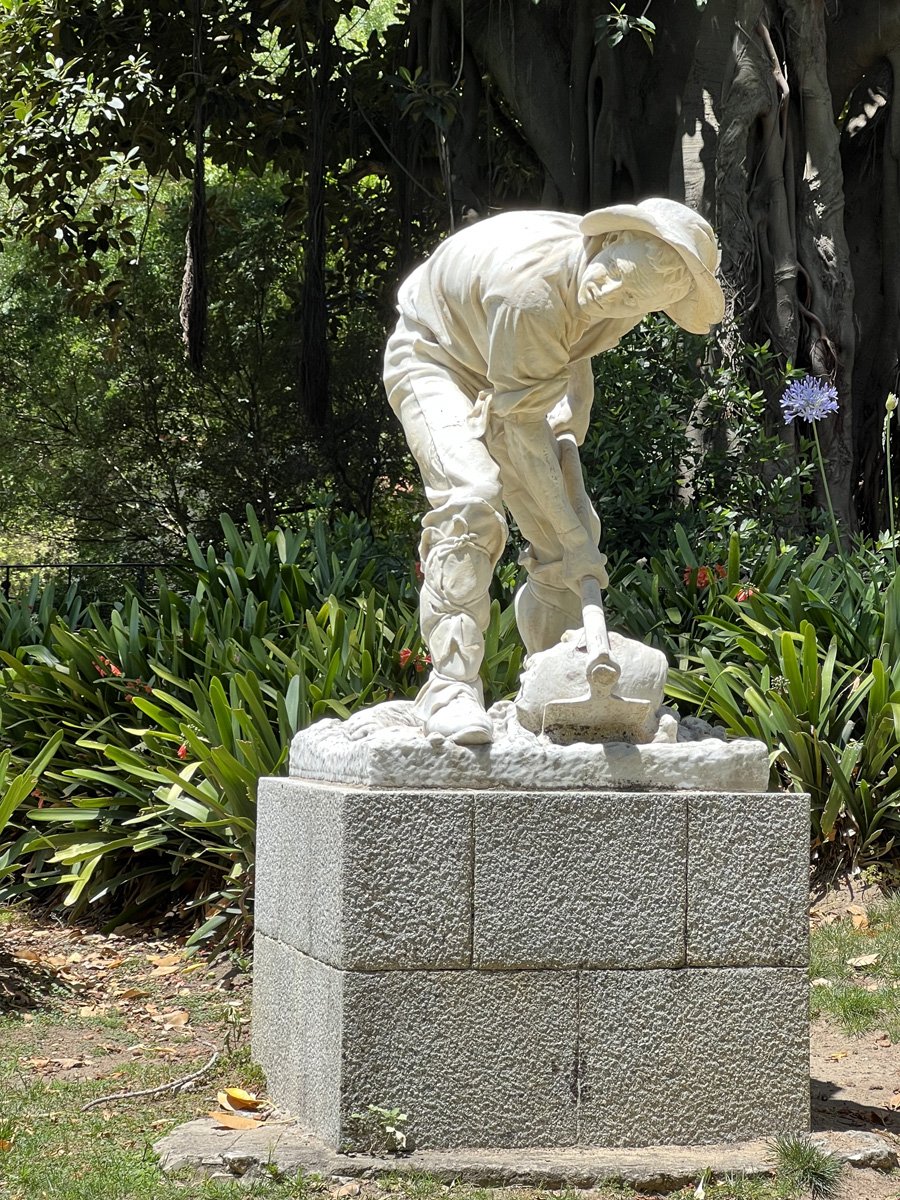 The Jardim also hosts many events. For instance, in the center of the garden, there's a lovely gazebo that acts like an old-fashioned bandstand and holds summer concerts. Every first weekend of the month, except for January, the Jardim enjoys a craft and design market, from 10:00 am to 7:00 pm, where designers from all over Portugal exhibit their creations.
How to get there? Jardim da Estrela's ideal location makes it incredibly accessible. Trams 28E and 25E stop there, as do buses 773 and 774, so there are plenty of options if you want to visit the Jardim using public transportation.
Enjoy a walk in the neighborhood of Lapa.
A stroll down the streets of Lapa is always a good idea, whether in the morning or at night. The beautiful blend of the building's pastel-colored and azulejo facades, and the glimpse of the Tagus river and the Cristo Rei you get while walking down its streets, will amaze you.
Lapa is known for its mansions and villas, which once were the homes of nobility. Some of them now house embassies and consulates. The area is even called the "Embassy quarter."
After a 15-minute walk through its streets, indulge yourself with a refreshing drink at the Jardim 9 de Abril, next to the Ancient Art Museum.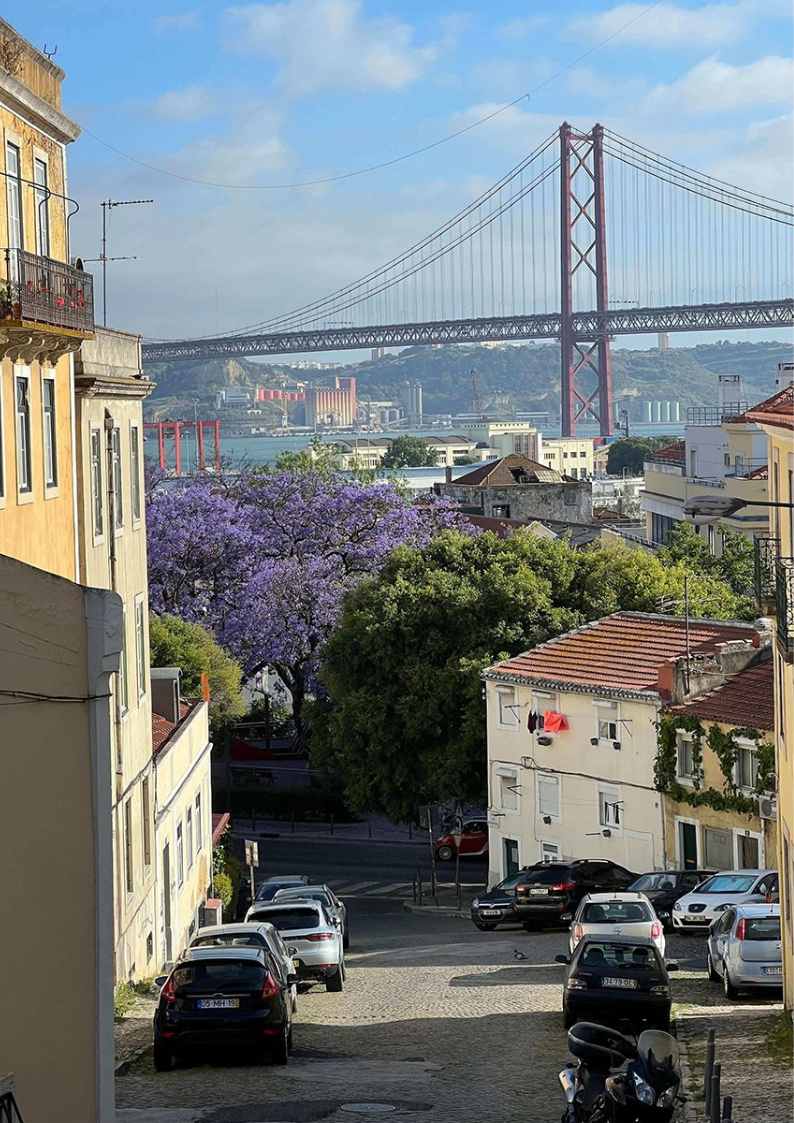 Stop at the Jardim 9 de Abril
Neighboring the Ancient Art Museum, Jardim de 9 Abril rests on a large limestone platform overlooking the Lisbon Port. It's a small miraduro that offers a panoramic view of the Tagus River, the 25 de Abril Bridge, and the Cristo Rei Statue.
This Jardim is not as big as the Jardim de Estrela or Tapadas das Necessidades. Still, it is beautiful, especially during the Jacaranda season, when cobbled paths, grass, and benches are all covered in purple.
How to get there? Take one of the 713, 714, or 727 buses and walk 2 minutes to the Jardim.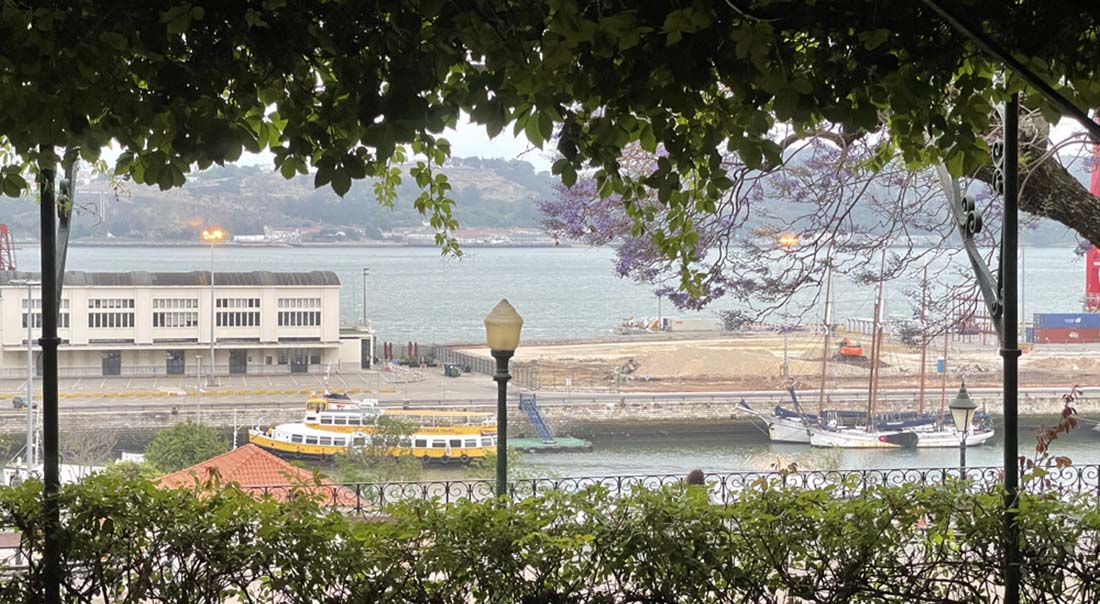 Visit the Museum of Ancient Art
Next to Jardim 9 de Abril is the Museu Nacional de Art Atiga, the Louvre of Lisbon. It's one of the most important Portuguese museums.
The museum is housed in a 19th-century palace overlooking the Tagus river. It has the most extensive collection of silver and gold objects in Portugal, ranging from the Middle Ages to the magnificent Baroque works of the 19th century.
What's unique about this museum is its collection of valuable pieces and decorative objects from Africa, India, and China, like embroidery, furniture, silver, and porcelain. The museum is enormous, so take your time seeing each section. We recommend not missing the 16th-century Japanese Namban Folding Screens, illustrating the fascination of the Japanese during their first encounter with Europeans.
How to get there? The museum is next to the Jardim 9 de Abril; therefore, the same buses can take you to both destinations.
Spend an afternoon in Tapadas das Necessidades
Considered by some as the secret garden of Lisbon, Tapadas das Necessidades is truly a treasure. At one time, monarchs used this place as their hunting grounds, but it has been open to the public since 1910.
The park has rare trees from Asia, Africa, and the Americas, and it is said that this is where Edouard Manet was inspired to paint his masterpiece "Le dejeuner sur l'herbe." During the weekends, many families gather there to enjoy Lisbon's hot summer days. This is the perfect place to picnic, celebrate birthdays, or just relax in the sun.
How to get there? Numerous transit lines have routes that pass near Tapada das Necessidades, so try not to miss visiting this enchanting garden: buses 158, 162, 176, 713, 714, 727, 742, 751, and 754. You can also get down at Rato station and walk down to the Tapada.
Have an ice cream at Unico Gelato
Pass by Sao Bento Parliament, then treat yourself to a delicious ice cream from Unico Gelato.
If you are visiting from England, you've probably heard of or tasted the remarkable Unico Gelato. The recipes come directly from Cremeria Funivia, Bologna, Italy, an authentic handmade gelato.
The place has over 20 different flavors, so choose wisely, or you can buy a container and enjoy exploring the flavors in your apartment. Our favorites are the Pistachio and Trio de Bologna. Trust us; you will not be disappointed.
How to get there? Busses 714 and 727 both stop next to the ice cream shop.
Shopping in Estrela
There aren't any big shopping centers or malls in Estrela, but since it is next to everything, within a 10-minute drive, you can go to Amoreiras Shopping Center, and it will take around 15 minutes to get from Estrela to El-Cortes Ingles.
However, there are a lot of art galleries, antique shops, and handmade Portuguese products in Estrela. You can find them everywhere, from markets held every weekend at the LX Factory to monthly markets at the Estrela Garden and every corner in Lapa.
Our favorite furniture store is LX Lapa, at Rua Maestro Antonio Taborda. It's a concept store that was once a palace. Now it brings a wide selection of vintage and industrial furniture, Portuguese art by young artists, and a wide selection of interior plants.
Estrela Best Restaurants
Estrela offers various trendy restaurants and eclectic local and international cuisines, ranging from Italian to French, Thai, Japanese, and more. The list is very long, but here are some of our favorites.
Café São Bento
Located right next to the Assemblia de Republica—the parliament—Café São Bento serves one of the best steaks in Lisbon, as well as the best crème brûlée and tarte tatin. They also provide delicious Porto wine.
Address: Rua de São Bento, 212
Type of Food: Gastropub | Steakhouse
Price: $$$
Avocado House
This place is a must-try if you are an avocado lover. At Avocado House, every dish is made with avocado. Start with the Avo Crush, and end with the Avo Lime. For the main dish, there are many options you can choose from, like the Mei Wei no Avocado Burger with sweet potato chips, which are crunchy and delicious. If you are a vegetarian, try the Ahimsa Bowl. It's an explosion of color and taste.
Address: Rua da Esperanca 21
Type of Food: Healthy | vegetarian friendly
Price: $$
Tasca da Esquina
Tasca da Esquina is full of surprises, especially if you opt for the "Fique Nas Maos Do Chef" option, which translates to "Stay in the Chef's hands." You can choose from three menus (5, 6, or 8 portions), and they all include dessert. It also depends on what the chef will choose for you. You can also order from the regular menu.
Address: Rua Domingos Sequeria 41C
Type of food: Portuguese
Price: $
Flor da Estrela Restaurante
Flor da Estrela Restaurante is the perfect place to have a quiet lunch away from the crowds. Next to Jardim da Estrela, the restaurant serves delicious, homemade Portuguese food at a great price. The fried cuttlefish and the bacalhau (codfish) are incredible.
Address: Rua Joao de Deus 11
Type of Food: Traditional Portuguese
Price: $
Club de Journalistas
Unlike its name, Club de Journalistas is not only for journalists. Many journalists and politicians have lunch or even a coffee break here, thanks to its proximity to the São Bento Parliament.
The restaurant has a beautiful patio, a pleasant atmosphere, and good food. For starters, we recommend you try the Roasted Eggplant, Miso Caramel and Pistachio, and the Octopus in Rosemary with sweet mashed potatoes as a main course; a guaranteed burst of flavors.
Address: Rua das Trinas 129 Lapa
Type of Food: International | Contemporary
Price: $$
Estrela's Best Coffee Shops
In Estrela, you will experience concept coffee shops different from the Portuguese coffee served at traditional cafes. Below, we have listed three of our favorites.
La Boulangerie
It sounds French, and it tastes French. La Boulangerie is a French bakery with the most delicious croissants in Lisbon. You can sit inside and enjoy the detailed décor or sit outside on the terrace and enjoy the sun. We suggest you try their brunch menu. They have three options you can choose from, and it's pet friendly.
Location: R. do Olival 42, 1200-742 Lisboa
Neighborhood
One of the coolest coffee and brunch restaurants in Lisbon, the Neighborhood Café, brings a great vibe to the coffee shop scene in Lisbon. The carrot cake is a must-try. In the afternoon, you can enjoy the outdoor seating with tasty local craft beers from Dois Corvo's brewery.
Location: Largo do Conde Barão 25, 1200-163 Lisboa
Copenhagen Coffee Lab and Bakery
Copenhagen Coffee Lab and Bakery is the place to have some great coffee and dessert. Try the cardamom bun and the cinnamon bun. They are very authentic and delicious. This café is your go-to place in Lisbon if you want to buy fresh coffee beans. They grow their beans in Copenhagen and distribute them to their stores.
Location: Av. Álvares Cabral 13C, 1250-015 Lisboa
Plan your Vacation: Where to Stay in Estrela
Your accommodation research in Estrela, or anywhere in Lisbon, depends on whether you are a tourist or planning to relocate.
You can find various short-term vacation possibilities on Airbnb. We recommend you book ahead of time to get a pleasant hotel room, especially during Lisbon's high season, which runs from April to October.
But there are also a few places we can recommend. The Hotel da Estrela, formerly a palace overlooking the Tagus River, is one option.
If you enjoy hotels with rooftop patios, try As Janales Verde, which translates to "The Green Windows" and accurately depicts what to expect. It is directly next to the Ancient Art Museum and is furnished in the Portuguese style, with a remarkable library and a gorgeous garden.
If you are looking for a longer-term rental, then Idealista is an appropriate place to search.
Moving to Estrela: Is it Expensive?
Since the 1700s, Estrela has been considered the favorite residence of Lisbon's bourgeoisie. As a result, its wide streets are lined with neoclassical mansions and small palaces that now house decoration and antique shops. And to this day, it is the official residence of the Portuguese prime minister.
Therefore, if we are talking about rentals and real estate, yes, Estrela is one of the most expensive neighborhoods in Lisbon. The price of the square meter, as per real estate agents, varies between €5,500 and €8,000, with investments expected to increase in value as many foreigners are moving to the city. Estrela's quiet location, great amenities, and services turned the neighborhood into the hot spot in town.
If you are looking for rental options, a T2 (two-bedroom) unfurnished apartment is anywhere between €1000-1400, whereas a furnished apartment with the same dimensions will cost you between €1500-1900 monthly.
It is worth mentioning that Portugal has seen a peak in its real estate prices following the pandemic. The upsurge of people working remotely and the facilities Portugal is bringing in with their non-habitual visas, like the D7 and Golden Visa, have significantly affected real estate prices.
Living in Estrela: Things to Consider
Estrela is a popular family spot. This is due, in part, to Estrela's abundance of green spaces, where you can spend time with family or friends. The area is a blend of Portuguese and ex-pats.
Estrela is considered a calm neighborhood. The only thing you might hear now and then is the yellow trams traveling through its principal streets. Estrela offers good access to many amenities, such as health care, excellent schools, and a few co-working spaces for digital nomads.
As for public transportation, Estrela is well connected to the rest of the city. However, the Estrela Metro station has yet to open and is still under construction. This might be aggravating at times, especially on weekends when you have to wait for the bus for 15 minutes.
Safety-wise, Estrela is a very safe neighborhood. Walking alone at night is not a problem, and the streets are brightly lit.
Estrela Neighborhood Guide: The Bottom Line
Estrela has a lot to offer to compensate for its high real estate prices. It's within walking distance of Principe Real, the chic neighborhood of Chiado, and Compo de Ourique.
It is an ideal place to raise a family, with a wide variety of options for excellent schools and green spaces where children can play, and adults can just lie back and enjoy the sun and Lisbon's fresh breeze. Most importantly, Estrela has a sizeable ex-pat community, so if you ever choose to move here, you will never feel alone.