The Ultimate Guide to Surfing in Portugal
From a surfer's standpoint, Portugal has it all. So, why go surfing in Portugal?
Most people don't know it, but Portugal holds the Guinness World Record for the largest wave ever surfed. In November 2017, Brazilian surfer Rodrigo Koxa rode an 80ft (24m) wave off the coast of Nazaré, a small fishing village 120km (74 mi) north of Lisbon.
Portugal delivers every kind of wave imaginable and anything you could possibly want from a surf trip. It is a country that is surrounded by 1794 km of coastline, with hundreds of beautiful surf spots and beaches for different levels of surfing. Moreover, Portugal has, on average, more than 300 sunny days in a year, which makes it one of the sunniest places in southern Europe. This combination makes it a unique travel destination for lovers of water sports and waves.
From the surfing seasons and wetsuit requirements to the culture and other useful travel advice, here's all you need to know about planning your surf trip to Portugal.
The surfing seasons in Portugal
You'll see people surfing in Portugal year-round, even during the more crowded summer months when it seems like the entire country, along with many foreign visitors, comes to fill its many beautiful beaches. However, the waves are better outside of summer, even if the weather can get too cool for casual swimmers and sunbathers.
For beginners, the best time to go is during summer, between May and September—basically during the summertime. This is when the swells are less frequent and the waves are smaller. Note that most popular surf spots get crowded during summer, especially in July and August.
For experienced surfers, the best time of year for surfing in Portugal is late winter to early spring, especially between September and April. During these months, swells are definitely more powerful, producing heavy waves measuring around 2– 4.5 meters (6 – 15 feet) that are better left to advanced surfers.
In spring (March-May), you can surf just about anywhere. However, this is probably the best time of the year to go surfing in Northern Portugal. Make sure to check out the spots around Porto, including Matosinhos and Espinho. In late spring, it already starts to get crowded.
In summer (June – August), summer means crowds, especially on the central coast and even more so on the surf beaches near Lisbon. Furthermore, trade winds from the north can wreck certain surf spots on the west coast. Your best bet during summer is the Algarve, blessed with some of the most reliable surf in Europe.
In autumn (September – November), almost all the spots work. The crowds will have dispersed, the swells start to kick in, the water is at its warmest, and there's still plenty of sunshine to be had. Do take note that the waves are bigger than in summer. This is a great time to check out the central coast spots, Peniche, Ericeira, Nazaré, and the surf near Lisbon.
In winter (December – February), the swells are mental. Strong storms can occur during winter, which can make many of the surf breaks unsurfable. You'll have to look for south-facing spots for protection from the storms. Cascais and the Algarve are your best bet if you're looking for friendly waves during winter.
Wetsuit Requirements
The water in Portugal stays pretty cold all year round. This means that you'll need a wetsuit even in summer.
In the summer, on the central and northern coast, water temperatures reach a maximum of 18-22°C (65-71°F). You'll need a 3mm long-sleeve shorty or a 3/2mm wetsuit if it's windy. On the southern coast, in the Algarve region, the water is warmer, reaching 21-23°C (70-73°F) in late summer and early autumn. You might get lucky and have days when you can surf in your swimsuit, but a 2mm shorty is recommended for longer sessions.
In the winter, on the central and northern coast, water temperatures reach a minimum of 13-16°C (55-60°F). You'll need a fully-sealed —5/4mm wetsuit and booties. On the southern coast, in the Algarve, a thicker wetsuit is also recommended in the wintertime. We'd recommend a 3/2 mm with 3mm neoprene shoes or 4/3mm wetsuit as water temperatures during the wintertime can fall down to 15°C (59°F)
Surfing in Portugal: The Best Spots
Portugal is definitely the best destination in Europe for surfing. A mild climate, the ocean, and long wild coasts — the conditions are ideal for riding those epic waves all year round. If you are looking for the best places to go surfing in Portugal, there are plenty of options.
In fact, the Portuguese coast can be divided into 6 surfing regions:
The Algarve Coast
Our list begins with the stunning and warm coast of the Algarve, which is located in the south of Portugal. The Algarve has one of the longest swell seasons anywhere in Portugal. That's thanks to its unique geography; one foot southwards, one foot westwards.
When it comes to surfing, the Algarve can basically be split into three coastlines: west, southwest, and central/southeast Algarve. The first two are the most popular surf areas, but you will definitely find surfers in the latter as well.
West Algarve (Sagres–Sines)
The Algarve's west coast reaches all the way up to Sines, but for surfing, the areas around Sagres, Carrapateira and Aljezur are the most popular and still a doable drive from central or east Algarve if there are no waves there.
If you looking for some bigger waves, then head on over to Castelejo or Cordoama in Sagres. These two neighboring beaches are located north of Sagres on the west coast. They are more exposed to the north wind but have some of the best surf when the waves get bigger (only for experienced surfers). Many rocks are scattered left and right in the water, so go with a school or guide. Make sure you are informed before you go in!
Another popular beach destination is Arrifana, which has some of the best beginner and intermediate surf spots in the western Algarve. Arrifana Beach is located on the western coast of the Algarve, specifically the Sagres and Vicentina Coast. It is a beach break, with a very good right-handed wave. It is one of the most popular surf spots in the Algarve due to the fact that there is a strong consistency here that keeps even the calmest of summer days.
South-west coast (Sagres – Lagos)
Sagres and Lagos are the Algarve's most popular surf towns, which probably has to do with their location (easy access to both south and west coast) as well as the fact that they are lively towns. There are many small beaches between these two towns but most are hard to reach or not suitable for all levels.
Certainly, one of the most iconic spots in the Algarve is Sagres, which is the most Southern-Western place in entire Europe, and is often referred to as "the end of the world." This little village is a famous year-round surf spot. It has plenty of surf spots around the town, and it works in all kinds of conditions, as the beaches are facing both the north and south coasts. Depending on the swell direction, size, and skills of the surfers, there are waves for everyone.
For instance, Tonal beach, located within walking distance from the town center, is a great beach for beginners and intermediate surfers. It is also protected from the northern winds and offers a variety of waves – right- and left-handed. In the wintertime, the beach is home to bigger swells for the more advanced surfers, which is spectacular. Another beach that is more appropriate for intermediate and advanced surfers is in the north of Sagres, the small Beliche beach. It is also a great spot for bodyboarders, as the waves there are hollow and fast.
Another beach is Poro de Mos, located in the south of Lagos. The bottom consists of a flat rock reef that is often exposed. It is usually not very sharp but home to sea urchins, the arch-enemy of many Algarve surfers. It gets trickier the more you go to the right-hand side. As a result, it's best to stay on the left and walk as little as possible.
West Algarve (Sagres – Sines)
The central and southeast coastline of the Algarve is known more for regular beach tourism than surfing. Therefore the surf is usually less crowded. But be extra aware of swimmers, never surf within the indicated swimming areas and always show respect for any other surfers.
Some recommended surf beaches include Praia Falesia (Albufeira – Vilamoura), Praia da Rocha (Portimão), and Ilha de Tavira (Tavira).
Recommended Surf School: Chicks On Waves
With a home away from home vibe, and a group of open-minded souls sharing the passion for the ocean in a beautiful villa, Chicks on Waves will have you pinching yourself. With a home away from home vibe, and a group of open-minded souls sharing the passion for the ocean in a beautiful villa, Chicks on Waves will have you pinching yourself.
There are different packages available depending on whether you want to focus more on yoga, the surf, or enjoy a mixture of both. Organized by surfer girls for girls, the small groups and personal coaching by certified surf instructors make for maximum progress in the water, plus daily rooftop yoga sessions, stunning ocean views, and healthy meals for all-around wellbeing.
The Alentejo Coast
Going up north from Algarve, we enter the beautiful coast of Alentejo. This region of is also home to the Parque Natural do Sudoeste Alentejano e Costa Vicentina Natural, a protected area that is home to some of the best beaches in Portugal. This region offers:
Excellent conditions for surfing throughout the year, especially in autumn and spring.
In winter, the swell is bigger and more consistent, ideal for those who want to gain experience and evolve in technique.
During the summer, the waves are much smaller, ideal for beginners. Since there are still excellent conditions for those who are already at the intermediate and advanced level.
Some of the more popular surf spots within the region are beach breaks in Porto Covo, Praia do Carvalhal, and Vila Nova de Milfontes. They offer a variety of left- and right-handed waves for different skills level of surfers. One of the best beginner and intermediate spots in Alentejo might be the waves of São Torpes. The beach is close to a jetty, which creates a nice sandbank, and the wave is mellow and easy to learn. Moreover, a consistent current brings the surfers back to the "lineup" like an elevator.
All in all surfing in Alentejo is great for a number of reasons, including the fact that it is an underdeveloped tourism region resulting in beaches that are not likely to get crowded. Also, the region offers waves throughout the year that fits all surf levels. So, everybody wins.
Recommended Surf Schol: Alentejo Surf Camp
The Alentejo Surf School & Camp is based in Vila Nova de Milfontes since 2009, a surf resort part of Costa Vicentina e Sudoeste Alentejano. Recognized as one of the best Surf Camps in Portugal, the camp provides high-performance surf courses for beginner and intermediate levels that guarantee surfers quick quality progress in surfing.
The Metropolitan Area of Lisbon
The Metropolitan region of Lisbon offers plenty of surf spots for different skill levels. It is a great base for a surf holiday, and all the spots are located within a 40-minute driving distance from the city of Lisbon.
Costa da Caparica
In the South of Lisbon, Costa da Caparica is a popular surf town known for waves that are perfect for beginner surfers—depending on the conditions and the swell. Here you find 30 kilometers of beach breaks for all surf levels. From low tide lefts at Cova do Vapor to smaller waves at Fonte da Telha, there are lots of beaches and breaks to choose from. The waves close to the center of town are usually the best due to the jetties that give the waves more defined peaks. But these areas are also known to be the most crowded. If you are looking to avoid the crowds yet still surf some waves, then we'd recommend heading on over to São João de Caparica.
There are hundreds of surf schools in Costa da Caparica. All you need to do is stop by a local beach bar and ask if they offer classes—they probably do. Another option is to head to the center of town and visit some of the main surf shops. A class should be around 20-30 euros per hour, including all equipment. There are also surf trips with transfers from Lisbon.
Carcavelos
Another famous spot for surfing in the greater Lisbon area is Carcavelos beach, which is located just 10 minutes from the city of Lisbon. The beach offers great quality, hollow and steep waves perfect for intermediate and advanced surfers. There are many peaks along the beach with both lefts and rights. The lefts are usually better and more frequent than the right. If the waves at Carcavelos are too big for your surf level, its neighbor Praia da Torre can offer fun conditions. The waves at Carcavelos are surfable all year round. However, the waves are definitely smaller during the summer months. The waves start becoming more consistent from September to May.
Sintra
Sintra is a special and magical place in Portugal. Although the region is rich in history and culture, with many palaces, castles, and amazing gardens to visit, it also has magnificent beaches and perfect surf spots. Sintra is situated within the hills of Serra de Sintra, which creates a unique micro-climate. As a result, some of the beaches, such as Praia das Macas, Praia da Ursa, or Praia Grande, are famous for their powerful surf conditions throughout the entire year.
The coastline of Sintra is located just 25 minutes from Lisbon, and it is geographically blessed as it picks up any swell that the Atlantic produces. This is why, during flat summer days, most surfers meet here at some of the most reliable surf beaches of Portugal. It is also a place where many national and international surf and bodyboard championships are held.
The micro-climate in Sintra also cools down the weather by a few degrees. Thus, if you are overwhelmed by the constant heat of the Algarve, Alentejo, or Lisbon, Sintra is a good place to cool down. Moreover, the water temperature is, on average, lower as well. In the summer, the water is around 20°C (68°F), and in the winter, it can dip to around 12°C (54°F). While in the summer, the shorty wetsuit can work, in the winter, it is recommended to use a 4/3mm or 5/4mm wetsuit, with neoprene booties (3mm), gloves (2-3mm), and an optional hood or cap.
A little bit further North, 30 mins drive from Lisbon, is Guincho beach, a beautiful spot known not only for surf but also for wind- and kitesurfing. In the summer, it offers nice and mellow waves, perfect for beginners to learn, and in the winter, it can get pretty rough. It is also the surf spot for one of the Portugals' top surfers—Frederico Morais.
Ericeira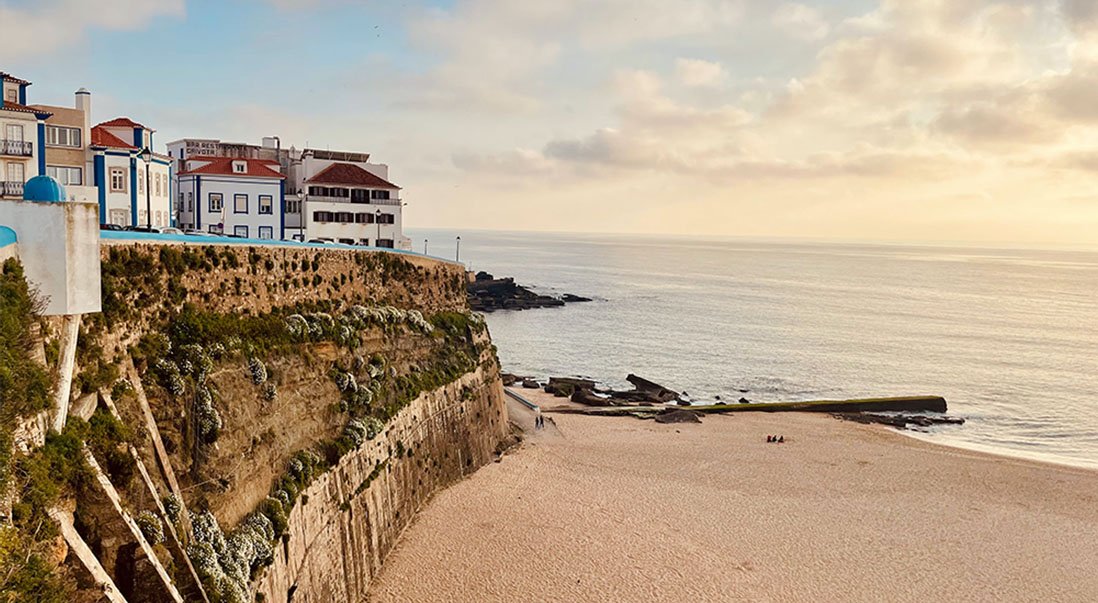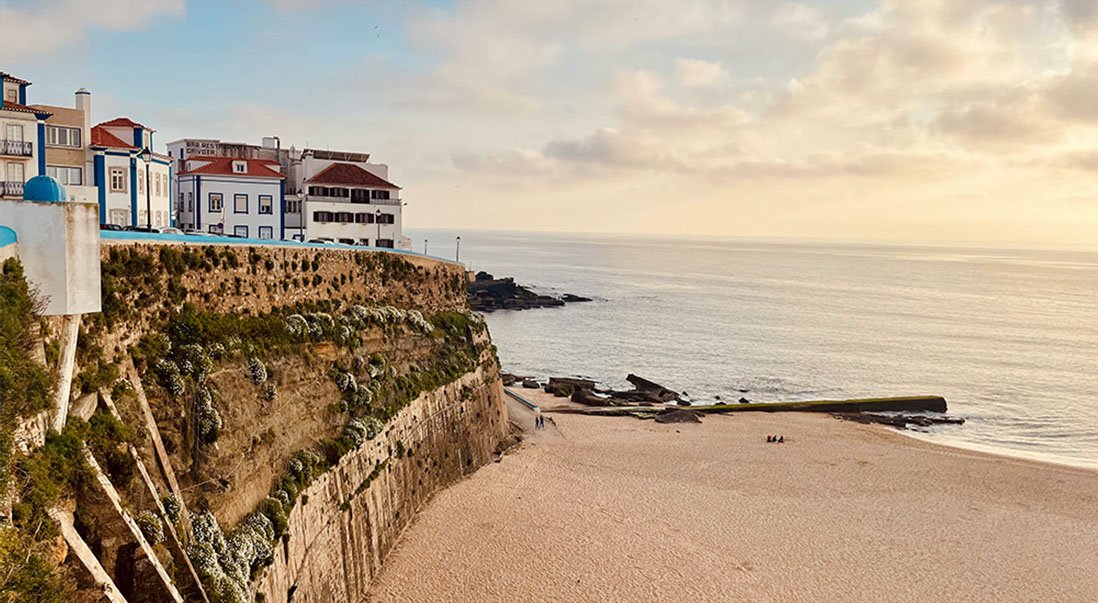 Further up North from Sintra, we enter the beautiful paradise of reef and point breaks in Ericeira. This town offers a wide range of fantastic surf spots for all levels of surf. It is considered a surfing Mecca, and in 2011, it was declared a World Surfing Reserve by the Save the Waves Coalition, Europe's first and so far, only one.
Along 8 km (5 mi) of coastline, Ericeira is home to a number of high density of waves and seven world-class surf breaks, including Ribeira D'Ilhas, Coxos, and Portugal's most challenging and heaviest wave—Cave.
Ericeira is renowned for its wave diversity. You'll find anything from beach breaks to reefs and points, spitting tubes and mellow peaks, fast and slow, rights and lefts.
Many of the amazing beaches are frequented by more experienced surfers, but there are also options for the ones who are just starting their surf adventure. For instance, Foz do Lizandro is a beach break that is formed by a river mouth. There are multiple peaks along the beach, with a left-handed wave on the left side of the beach and a rocky reef break on the north side. It is a consistent beach, which works best in lower to mid-tide. It is a popular spot among surf schools because of the sandy bottom. It offers fun and easy waves on small days, which is ideal for a learning experience.
Another sandy beach is São Julião, which is a great solution for beginners. It has stunning views and many peaks with left and right-handed waves. It is a very consistent break, and even on small days, it picks up the swell produced by Atlantic. It is a very long beach. Thus normally, you can always find a spot for yourself and avoid the crowd at the main peak on the left side.
Ribeira D'Ilhas is one the most famous beach in Portugal and Europe, and it is very well known in the world. This combination of a reef break and cobblestones is very consistent and offers a lot of fun for beginners, intermediate, and more advanced surfers. The long and soft waves of Riberia are perfect to improve your surfing in Portugal, but with the bigger swell, it becomes very strong and heavy. It is one of the most crowded beaches in Ericeira, but it offers several peaks, such as the break-in in front of Pedra Preta or Pontinha on the Northside of the beach. It usually works best around mid-tide.
There are also amazing beaches for more advanced surfers, such as Sao Lourenco, which can hold much bigger swells, and Coxos, which produces very powerful, hollow right-handed waves and is an absolute favorite of many surfers. Moreover, Crazy Left, and Pedra Branca, are offering left-handed waves and insane barrels for more experienced surfers.
On top of the amazing surf conditions, beautiful city sites, and amazing food, Ericeira has been rated as one of the best spots for Digital Nomads in the world. Co-working and co-living spaces all around the city are an attractive add-on to this surf paradise. Moreover, a wide variety of surf schools, camps, and experiences, such as local excursions and social activities, are available all over the place.
Recommended Surf School: Girl on a Wave
Girl on the Wave surf project is about sharing surf experience and culture, running surf camps, working on surf video analysis, and workshops with theory and surf tutorials. The project is about spending time on surf activities and leisures, discovering surfing spots, and enjoying local surfing vibes.
The Silver Coast, including Peniche, Baleal & Nazaré
There are few places on earth more beautiful than the Silver Coast of Portugal. When people think of Portugal, usually they think of the Algarve, yet the relatively unknown Silver Coast has so much more to offer than just sun and sea. The "Costa da Prata" (as it is known to locals) is famous for its ancient towns, breathtaking beaches, and rugged coastline. It is also home to two of the most epic surf spots in Portugal, Peniche and Nazaré.
Peniche
Known as Surfers' Paradise, Peniche is one of the most popular surf spots in Portugal and is located just an hour away from Lisbon. Peniche is a Peninsula with north and south-facing coastlines with 9 beaches and around 20 surf spots. It's easy to find at least one with perfect conditions.
On the bigger days, you can have your choice of waves. Cantinho da Baia is an outstanding wave for beginners and intermediate surfers. It is the most consistent wave during the summertime. It's a left and right peak, starting slow, but as it gets to the inside, it becomes faster. Prainha is another option if you are a beginner. Prainha has right and left-hand waves, which are incredibly consistent. Both spots are protected from the dominant swells by Baleal Island. However, as they are popular beginner surf spots, they can get quite crowded. We recommended grabbing your boards as early as possible to get the most out of your sessions.
The North you go, the more swell enters the breaks, which means that even on very small days, you can find waves breaking on beaches like Almagreira or Pico da Mota. Other spots, such as Gigi or Meio da Baia, are perfect long-boarders. These breaks give both left- and right-handed waves, which are gentle and soft, great for learning and improving your surf performance.
Last but not least, make sure to check out Praia dos Supertubos—home to the perfect tubular waves. Its fast tubular waves can get up to 6 meters (20 feet) tall and break over a shallow sandbank. This beach is known for having some of the best waves anywhere in the world, loved by the surfing elite. That is probably why many national and international surf competitions are held here, including the main men's surf competition for the World Surf League.
Nazaré, home to the biggest waves in the world
Further up North is the famous city of Nazaré. If you didn't already know, Nazaré is famous for being high breaking waves that form due to the presence of the underwater Nazaré Canyon. Nazaré, specifically Praia do Norte or North Beach, is home to the biggest surfable waves on the planet.
The Big Waves season in Nazare is between October and March (winter season in Portugal, but September and April also work in some years). The giant waves take place on Praia do Norte. The best place to observe is on sítio da Nazaré, next to the lighthouse (Fort of São Miguel Arcanjo), on the north side. You can also go down to the sand on the beach for another perspective, via a dirt road, but be very careful by the sea as it is dangerous.
However, it's important to note that Nazaré has more than one beach. At Praia do Norte you'll find massive waves, but there are several beach breaks in and around the city where you can surf great (though) smaller waves too. Nevertheless, Nazaré is not for beginners. So if you are looking to learn how to surf, this is not the place for you.
If you are heading to Nazare, make sure to check out Praia Do Salgado. Located in the south end of the region, this hidden 6km long beach of wild beauty is the perfect place if you are looking to avoid crowds.
The Green Coast, including Porto & Northern Portugal
Once you cross Portugal's second-largest artificial seaport, Porto de Leixoes, you enter the country's one and only surf city. Porto and Matosinhos share a large urban beach that offers more than 300 days of surfing per year. In fact, Porto-Matosinhos is the only Portuguese beach that is accessible by subway.
Surfing in Portugal's Northern region starts with Moledo near the Spanish border and ends with Espinho to the south. It is only 70 miles (113 km) long, but you are bound to find plenty of surf spots along the way, most of them concentrated around the Porto region.
Some great surf spots in the region include:
Viana do Castelo: an exposed river mouth break that can work any time of the year, thanks to its consistency. The beach offers both left and right-hand waves and is known for its strong winds, making it a popular windsurfing destination.
Leça da Palmeira: Perhaps the most important surf spot on the country's northern coast, Leça is a beach break exposed to the Atlantic's full-force swells. The waves can be very powerful and heavy, but that does not discourage local surfers. This A-frame break is a favorite in the Porto region.
Matosinhos: The surfing epicenter of Porto is Matosinhos, a sandbar that promises over 300 days of surfing per year. This is perhaps the best place to learn to surf in the Norte Region, with numerous surf schools and waves.
Espinho: Also reachable by a short train ride from Porto, Espinho is at the center of a 17km (10 mi) expanse of beaches stretching south from the estuary of the Douro River, featuring numerous prime surf spots. Neighboring beaches Praia da Baía and Praia Azul both close to the center of Espinho – are especially popular with surfers. The waves here are generally more challenging to ride than those in Viana do Castelo and Matosinhos, making it a great spot for intermediate and advanced surfers.
Surfing in Portugal: The Best Spots
Surfing in Portugal is a 365 days a year activity. The diversity of natural conditions and an exceptional climate provide memorable experiences within everyone's reach, from beginners to pros. It's even said there's no other coastline in the world with so many spots close to each other.
As described so eloquently by Visit Portugal, "we have waves for every taste and discipline: from perfect tubes for surfing and bodyboarding, which are the setting for major international events, to giant waves, posing a challenge for the boldest surfers striving to ride their crests and long waves that are among Europe's longest. But when you are surfing in Portugal, there are still a few secrets waiting to be unveiled."
// Are you ready to go surfing in Portugal?