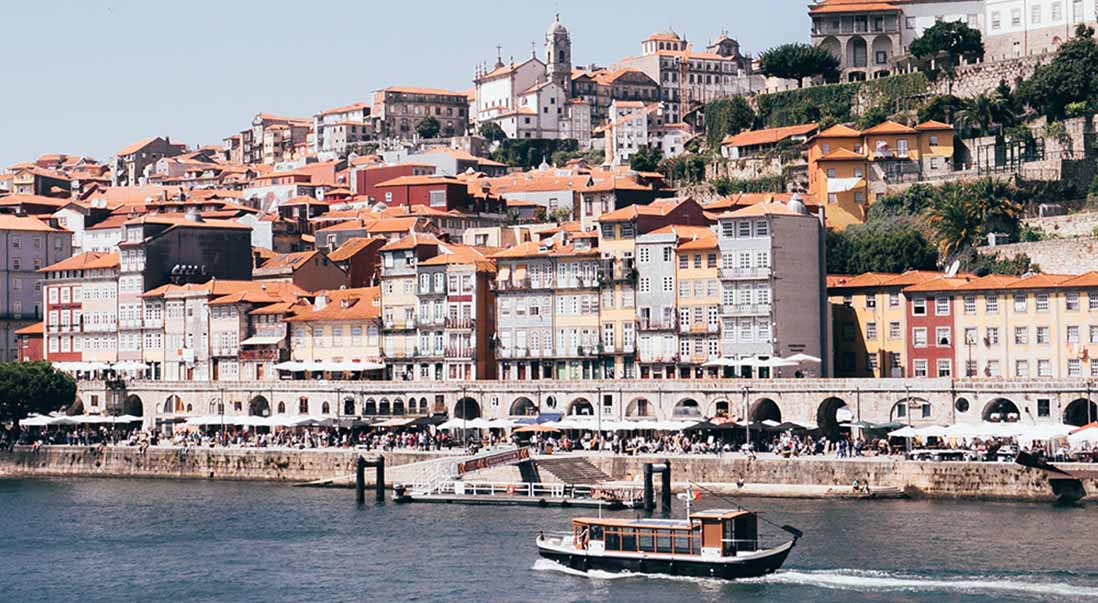 Porto is the second-largest city in Portugal with a four-time consecutive win for "Best European Destination" and in 2020 won "World's Leading City Break." The city of Porto is magical. Porto has more charm than Florence (which is hard to beat) and better nightlife than Lisbon. If you are looking for the best things to do in Porto, then we've got you covered with this ultimate 48-hour Porto travel guide with impressive things to see, eat, and lots of tips.
But before we get into the good stuff, it is essential to know that the Portuguese of the North are typically nicer and "warmer" than Lisbon natives. This is a generalization, but it's a stereotype understood around the entire country. And be warned, Portistas (residents of Porto) can cuss more than characters in The Wolf on Wall Street film, so please understand that this is just a cultural trait.
So, what is all the hype? Is it worth taking a flight to this grand city and live like the local Tripeiros (Tripe eaters) while drinking vinho do Porto?
Absolutely.
Vamos la!
HISTORY OF PORTO IN A NUTSHELL
Firstly, it would make the most sense to discuss the historical background of this grand city and its surrounding cities by listing some fun facts:
If you didn't already know, the name for Portugal actually derives from "Portus Cale" which was the Celtic settlement of Port of Cale (aka Porto). Back in 136 BC, a Roman general conquered the region, which eventually became Portugal.
Locals from Porto are called "Tripeiros" but it was once a derogatory term and typically should be used by ONLY locals to refer to other locals. If you support the football team FC Porto, then typically you are called a Portista.
Dom Afonso Henriques (the first king of Portugal) was a descendent of Dom Vimâra Peres (that's where the name Guimarães comes from and that's why we call people from there Vimaranenses).
Porto was never conquered and survived all its sieges!
São João, which is held every June 23rd in Porto, is the longest street festival in Europe (it stretches through both river banks from Ribeira until Foz). The festival is famous for people hitting each other on the head with fake hammers and eating/drinking in the streets with fireworks at the end over Dom Luis bridge.
Porto is such a beautiful city that its historic center is a UNESCO World Heritage Site. Porto is also one of the oldest European cities, dating back to before the Roman era.
BEST TIME TO VISIT
May–November; August can sometimes be too hot and November too cold, so you might just have to get lucky. Christmas time could also be a nice option.
If you're in Porto in June, make sure to come during the festival of São João, which is on June 23rd. Be prepared for large crowds and excessive drinking on the streets, so this is not for the relaxing type of travellers.
Wine harvest seasons begin during late August and early September. If you plan to visit neighboring vineyards in the Douro region, some wineries are too busy during this time to offer wine tastings. As a result, it is recommended that you call ahead and try booking in advance.
December 1st is the day of the annual Christmas tree lighting, so this is a beautiful evening in front of the City Hall!
WHAT TO WEAR
Similar to Lisbon, you will need non-slip shoes because there are some slippy hills that you will be walking up/down. Porto is built on many vantage points (miradouros), so it is imperative to be prepared for all the stairs. Although Lisbon is more hilly than Porto in general, Porto is famous for some incredibly steep hills, so be prepared.
However, unlike Lisbon, one could be in Porto in August, and it might rain the entire week or be extremely hot. You truly never know what to expect, but DO expect it to rain at least once on your trip, so bring water-resistant/waterproof shoes and a raincoat! The best advice is to be prepared for the worst and plan around the weather. Porto during the rain is the epitome of charm, so it's always worth it in the end!
Also, make sure to bring cash with you because some (most) places do not accept cards.
HOW TO GET AROUND
Porto is smaller than Lisbon and even easier to get around! For two days, it's best to go on foot, so you don't miss anything. But if not, then the metro and busses are available. Ubers are also relatively cheap.
ACCOMMODATION
There are a couple of neighborhoods in Porto where most visitors tend to stay during the stay, which we would also recommend:
Ribeira is probably the most famous neighborhood in Porto, due to its picturesque houses painted in colorful tones. It is located by the riverside, right next to the beautiful Luis I bridge, so it is one of the most photogenic areas in Porto. Riberiera is located in the flat part of the city, so it is the perfect place if you aren't keen on walking up and down hills to get to your accommodation. However, two cons of this neighborhood are that it is a touristy area, so noise can be a problem and if you plan on visiting the downtown area, you'll have to climb a steep hill to get there (unless you take public transport).
Cedofeita is the trendiest neighborhood in Porto as it has an art district at Rua Miguel Bombarda, full of interesting art galleries and concept stores (particularly at Rua do Rosário). If you are looking to be close to the action, but far enough away from the crowds, then this neighborhood is perfect.
Baixa, commonly known as Downtown Porto or simply as "Baixa", is the neighborhood just above Ribeira. It basically consists of two hills: one around the cathedral of Porto, where the city was founded, and one where the famous Lello bookstore and the Clérigos tower are located. This is where most of Porto's nightlife and restaurants are located, so if you are looking for a night out on the town, then this is the place for you.
Cais de Gaia, across the river from Porto is the city of Gaia, which is home to the best Port wine lodges, as well as plenty of restaurants. Cais de Gaia is also home to great apartments, many of them with fantastic views of the river and cute little terraces. Although it is across the river, Gaia can offer more options if you plan on coming to Porto with a car, a larger group of people, or even a dog. For example, this cute Airbnb, not only has a huge outdoor space, a pool, and a parking spot, but it is also dog friendly, which can be rare in Portugal.
Now that we've covered some of the Porto neighborhoods, here are a couple of other hotels and hostels that would be perfect for your stay in Porto:
And now we move into things to do in Porto, our 2-day itinerary
DAY 1:
If your hotel doesn't serve breakfast, make sure to stop at Confeitaria Serrana (when it reopens) or the famous Majestic Cafe, a classical belle epoque style café. Porto also is home to the renowned art deco Café Guarany, founded in 1933 and regarded as the musician's café. If you'd like more sustenance, stop at Epoca, The Lazy Breakfast Club, or MANNA Porto. For specialty coffee, try to go to 7groaster (delicious pastel de nata) or Combi Coffee. MycoffeePorto is also great but requires some steep climbing!
Along the way to the next place, make a pit stop to admire all the azulejos (tiles) in the São Bento Train Station. (currently under construction as of November 2021, but it should be completed soon)
Next on the agenda depends entirely on whether or not you are not a Potter-head.
Visit Livraria Lello
Livraria Lello is a library, bookstore, and cultural center founded by two Portuguese brothers (José Lello and Antonio) back in 1881. Lonely Planet awarded it 3rd place in the world's most beautiful book store. It is also known for inspiring the one and only JK Rowling. Fans of the Harry Potter saga believe that the Porto bookstore's design influenced the Hogwarts school's wooden stairs. However, it turns out that this is FALSE. JK Rowling herself tweeted that she had never stepped foot in the bookstore, and it never inspired any aspects of her book. Regardless, the staircase is still pretty beautiful.
Insider Tip: J. K. Rowling moved to Porto after the death of her mother, Anne, in 1991. The author went to teach English classes, got married, had a daughter and it was here that she wrote the first three chapters of the book Harry Potter and the Philosopher's Stone.
If you still want to visit the library, then be prepared to wait in a long line. So when is the best time to visit? Truth be told, we don't know. Some people say at lunch (13h) or dinner (20h), but it also depends on the season. Nevertheless, it's wise to purchase a ticket before using it as a book voucher. If you want to skip the line, purchase the ticket for €15 instead of €5.
Go For A Walk
After the library, take a right to see the University of Porto. There you will probably spot some students wandering about in their school robes. Hogwarts' long, elegant, black robes were inspired by the "traje," the official uniform of Portuguese university students. Students wear them, especially for events, but they are allowed to wear them all the time, even away from the university. In the center of the square is a fountain of lions which some say inspired Gryffindor, but you can be the judge of that. Then to the left is the infamous Igreja do Carmo. Goodness, those tiles! The inside is stunning, so do check it out.
Next, walk back to the Tower (Torre dos Clerigos) and climb to the top! It is a €6 entrance fee, but it provides one of Porto's best views.
Lunch break
At this point, your stomach is probably grumbling. Here are some fantastic options, and please try a francesinha at any of these spots if you're up for the challenge: Cervejaria Brasão Coliseu, Cafe Santiago, Bufete Fase, Casa Guedes Rooftop, Kardoso, or Conga (try the bifanas sandwich). Not convinced yet? Well, here is a great article about some of the best foods in Porto you need to try.
Wait, what is a francesinha, you make ask? It is a typical sandwich from Porto made with bread, ham, fresh sausage, steak, or roast meat and covered with melted cheese and a thick sauce made from tomato and beer. The Francesinha sandwich was created in the 1950s by the Portuguese Daniel Silva while living in France. According to popular legend, he was inspired by the French dish Croque Monsieur. Since the 50s, the dish has been adapted many times and is now one of Porto's most beloved dishes.
Head on over to Gaia
After lunch, walk to the Sé do Porto (cathedral) and go inside! The view from the top is outstanding. Then mosey down to Largo da Pena Ventosa to snap a photo before making your way to the Luis I Bridge. Make sure you stop to take a picture or two but be wary of the trams that still pass regularly (make sure to get out of the way as they won't slow down).
Then head on over to Vila Nova da Gaia. If it's sunset hour, head to Jardim do Morro for the best view of the sun dipping behind the Porto hills. Take the Teleférico de Gaia (€8 per person) or the cable car down to the riverside if you'd like. Visit Mercado do Beirario for some appetizers and a glass of port wine before visiting some of the many cellars in Vila Nova.
Porto is famous for its vinho do Porto, so you might as well visit one of the cellars in Vila Nova. I would recommend booking ahead at Graham's for a tour + tasting as you get an actual guide, and there's a patio outside when you finish to continue drinking!
If you have extra time and if it's raining:
Do go inside the WOW World Museum of Wine! (absolutely fantastic for a rainy day as there is a museum that features an exhibit on wine or cork! The wine exhibit is fantastic). WOW has seven museum experiences, twelve restaurants, shops, a temporary exhibition space, an events space, and a wine school. Also, the WOW Wine School holds regular workshops and tastings designed for those curious about wine, wine connoisseurs, and professionals.
Grab Some Dinner & Drinks
Before we talk about restaurant options, a word of caution, during a recent trip to Porto, we had decided to head out for dinner without any reservation. Four different restaurants turned us down. Every restaurant we walked by in the Baixa district was at capacity—full. Restaurants open at 19h00-19h30 for dinner service, so if you don't have a reservation try to go early and test your luck.
In terms of restaurants, some options you should try include Cantina 32 (try the octopus or pork ribs), Salve Simpatia Porto (delicious Brazilian cuisine so try the feijoada and a caipirinha cocktail), Gazela (could also be a lunch spot but do try the famous cachorrinhos which are "hot dogs"), or Museu d'Avo (a cozy spot great for their bacalhau de natas).
If you are looking to splurge for a romantic night out, then we'd recommend:
Barao Fladgate (located next to Taylor's Port cellars, so the dishes are a Portuguese fusion and do try the octopus), Antiqvvm (has a nine-course tasting menu featuring a Portuguese and French twist), Enoteca 17 56 (has an extensive menu for great prices), or Terra Nova (fantastic view with fantastic oysters).
After dinner, perhaps you want to continue the evening with a lovely wine bar: A Cave do Bon Vivant (great natural wines), Wine Quay Bar, The Wine Box, or Wow World of Wine.
If you want more of a bar scene, head on to Rua Tapas and Music Bar, Bar Pherrugem, or Bar Conceicao 35. If you are looking for more rooftop vibes, then make sure to visit Lift, Graca, or Base bar.
DAY 2:
Begin your day at one of the breakfast spots previously mentioned but different than yesterday's spot. If you are close to Rua das Flores, head over to OG's kitchen, a small pop-up restaurant that serves breakfast and brunch. It is so small you might probably miss it, but it would be a shame because the food is quite heavenly. Flakey croissants, delicious pastries, fluffy pancakes, smothered maple syrup – everything you need to fuel yourself up for the data.
Get Lost in Porto's Streets
Once your hungry has subsided, it's time to continue exploring the streets of Porto. Make your way to the beautiful Capela das Almas (Chapel of Souls) to admire the tiles from the street. Then walk along the shopping district of Rua Santa Catarina and purchase whatever your heart desires! After, go inside the Igreja de Santo Ildefonso for some baroque architecture.
Make sure to stop by Bolsa Palace (book before, but you have to arrange a time with a guide inside), which was the former stock exchange back in the day.
Walk Along the Douro River
Then if you are a lover of the arts, take a stroll along with the Porto Customs (arts district along the Douro river). Make sure to take the time and enjoy all of the area's artisanal shops. For a better vantage point, go to the Passeio Das Virtudes, Miradouro Bandeirinha da Saúde or Miradouro da Vitória. Be aware that there are quite a few stairs to climb here.
Take the Metro to Matosinhos + Seafood Lunch
Matosinhos is a city and a municipality bordered in the south by the city of Porto. It is a major port and a fishing town famous for its seafood restaurants, long beach boardwalk, and beautiful sandy beach. It is also the perfect place if you're looking to go surfing or bodyboarding. The town of Matosinhos is connected to the blue metro line, and the beach is served by the Matosinhos Sul stop. The beach is a 5-minute walk from the metro stop.
If you are a seafood lover, then make sure to have lunch at one of the many seafood restaurants located within the city, such as A Marisqueira de Matosinhos, Mauritânia, Dom Zeferino (try the Arroz de marisco), O Gaveto or Marisqueira A Antiga (try their grilled prawns, their spider-crab or their Seafood Açorda (kind of a bread soup).
Rent a GoCar Or Go on Boat Ride
Are you tired of walking? Why not rent a GoCar? Touted as the world's first computer-guided storytelling car, GoCar is a car that will help you navigate the streets of Porto while pointing out all the best sights and their history. Porto's GoCar Tours range from short 1 hour tours to full-day rentals and are a unique way of discovering everything Porto offers.
If driving is not your thing, why not go on a boat tour. Rabelo boats are the traditional Portuguese cargo boats traditionally used to transport Port wine from the vineyards to Vila Nova de Gaia. Nowadays, they are used as tours for cruises. The Rabelo cruises depart from Ribeira and cross under all the city's bridges until the river mouth into the Atlantic Ocean. These river cruises are nicknamed six bridge cruises. Rabelos offer an amazing 360º degree panoramic view of the river, the city's bridges, and the waterfront buildings. It also provides a fantastic view of Gaia and its wine cellars.
Dinner + Drinks
Last but not least, try some dinner spots mentioned above, and don't forget to stop for gelato and one of the best spots in all of Portugal! Gelataria Portuense!
To Sum Up: Best Things to do in Porto
There are many things to do in Porto; it is a city known for its food, culture, architecture, and breathtaking beauty. It is also a small city that can be adequately explored within 48 hours. Many people don't realize that the city of Porto is also a gateway to the largely unexplored beauty of the north of Portugal.
Many visitors tend to head on over to the Douro valley, which is famous for its wine. But there are a lot of cities, small towns, and fisherman villages that are just a short car ride away. For example, Guimarães is considered the birthplace of Portugal because it is the birthplace of Afonso Henriques, who went on to be the first king of Portugal.
If you plan to head over to Porto, make sure to stay an extra day or two to explore some of what the region has to offer, we'd recommend visiting Guimaraes. And above all else, remember to drink plenty of Port wine, order a francesinha (or two), and get lost within the winding streets of Porto—you definitely won't regret it.