Your Perfect Day Trip To Porto From Lisbon [2023]
PORTO VS. LISBON–WHAT CITY SHOULD YOU VISIT?
How about both? Are you considering a day trip to Porto from Lisbon? This enchanting coastal city, situated a mere 195 miles (314 km) north of Lisbon, is the second-largest in Portugal and boasts some truly unforgettable experiences.
From world-class wineries to delicious cuisine and picture-perfect vistas, Porto is a must-see destination for any traveler. While spending a few days in this stunning city is always ideal, a day trip can still be an incredible experience if you're short on time.
Let's explore how to make the most of your Lisbon to Porto day trip.
Day trip to Porto from Lisbon – Is It Possible?
Yes, A day trip to Porto from Lisbon is definitely possible. So how far is Lisbon from Porto? The two cities are less than 200 miles (320 km) apart, and the journey takes a little over 3 hours by car or slightly less by train. You can also take a tour or even book a private transfer.
However, this option is best if you're short on time. Otherwise, spending at least 2 to 3 days exploring this beautiful city to fully appreciate its charm and attractions is recommended.
5 Best Day Trips to Porto from Lisbon
Discover the top Porto to Lisbon itinerary options with our list of the 5 best Lisbon to Porto day tours. These expertly curated tours provide a hassle-free experience, allowing you to enjoy the highlights of Porto while maximizing your limited time.
Each tour offers unique features, ensuring you'll find the perfect match for your travel preferences and interests. Ready to choose the best day trip from Lisbon? Let's go.
⭐️ Rating: 5 out of 5 Stars | ⏰ Tour time: 12 hours | 🍷 Check rates and availability
Discover the enchanting city of Porto with a full-day guided tour from Lisbon. Your private guide will lead you through Portugal's captivating second city, exploring iconic landmarks such as the cathedral, Sao Bento train station, and Clerigos Tower.
Following the city tour, embark on a traditional Rabelo boat and cruise down the picturesque Douro River. From the water, you'll witness the city's stunning sights and marvel at Porto's six impressive bridges. This unforgettable day trip from Lisbon to Porto will leave you captivated by Portugal's charm.
⭐️ Rating: 5 out of 5 Stars | ⏰ Tour time: 9 hours | 🍷 Check rates and availability
Transform your Lisbon to Porto excursion into a captivating adventure as you explore charming villages, historical monuments, and stunning nature off the beaten track.
With stops in Óbidos, Fátima, and Aveiro, you'll experience the region's top highlights. This private tour, tailored exclusively for your group, allows you the flexibility to personalize your journey, even adding a scenic Ria de Aveiro cruise.
Uncover the hidden gems as you venture beyond the highway, immersing yourself in Portugal's rich history and breathtaking landscapes.
Enjoy the freedom to design your perfect day, experiencing a side of the country that few travelers ever see on this unforgettable Lisbon to Porto journey.
⭐️ Rating: 4.5 out of 5 Stars | ⏰ Tour time: 10 hours | 🍷 Check rates and availability
Immerse yourself in the enchanting world of Porto, a city renowned for its exquisite wine, on this full-day private tour Lisbon to Porto.
Upon arrival, explore iconic landmarks such as Porto Sé Cathedral, Torre and Igreja dos Clérigos, and the bustling Bolhão Market. Savor a delectable Portuguese lunch included in the tour, and delve into the famous wine cellars that define Porto's heritage.
Venture through the charming medieval district of Ribeira, where cobbled streets wind past merchant houses and inviting restaurants. Marvel at the opulent Baroque interior of St. Francis Church and the grand 19th-century Stock Exchange Palace, once a symbol of European investment prowess.
A Porto day trip from Lisbon wouldn't be complete without visiting the renowned port wine cellars. Gain insights into the history and tradition of the region as you sample the city's namesake libation on this group tour from Lisbon to Porto.
⭐️ Rating: 4.6 out of 5 Stars | ⏰ Tour time: 12 hours | 🍷 Check rates and availability
Experience a memorable journey from Lisbon to Porto, uncovering the medieval charm of Óbidos and the captivating fishing town of Nazaré en route. Traverse these Portuguese jewels in a comfortable, air-conditioned bus, and immerse yourself in their rich history and architecture.
Begin in Óbidos, exploring its cobbled streets and the impressive Castle of Óbidos, one of Portugal's 7 wonders. In Nazaré, discover Forte de Sao Miguel and O Sitio, boasting a myriad of religious buildings that attract pilgrims worldwide.
Finally, arrive in Porto for a traditional Portuguese lunch before embarking on a vibrant walking tour. Admire the UNESCO World Heritage Site Old Town, Igreja Carmen, Estação São Bento, Igreja São Francisco, and the iconic Ponte Don Luis—one of the best Porto tours from Lisbon.
⭐️ Rating: 4.5 out of 5 Stars | ⏰ Tour time: 10 hours | 🍷 Check rates and availability
Embark on a full-day exploration of Porto with a knowledgeable private driver, starting from Lisbon. Discover the city known for its exquisite port wine and UNESCO World Heritage Site architectural gems.
Stroll through the lively downtown area, marvel at landmarks like Clerigos Tower and Sao Bento station, and savor local wines and cuisine (at your own expense). Along the Douro River, experience Porto's captivating blend of old and new, brought to life by your informative guide during this unforgettable Lisbon day trip to Porto.
How to Get From Porto to Lisbon
If tours from Lisbon to Porto aren't your style, there are several other ways that you can get to Porto from Lisbon if you'd like to spend a day in this incredible city. Here are just a couple of travel tips that could work.
By Train
The Lisbon to Porto train is operated by Comboios de Portugal (CP), the national railway company of Portugal. You can take two main train services from Porto to Lisbon: Alfa Pendular (AP) and Intercidades (IC).
The Alfa Pendular is the high speed train from Lisbon to Porto, offering a faster and more comfortable journey, with the Lisbon to Porto train time ranging from 2.5 to 3 hours. The trains depart from Lisbon's Santa Apolonia station or Oriente station and arrive at Porto's Campanhã Station.
The first train to Porto from Lisbon usually leaves Lisbon around 6:00 am, and trains run frequently throughout the day, with departures approximately every hour or two. The train Lisbon to Porto costs around €30-40 one-way.
➤ You can buy your Porto to Lisbon train ticket here.
By Bus
Buses from Porto to Lisbon offer an affordable alternative to trains, but the travel time is ultimately longer. So this might not be the best option if you are short on time.
Several companies, such as Rede Expressos, provide regular services between the two cities. The bus journey takes around 3.5 to 4 hours, with comfortable seating and air conditioning to ensure a pleasant ride.
➤ You can buy your bus ticket from Lisbon to Porto here.
By Private Transfer or Car
For a more personalized and convenient experience, you can opt for a private transfer with a driver from Lisbon to Porto. This option lets you choose pickup and drop-off locations and travel at your own pace. A private transfer is ideal for those who prefer a direct route, with the driving from Porto to Lisbon taking approximately 3 hours.
And how about driving from Lisbon to Porto? Yes, that is possible. You can rent a car, plus Lisbon to Porto driving conditions are fantastic. But a Lisbon to Porto road trip will cost you. Portugal has tolls. Expect to pay around €20 one-way in tolls. The drive from Lisbon to Porto will also be around 3 hours.
➤ You can book your private transfer from Lisbon to Porto here.
A Day in Porto: What to Do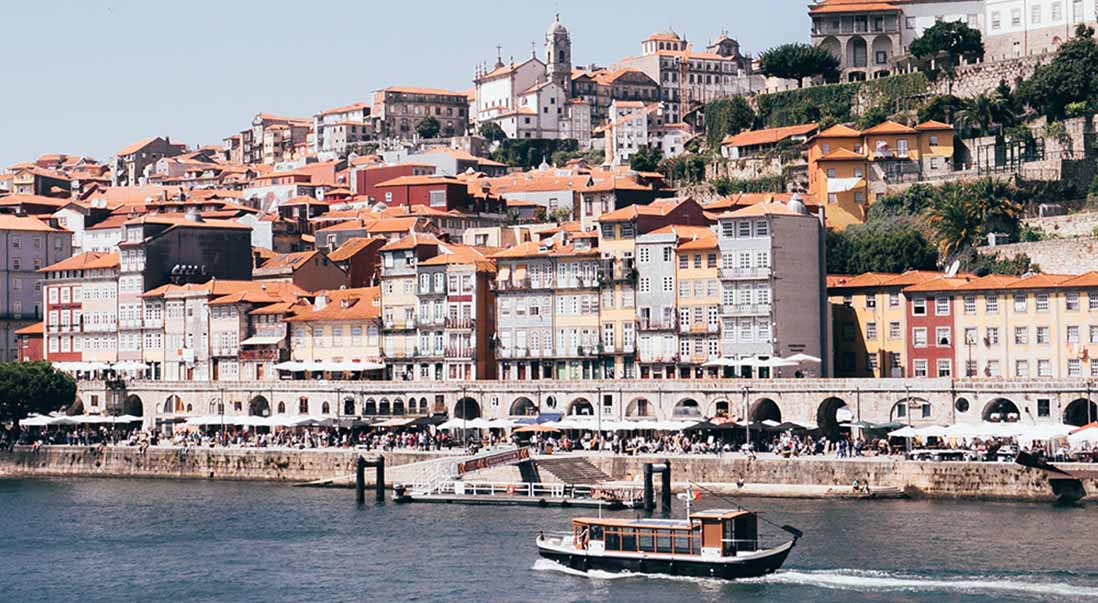 There are so many things to do in Porto, that is why we always suggest a two-day trip to this marvelous city. But you can also see all the major sites in a single day. Some of the things you should definitely add to your Porto from Lisbon day trip include:
Read a Book at Livraria Lello
Established in 1906, Livraria Lello is one of the world's most beautiful bookstores, with its stunning neo-Gothic architecture and intricate wooden staircase. Although many believe this bookstore inspired J.K. Rowling's vision for the Harry Potter series, the author has debunked this on Twitter.
Open daily, there is a small entrance fee, which is redeemable against any book purchase. But be prepared to wait, as the bookstore often has long lines.
Visit the Torre dos Clerigos
This iconic Baroque tower offers a panoramic view of Porto after climbing its 225 steps. Designed by Italian architect Nicolau Nasoni and completed in 1763, it stands 75 meters tall. Open daily, with a small entrance fee required.
Porto Cathedral (Se Catedral)
​​The imposing Porto Cathedral is a Romanesque-Gothic masterpiece with stunning views of the city. Dating back to the 12th century, it houses religious artifacts and an impressive cloister. Open daily with free entry; a small fee applies for the cloister visit.
Admire Sao Bento Railway Station
This early 20th-century railway station is famous for its 20,000 blue and white azulejo tiles depicting historical Portuguese scenes. Entrance is free, and the station is a working transportation hub, making it a perfect stop for admiring local craftsmanship.
Eat a Francesinha
This iconic Porto sandwich is a must-try, made with layers of bread, meat, cheese, and a rich tomato-beer sauce. Served in many local eateries, it's a delicious and filling meal you won't forget.
Explore Cais da Ribeira
Stroll through this picturesque riverside district with its narrow, cobbled streets, colorful buildings, and vibrant atmosphere. Filled with bars, cafes, and restaurants, it's a great place to relax and enjoy the views.
Cross the Dom Luis I Bridge
This 19th-century double-deck iron bridge offers stunning Porto and Douro River views. Designed by a disciple of Gustave Eiffel, it connects the city center to the Vila Nova de Gaia district, home to numerous port wine cellars. Accessible by foot, car, or metro.
Go to a Wine Cellar in Gaia
Venture across the Dom Luis I Bridge to Vila Nova de Gaia, the heart of port wine production. Home to renowned cellars like Sandeman, Taylor's, and Graham's, you can indulge in informative tours and tastings.
Discover this famous fortified wine's rich history and unique aging process while enjoying stunning views of Porto's skyline from Gaia's riverside terraces. Most cellars are open daily, with varying tour schedules and tasting fees.
➤The Cellar Tour, Interactive Museum, & Wine Tasting experience gives you a full tour of Cálem Cellar and a visit to the museum where you'll learn everything about Port wine and try the different varieties. ➥ BOOK IT HERE
Day Trip to Porto from Lisbon: FAQS
Can you do Porto as a day trip from Lisbon?
Can you do Porto in a day? Yes, Porto can be a day trip from Lisbon. But be prepared, as it will definitely be a long day.
Is one day enough in Porto, Portugal? One day is enough to see the main attractions in Porto, but spending two or more days will allow for a deeper exploration of the city and its surroundings.
How Far is Porto from Lisbon
Porto is approximately 313 kilometers (194 miles) north of Lisbon. The distance between Lisbon and Porto can be covered in around 2 hours and 30 minutes by high-speed train, 3-4 hours by car or bus, or a 1-hour flight.
Is There A High-Speed Train From Lisbon To Porto?
Yes, the Alfa Pendular is a high-speed train connecting Lisbon and Porto in approximately 2.5 hours.
How Long Is The Train Ride From Lisbon To Porto?
The train ride from Lisbon to Porto takes about 2.5 hours on the Alfa Pendular and 3-3.5 hours on the Intercidades train.
Is Porto a walkable city?
Yes, Porto is a walkable city with many attractions located within walking distance of each other, especially in the historic city center.
What Is The Best Month To Visit Porto?
The best months to visit Porto are April to June and September to October when the weather is mild, and the crowds are thinner.
Is Porto Less Touristy Than Lisbon?
Porto is generally considered less touristy than Lisbon but has recently gained popularity. Regardless, it still offers an authentic Portuguese experience.
Final Thoughts: A Day Trip to Porto from Lisbon
So, can you do a day trip from Lisbon to Porto? Absolutely. Embarking on a day trip Lisbon to Porto offers a remarkable experience, showcasing Portugal's rich history and culture. With Porto being less touristy than Lisbon, you can enjoy a more authentic taste of Portugal. In fact, Porto is one of the best Lisbon day trips.
💡 And if you aren't keen on doing a day trip, there is plenty of things to see and do from Porto to Lisbon (and vice versa). So why not take a 10-day roundtrip to see it all?
You'll uncover hidden gems and iconic landmarks as you travel from Lisbon to Porto by train, bus, or private transfer. Porto and Lisbon have unique charms, but a day trip to Porto will undoubtedly leave you with unforgettable memories and a deeper appreciation for Portugal's enchanting cities.