Monchique is a small town in the northern Algarve. Due to its location in the mountain range of Serra de Monchique, it has remarkable views. Monchique lies in pristine nature; it is surrounded by lush green forests, mountain peaks, and small streams. At 450 meters above sea level, it is located in a valley between the two highest peaks in the Algarve. The mountains and forests surrounding Monchique are perfect for activities such as hiking, biking, and climbing.
The little town of Monchique is idyllic, picture white houses that tumble down the hills, small, but steep, streets and craft shops that offer unique handmade items such as pottery, soaps, cork handbags, and wicker baskets. Handicrafts have always been the mainstay of the town's economy. The knowledge has been passed on from generation to generation for centuries and has a long tradition in Monchique.
So should you visit Monchique? In this post, we will talk all bout this charming little town and everything that it has to offer.
General information about Monchique
Monchique is a municipality in the Algarve with only around 6,000 inhabitants. It is surrounded by the mountain range Serra de Monchique which separates the Algarve from the region of Alentejo.
The best way to visit Monchique and its surroundings is by car as public transport is not easily available and sometimes non-existent. Monchique itself can be reached via small roads.
How to get there
As mentioned previously, the easiest way to visit Monchique is by car. The town is about a 30-minute drive from Portimao and it takes about a 1-hour drive from Faro airport. Make sure you fill up your gas tank as there are not many petrol stations along the way.
When to go
The weather in Monchique is mostly cooler than in the coastal area of the Algarve and it can also change from sunny to cloudy and vice versa quite quickly throughout the day.
If you want to connect your trip to Monchique with a beach holiday on the south coast that the summer months are the perfect time to visit. However, the best time to visit Monchique depends on your personal preferences and your choice of activities. Spring and autumn are likely the best times to truly explore the town of Monchique and its surrounding nature as these seasons are not too hot or too cold.
Top 6 Things to See in Monchique
The little town of Monchique is a charming and peaceful place. The main square is very inviting, and in the cafe Velochique, you can sit down for coffee or food and enjoy the friendly atmosphere of the historical town with its fountain and flowers. The cobbled narrow streets and little shops make buying souvenirs for your loved ones a unique experience.
1. Igreja Matriz de Monchique
Near the centre of Monchique you will find the church Igreja Matriz de Monchique, Monchique's main church. The entrance with its impressive pillars is a beautiful example of architecture from the 16th century. Additionally, you can visit the church's museum with its collection of liturgical objects.
2. Caldas de Monchique
Just outside of town, you can find Caldas de Monchique, a famous spa with waterfalls and springs. It is one of the most beautiful places in the region and it is known for having the cleanest and the best water in the whole Algarve. The water is said to have healing qualities for the human body. It is also used for relaxation purposes as well as for healing respiratory illnesses. As outlined by Visit Portugal, these thermal baths or "sacred waters" were used by the Romans before the birth of Christ as a treatment for bodily and spiritual fatigue.
The Caldas de Monchique are the only thermal spa in the Algarve. This spa town is also home to the Monchique Thermal Resort, the perfect place if you are looking to relax in nature.
3. Mountain Fóia
At 902m above sea level, Mountain Fóia is the highest mountain of the Algarve and shouldn't be missed. You can reach the peak of Fóia on foot, by bike or car. The panoramic view from Fóia is breathtaking. You can see the town of Monchique with all its colorful buildings and narrow streets as well as all the hills of Serra de Monchique which are stretching for miles and miles covered with trees and wildflowers. Make sure to visit on a clear day, otherwise, you won't be able to see much. The higher you go, the colder it gets, so make sure you pack accordingly. If you plan on going to Fóia bring warm clothes and a swimsuit.
4. Convento de Nossa Senhora do Desterro (Convent of Our Lady of Exile)
This beautiful Franciscan convent was built in the 17th Century by order of Pêro da Silva, a viceroy of India who was later buried here. The convent was destroyed in an earthquake in 1755 and as a result, many of the altarpieces and statues were moved to other churches. Nevertheless, the scenery from the Convent is beautiful and offers a view of the town and the neighboring.
5. Mina Park
Parque da Mina is currently the largest living museum in the region and is a fantastic double adventure, between culture and fun. Guests can visit a century manor house as well as experience some of the cultural traditions of Serra de Monchique, like a reenacted medronho distillery. There are even farm animals, ancient means of transport, viewpoints, a suspended bridge over the waterfall, and spaces for children's entertainment, and more.
6. Serra da Picota
At 774m Serra da Picota is the second highest point of Serra de Monchique. The view is phenomenal and the whole area is quiet and peaceful. It is a beautiful place to watch birds and other animals. You can go up the mountain by car or go on a hike up the hill.
Where to Eat
The region is known for its gastronomy, which continues to be produced using traditional methods. Some of the regional foods that you should be trying are black pork sausages and cured hams, honey that comes from the region's scented wildflowers, and a shot (or two) of the powerful medronho liqueur, which is made from the fruit of strawberry trees.
Let's start with the meat. Monchique is known for pig farming and has a wide selection of pork sausages(molho, morcela de farinha or farinheira and chouriça) and hams that you can try.Sausages are made following a centenary tradition that has been passed down from generation to generation by locals. The art of sausage making is so important in the region that Monchique holds an annual three-day traditional sausage fair (Feira dos Enchidos Tradicionais de Serra de Monchique) during the first week of March that aims to promote this ancient tradition. It also has an annual Ham fair (Feira do Presunto), which is held in June.
If you aren't a fan of meat, then don't worry, there should be a lot of fish options available too, including bacalhau, a Portuguese favorite.
Then there is the Mel da Serra de Monchique, which is wildflower honey made from several local floral varieties, such as lavender, heather, eucalyptus, citrus, and plum.
If you fancy a drink, then Monchique is famous for producing Medronho, a spirit made from the fruits of the Arbutus Unedo tree. Liquors made with regional products are also a great thing to try; the most famous of which is Melosa which is made from arbutus brandy (medronho). The picking of the small red arbutus of the Medronheiro (also known as the strawberry tree) is done during the months of October and November, this is the phase that many experts believe to be the most important in the production process. Next, the medronho is fermented in containers for at least a month, depending on the producer, and then distilled in copper stills. After aging in barrels, for more or less eight years, the medronho – with an alcohol content between 40% and 50% – is bottled and ready to consume.
If you are visiting Monchique on your own, don't miss a visit to the "Casa do Medronho," a beautiful space created to delve deeper into this fantastic product.
Finally, in regards to local sweets, Monchique has a regional traditional sweet that is called Bolo de Tacho and is made with cocoa, honey, and fennel.
You can try all these delicacies in a number of restaurants.
Luar Da Foia serves regional dishes but specializes in black pork dishes and has a view of the Monchique mountains and the sea. A Charrette is a cozy and traditional restaurant with a menu filled with regional dishes. Then there is Tasca do Petrol a restaurant that serves authentic "serrana algarvia" food. If you plan on going during the weekend, make sure to call and book a table in advance.
Monchique is also well known for its pure spring water which is available for purchase in almost all supermarkets all over Portugal.
Make sure to check out the Loja do Mel e do Medronho where local producers sell their product. If want to experience the real thing then Algarve Food Experience runs a Monchique Hills and Flavours tour where guests walk through Monchique cork and medronho forest, delve into its gastronomy, and learn how local farmers create the best-cured meat in Algarve.
Where to Stay
There are several hotels and accommodations available in the area of Monchique. Many of them offering spa and wellness treatments. Below you can find our favorites:
💲💲💲 Monchique Resort and Spa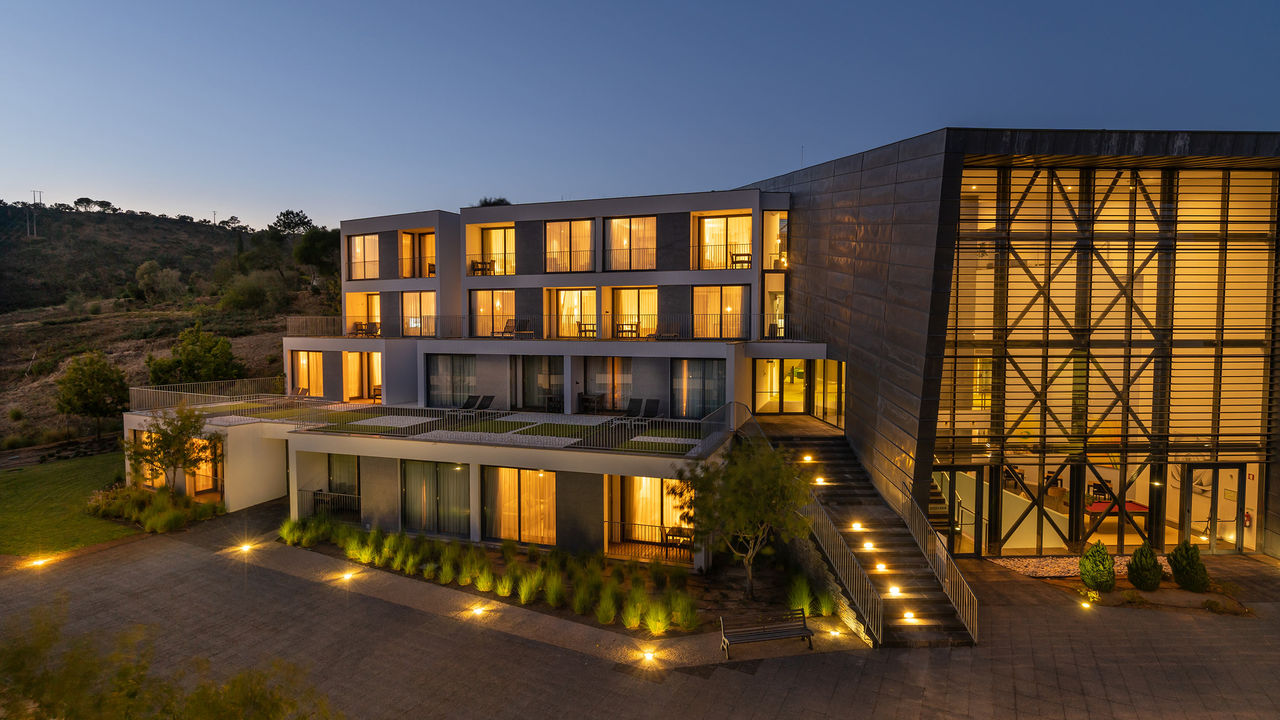 The Monchique Resort and Spa is a 5-star luxury hotel that has a spa, restaurant, three pools (which includes a waterfall pool), a fitness center, and even a kids club. The hotel also has a number of activities that are organized into six distinct categories – wellness, sport, nature/sustainability, healthy eating, families, and featured workshops.
🔹 From €100 a night (sleeps 2), monchiqueresort.com
💲💲 Villa Thermal das Caldas de Monchique
Enjoy the hotel's pool with healing thermal water and relax in their cozy rooms furnished with 18th- and 19th- century pieces with a view over the valley. The hotel has its own tapas bar which is definitely worth a try for regional meats and fish.
🔹 From €80 a night (sleeps 2), monchiquethermalresort.com
💲Casa dos Batalim
This bed and breakfast is a beautiful little gem. The rooms have their own little kitchen and the service is excellent. It is a very laid-back atmosphere and ideal for an authentic stay while in Monchique.
🔹 From €40a night (sleeps 2), casadosbatalim.com

Not exactly what you are looking for? There are many accommodation options in Monchique, for a list of places to stay, click here.
Should you visit Monchique?
Monchique has everything you need to enjoy a fun and at the same time relaxing holiday. You can enjoy the quiet of the mountains Fóia and Picota, the touristy streets of Monchique, the healing energy of Caldas de Monchique, and the hustle and bustle of the next bigger city of Portimao is also just a 30-minute drive away. And Lisbon is only a couple of hours away!
And, if you want to see something extra special, then visit on market day—the second Monday of the month in the town square. Here you will find plenty of traditional fares, mentioned in this article. There is also furniture, with the town being known for its "scissor" chairs – small wooden X-shaped chairs which fold down flat. One theory is that these were Roman inventions.