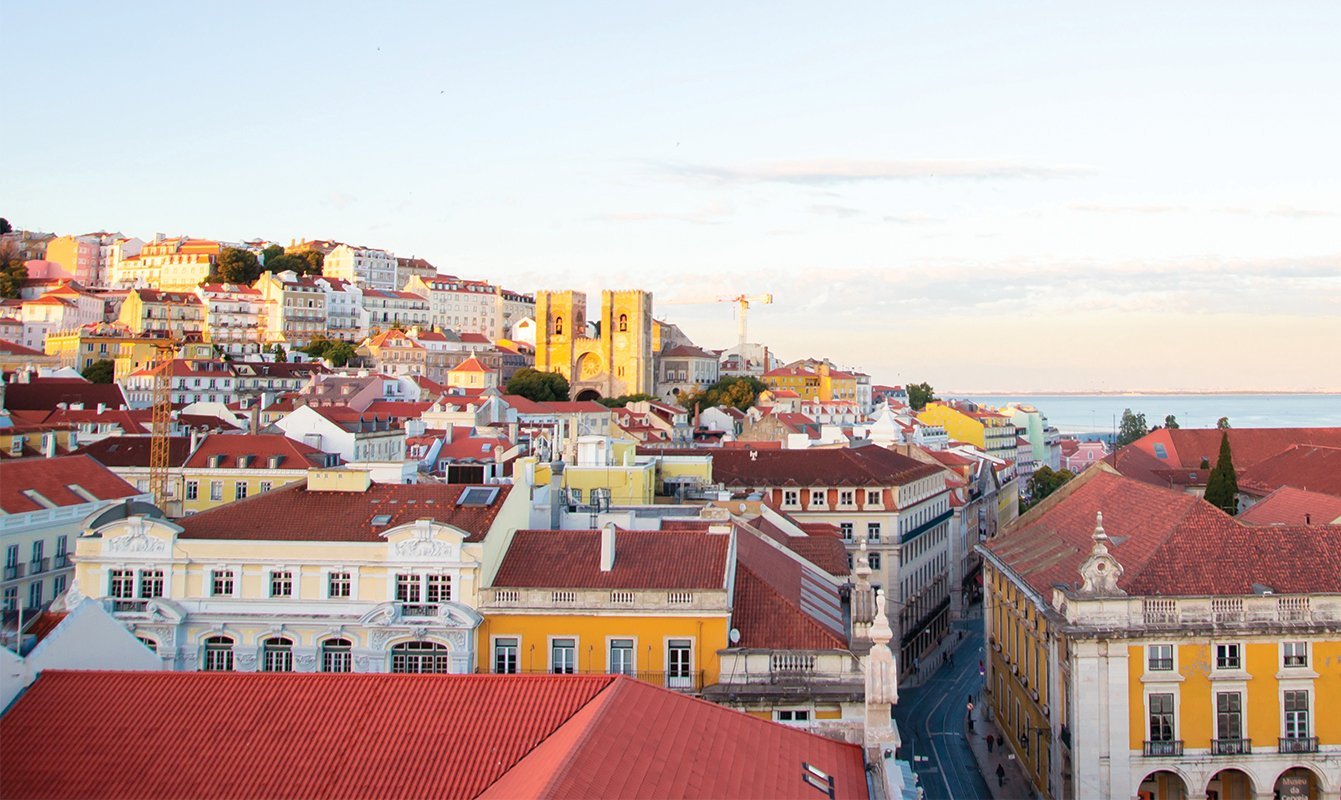 With its historical architecture, exceptional cuisine, gorgeous views, and friendly hospitality, it's no wonder that Lisbon is one of the top vacation spots in Europe. When planning your Lisbon itinerary, you want to make sure you include some of the best restaurants, sites, and things to do. Behold our ultimate travel guide to Lisbon, Portugal.
First things first, my best piece of advice before coming to the sunny capital of Portugal: wear, take, buy but whatever you do, you MUST have non-slip shoes. This is almost as vital as bringing underwear. Also, bring your appetite for the freshest seafood of your life.
First things first, a little historical background knowledge is in order:
Lisbon is indeed older than Rome and was founded by the Phoenicians in 1200 BC. The city is known to have seven hills, but this was just to copy Rome. There are, in fact, nine hills.
Lisbon locals are known as 'Lisboetas' and Alfacinhas.' Not so interesting, but just a cute fact.
One of the most deadly earthquakes in the world occurred here on 1st of November, 1755. Unfortunately, because of this, there were fires and, consequently, a tsunami. Some of the city recovered, and some of it did not.
From 1932-1974, Portugal was overrun by a dictator, António de Oliveira Salazar. Times were really hard for most big businesses, and people had a 'secret language' where they'd speak in code when in public. The dictatorship came to an end on the 25th of April, 1974, which is known as the 'Carnation Revolution', and each year there is a parade in remembrance.
The Vasco da Gama bridge is the longest bridge in Europe and has striking views of the city.
Lisbon boasts two UNESCO World Heritage sites— Mosteiro dos Jerónimos, a maritime-inspired Gothic monastery, and Torre de Belém, a 16th-century landmark tower on the Tagus River.
BEST TIME TO VISIT:
May – June; September – October; Christmas (obviously you can visit during other seasons)

February could also be an option if you're keen on Carnaval festivities but the BEST month is June (13 June specifically) because of Santos Populares, which is when the whole country celebrates the saint from their town by decorating the streets with banners and eating the most delicious grilled sardines and drinking ginjinha. It's basically a month-long festa but can be more subtle, depending on the area.
Ginjinha: Also known as ginja, this is a sweet liqueur made from Morello (sour) cherries soaked in a distilled spirit called aguardente. The mixture is flavored with sugar and spices like cinnamon. It is deceptively sweet, small, and packs a punch.
WHAT TO WEAR:
Did you remember your non-slip shoes? Well, that's a must, other than that, what you pack really depends on when you will be visiting Lisbon. Here is our travel guide to what to pack depending on the season:
s p r i n g // f a l l
The weather in Lisbon is never too cold, and it starts getting warm around April. In fact, you'll probably see people already swimming in the ocean as early as March. Temperatures are warm Apr-Sep, the peak travel time. The warmest (without being too hot) times to travel to Lisbon are between May-June and Sept-Oct. The weather isn't too hot and not too cold; it's just about right. Fun fact, Portugal is one of the best European countries to visit in the fall. So what should you pack?
Shorts, t-shirt, hats, and sunglasses – basically all the gear for a summer vacation
The evenings are a little chillier so bring a jacket
Walking shoes, leave the heels at home, you don't need them. Lisbon is known as a city with hills, so make sure that you bring a comfortable pair of shoes.
Money! Some places don't accept credit cards (or any cards for that matter), so make sure to always bring cash
s u m m e r
The months Jul–Aug is hot, sunny, and dry. So make sure that you pack:
A swimsuit & beach gear as you'll probably end up heading to the beach during the weekend to escape the summer heat
Shorts, sunscreen, sunglasses and comfortable walking shoes
A light jacket as it can get chilly once the sun goes down
A refillable water bottle, trust me, you'll need it.
Money!
w i n t e r
The weather gets much colder from November until March. If you do plan on heading to Lisbon during this period of time, you should pack:
Warm clothes, lots of them. Although many hotels and hostels have heating inside, a lot of places do not. Central heating is not really a thing here in Portugal so it can be cold outside AND inside. Make sure to pack a lot of warm clothes. Think layers, because one second it can be cold and in an hour you could be sweating.
Gloves, a hat and a scarf
Money!
PUBLIC TRANSPORTATION:
Public transport in Lisbon is not the absolute best in all of Europe, but better than others. You should have no problem navigating the metro and buses. Plus, the airport is super central. Uber works really well here and is super cheap. You have probably heard about the famous Tram 28. If you're on a budget, then try to catch it at the end of the line: Campo de Ourique (Prazeres) instead of at Martim Moniz.
OTHER TIPS: If you want to schedule a walking tour in Lisbon, there are a number of great options in the city, like this Lisbon: Food and Wine Walking Tour, Lisbon Tram No. 28 Ride & Walking Tour, or this Lisbon: Full-Day City Private Tour. If you want a go on a day trip to Sintra, there are a number of great tour options available. If you need any more information, LANGUAGE:

If you didn't already know, the official language of Portugal is Portuguese.

Here are a couple of words and phrases that can come in handy during your trip to Portugal:
Hello (Olá) similar pronunciation in Spanish but a bit more nasally
Please (por favor)
Thank you (Obrigado, if you identify as a man & Obrigada, if you identify as a woman)
Goodbye (Tchau, pronounced like "ciao" if you're speaking informally & "Adeus", if it's to someone formally, 'ah dey oush')
Quanto custa? (how much does that cost?)
Você fala inglês? (do you speak English? formally)
So, would you say that Portuguese people mostly speak English and you can get around in the city even if you don't know a lick of Portuguese? Definitely. Lisbon is a touristic city, which means that the majority of people that you will meet while wandering through the cobblestone streets will be able to talk to you in English.
ACCOMMODATIONS:
Best areas are: Alfama/Graca, Rossio, Avenida, São Bento, Principe Real, and Santos.
FOOD & DRINKS:
l e t ' s e a t
breakfast (pequeno almoço) – typically, Portuguese just eat a light breakfast consisting of a croissant/small pastry, an espresso, and an orange juice, but here are some other options for breakfast or brunch:
Java (Praca Dom Luis I 30, go through the elevator) → best rooftop view of the city
Curva (Rua Damasceno Monteiro 108D) → art mixed with food
Manifest.Lisbon (Rua da Sociedade Farmaceutica 31)
Tease (found all throughout the city)
COMOBA → great vegan options
Café Janis → all-day café
Fauna & Flora (there are two)
Hello Kristof / The Mill → specialty coffee, brunch, pastries & magazine store.
Dear Breakfast (two locations) → all-day brunch
Amelia (Rua Ferreira Borges 101) → delicious pancakes
Zenith (Rua do Telhal) → brunch and cocktails
Clube Caffeine → mostly just coffee and also has some nice cocktails)
// another cute option if the weather is nice would be to have a stroll in LX Factory on a Sunday afternoon and have lunch there.
lunch (almoço) + dinner (jantar) — typically Portuguese eat lunch around 13.00-14 and dinner at 20h/21h, but obviously, you can eat whenever you'd like. Try to eat bacalhau (codfish) because it's famous around the country! Polvo (octopus) is also fresh everywhere.
Ramiro → famous place and always has a line outside, so during lunch it's usually better, but it's the best seafood you'll have in your life
O Velho Eurico → traditional Portuguese cuisine
Taberna do Calhau → traditional Portuguese cuisine with a modern twist
Senhor Uva → only local products with a modern twist
SEM Restaurant → restaurant & wine bar which cooks with regenerative food and without a bin
Ultimo Porto → opens only for lunch but wonderful seafood
Raizes → traditional Portuguese cuisine with a modern twist
Time Out Market → a largely closed space food court with a huge variety of different food options
Casa do Alentejo → traditional Portuguese cuisine from the region of Alentejo
O Tachadas → authentic, no-fuss Portuguese cuisine in Madragoa (do order the steak)
Tasquinha Ilha do Madeira → typical food from Madeira, and you must get a poncha drink
Taberna Portuguesa → traditional Portuguese cuisine from the region of Alentejo
Cantinho d'Ourique → authentic, no fuss Portuguese cuisine in Campo de Ourique
Lisboa Tu & Eu → cute lunch spot with small plates
Taberna Sal Grosso → a modern take on Portuguese dishes
Adega do Kais → expensive, but you basically eat inside of an obnoxious castle but seriously incredible food
Sala de Corte → if you're wanting to have a high dining experience because the chef is famous and has many restaurants in Lisbon
The Food Temple or O Gambuzino → both restaurants are vegan-friendly
// If you have time to kill one afternoon or for sunset, we highly suggest hopping on the ferry from Cais do Sodré Fluvial Terminal to Cacilhas and then walking to the restaurant Ponto Final in Almada to eat! You should definitely make a reservation as tables fill up quick!
If Portuguese cuisine isn't your groove, here's a list of the best international restaurants:
Mezze → middle eastern tapas style restaurant run by Syrian refugees
Tantura → middle eastern restaurant
Aura Dim Sum Lab → handmade dim sum
Farès → Lebanese food
El Taco Chingon → Mexican food
Las Gringas → Mexican food (takeaway and delivery only)
Retrogusto84 → best pizzeria in Lisbon
Boa-Bao → Chinese/Thai fusion and is very aesthetically pleasing inside
"Illegal" Chinese Clandestine → these are located around the area of Martim Moniz. Rua Guia 9, go to the second floor. Oriental Dongfong Dumpling is also tasty
A Cevicheria → (famous spot so I would try to go early if you can)
Paco Bigotes → best tacos along the river Tejo
dessert (sobremesa) —we have a rather large sweet tooth, but honestly, Portuguese sweets don't excite us so much because typically they're a bit too dry or too sweet, but they can do a wonderful chocolate mousse. I would suggest gelato if the weather is nice, either from Nannarella or Gelato Davvero (Italian-owned.)

It would be breaking the law, practically, if this article didn't mention the staple of Portuguese sweets: the pastel de nata.

Only three people on earth know the secret recipe of the original pastéis from Belém, which are obviously the tastiest ones (no further comments) so make sure to visit the shop while in Lisbon.

Other incredible pastelarias include:
Manteigaria
Aloma
Pastelaria Cristal
Pastelaria Santo António
d r i n k s (bebidas)
beer (cerveja) there are two main beers in Portugal called Super Bock and Sagres, which you can find everywhere, but if you're keen on trying some breweries:
w i n e (vinho) absolutely phenomenal and SO CHEAP here!
Opt for red wine from Alentejo, Douro, or the region Dão. White wine is good from Setúbal, Alentejo or Monção e Melgaço. Moscatel from Setúbal is delicious but is a bit sweeter. Vinho Verde (green wine, but not really green) is from its own region in the north and is best during the summer because there is a little carbonation and less alcohol content. Vinho do Porto is typically drunk after a meal and is a must-try while in Portugal.

*Another famous liquor in Portugal is called ginjinha and is made with cherries. Head on over to A Ginjinha near Rossio Square to try some!
BlackSheep → Portuguese wine bar run by Americans actually and is super cozy
Tati → also a tapas place and is AMAZING
Senhor Manuel → just recently opened. The owners also own Senhor Uva.
Bythewine → an excellent choice for drinking wine by the producer Jose Maria da Fonseca, from Setúbal
Jobim → probably my go-to wine bar owned by Brazilians with some tapas and fun vibes
Here are some places where to purchase wine: BlackSheep, Terra Wine Shop, Ladidadi Wines and Garrafeira Estado D'Alma
c o c k t a i l s
c l u b s
Incognito
Plateau (80s jams)
Lux CLUB (great for dancing! arrive around 2AM)
For some great clubs and bars, make sure to head on over to Pink street
SIGHTS
Once you've finished eating and drinking, take a walk and see some of these amazing sights in and around Lisbon, Portugal if you have the time:
Comércio Square
Alfama district
Museu Nacional do Azulejo
National Pantheon
Palácio dos Marqueses de Fronteira (a bit out of the city, but you could always take an Uber as it is stunning)
Santa Justa lift
São Jorge Castle
Convento do Carmo
Lx Factory
National Museum of Contemporary Art: the MNAC is a must-see for those wanting to learn about and enjoy Portuguese romantic, naturalist, modern and contemporary art.
Most weekends, there are little markets all over the city! Looking for a city guide to Lisbon's off-the-beaten-path gems? Basically, a small guide to Lisbon? Check out our article about Lisbon's 10 hidden gems.
b e s t f o r s u n s e t
Miradouro da Santa Catarina
Miradouro de Santa Luzia… walk a little further for Portas do Sol
Miradouro de São Pedro de Alcântara (newly reopened)
Jardim do Torel (bit of a walk but nice views)
Miradouro da Senhora do Monte (highest point in Lisboa and has best view of the city but also is quite a hike up)
ESCAPING THE CITY
Our city guide to Lisbon wouldn't be complete if we didn't mention some weekend getaway destinations. If you are looking to escape the city for the day, then here are some day trips that you can go to:
S i n t r a
take the train to Sintra and take the bus to Pena Palace or take an organized tour through GetYourGuide
Monserrate Palace is beautiful!
Castle of the Moors
eat at Cafe Saudade
Cabo da Roca (most western point of Europe)
Piriquita – famous pastry shop
For more information, make sure to read our article: A Sintra Day Trip: Your Complete Guide
b e a c h e s
Along the Cascais line, the best beaches are São João and São Pedro do Estoril.

along the Sintra line, the best are Praia do Guincho, Praia da Ursa, Praia da Adraga, and Praia das Maçãs. If you have time, I would check out Azhenhas do Mar.

If you have a car, drive across the April 25th bridge to Costa da Caparica or Fonte da Telha. However, the best beaches are in a national park called Arrabida: Ribeira do Cavalo and Praia de Galapinhos. These can also be done as a day trip from Lisbon.

If you plan on taking a road trip to Porto, there are a number of beautiful stops along the way. Here are ten amazing places that you can visit if you are driving from Lisbon to Porto. Also, here are a couple of day trips you can take from Lisbon.

// So, hopefully, this little city guide to Lisbon helps you on your way to exploring Lisboa! But, don't worry if you fall in love with the city (or the incredibly kind people) after the first day!

boa viagem!