12 Best Lisbon Walking Tours: From Cobblestones to Castles
LOOKING FOR THE BEST WALKING TOUR LISBON HAS TO OFFER?
Look no further, as in this guide, I will outline the 12 best Lisbon walking tours. If you didn't already know, Lisbon is known as the city of the seven hills.
I won't sugarcoat it. As someone who has lived in Portugal since 2020, I know that the Lisbon hills are not for the faint of heart. But I also know that one of the best ways to really explore this magical city is by foot.
Lisbon isn't that big, and most of its iconic landmarks are quite close to one another. As a result, to truly enjoy the city's magic, you should go on a Lisbon walking tour.
But remember, if you are planning on exploring Lisbon on foot, you'll need a comfortable pair of walking shoes, as well as water, sunglasses, sunscreen, and a hat, if you plan on coming in the summer.
Is Lisbon walkable? Absolutely! And without further ado, let's dive into the top Lisbon walking tours.
Top 3 Picks: Best Lisbon Walking Tours
→ Private photographer guide
→ Learn photography tips
→ Get insider tips + several tour times
→ Private personalized experience
10 Best Lisbon Walking Tours
⭐️ Rating: 4.8 out of 5 Stars | ⏰ Tour time: 3 hours | 🚶‍♀️ Check rates and availability
On this Lisbon: Alfama, Bairro Alto, and Downtown Walking Tour, you'll get a close look at Lisbon's heart and history.
This private tour is crafted just for you, ensuring a tailored experience. Start your journey in Alfama, an old district filled with character and charm. As you stroll through, you'll notice a blend of time-worn buildings, each with its own story.
The city center is next on the list, showcasing a harmonious mix of baroque and art deco designs. An interesting part of the tour is the ride on the Elevador da Glória. This historic train connects Baixa and Bairro Alto, two lively areas of the city.
With a knowledgeable guide leading the way, this half-day Lisbon walking tour ensures you get a genuine feel of Lisbon's essence, from its architectural gems to its vibrant neighborhoods.
Lisbon Walking Tours
⭐️ Rating: 5 out of 5 Stars | ⏰ Tour time: 3 hours | 🚶‍♀️ Check rates and availability
Discover Lisbon not just through its cobblestone streets but through the lens of a camera on the Lisbon Walking Tour with a Photographer – Morning Edition.
This private experience goes beyond a traditional city tour. Walk the picturesque streets, plazas, and vantage points of Graça, Mouraria, and Alfama with a professional photographer guiding you on how to frame the city's magic.
As you navigate both the famed and hidden corners of the city, gain insights into photography techniques and how to bring out the best in your shots. And it's not just about the photos—each step offers a snippet of Lisbon's history and culture.
With the undivided attention of your private guide, this morning tour guarantees both breathtaking photos and a deeper connection with the enchanting city of Lisbon.
Lisbon Walking Tours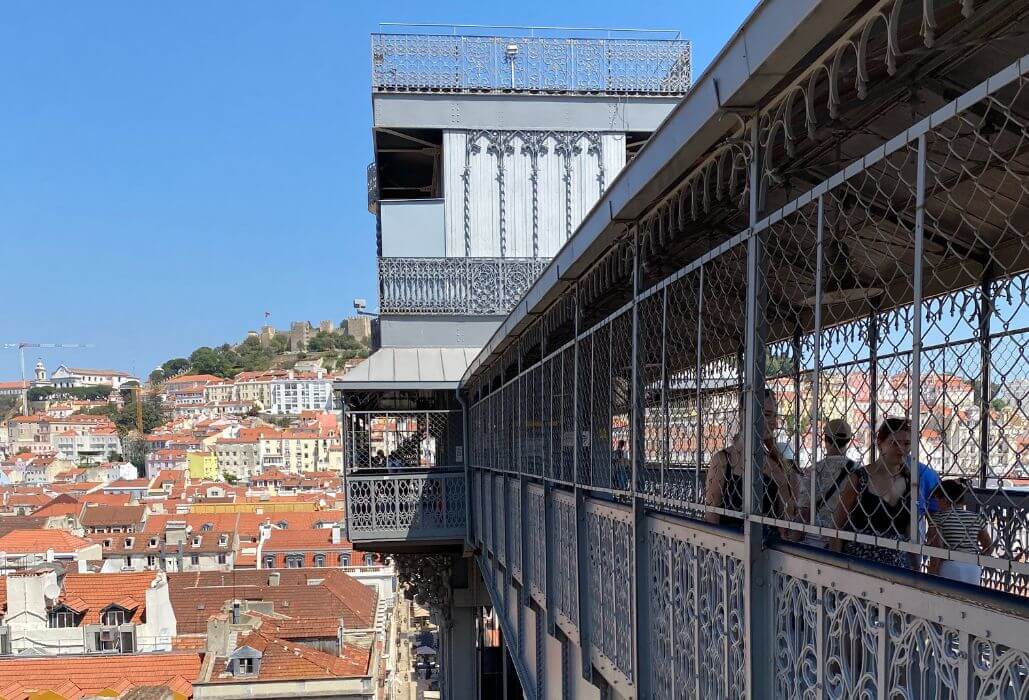 ⭐️ Rating: 5 out of 5 Stars | ⏰ Tour time: 3 hours | 🚶‍♀️ Check rates and availability
Delve into Lisbon's most enchanting corners on this Best of Lisbon Private Walking Tour.
With your personal guide, navigate the ancient streets of Alfama, marvel at the architectural beauty of the Santa Justa lift, immerse yourself in the vibrant atmosphere of Bairro Alto, and enjoy sweeping views from the Graça viewpoint.
As you journey through these iconic landmarks, you'll get a comprehensive overview of Lisbon's history and culture. Along the way, your private guide will also share insider tips about the best places to eat and hidden treasures in the city.
Choose a tour time that fits your schedule and enjoy the personal touch of a private guide, making your Lisbon experience truly memorable.
Lisbon Walking Tours
⭐️ Rating: 5 out of 5 Stars | ⏰ Tour time: 4 hours | 🚶‍♀️ Check rates and availability
Embark on a gastronomic journey on this Lisbon Cultural Food and Wine Walking Tour. Dive into the heart of Lisbon not just with your eyes and ears but also with your taste buds.
As you wander from downtown to the richly historic Mouraria district, your passionate foodie guide will share tales of the city while introducing you to an array of traditional delights.
Begin with the famed Portuguese Codfish Cake paired seamlessly with a glass of crisp Green Wine. As you eat, you'll guide will explain the historical significance behind this pairing.
Then, dive deeper into the city's essence with a Bifana (classic pork sandwich) accompanied by a cold beer, and discover the lore of Portugal's renowned Port wine. To round off your culinary adventure, toast with a traditional Ginjinha at an age-old bar, followed by a spread of cheese, ham, exotic snacks, and a sweet finale.
Ready your senses for 14 unique tastings that promise a true Lisbon experience, blending culture, history, and flavor.
Lisbon Walking Tours
⭐️ Rating: 5out of 5 Stars | ⏰ Tour time: 3 hours | 🚶‍♀️ Check rates and availability
Experience the charm of Lisbon's Bairro Alto neighborhood as the sun sets on this Lisbon At Sunset: Petiscos, Food & Wine Walking Tour. Join a group of no more than 10 food lovers and immerse yourself in a journey that marries history with gastronomy.
You'll sample close to 15 distinct drinks and traditional petiscos. One highlight includes visiting a restaurant that was once a meeting spot during the Portuguese Colonial War. Here, you'll discover the tale of the 'little fish from the garden' and its religious significance.
All in all, you'll stop at four different foodie spots, enjoying a special dish at each venue. With every bite and story, the golden hour paints a perfect backdrop, making your tour an unforgettable culinary experience.
Lisbon Walking Tours
⭐️ Rating: 4.3 out of 5 Stars | ⏰ Tour time: 3 hours | 🚶‍♀️ Check rates and availability
Embark on a spirited adventure through the streets of Lisbon on this Drunken History Walking Tour. This isn't any ordinary tour—it's an experience blending the best of Lisbon's nightlife with captivating tales from the past.
Kickstart the journey with a refreshing glass of wine. You'll then navigate the labyrinth of streets, learning about the cheeky and sometimes scandalous lives of Lisbon's iconic figures.
Along with historical tales, you'll also discover Lisbon's renowned bars, sampling genuine ginjinha and sipping on authentic Portuguese cocktails. You'll also learn about their origins and the stories behind them.
Guided by a local enthusiast, this tour allows you to uncover Lisbon's hidden gems and its lesser-known stories. And once the tour is over, the night is still alive—so make sure to enjoy Lisbon's nightlife. This is hands-down one of the best walks in Lisbon.
Lisbon Walking Tours
⭐️ Rating: 4.3 out of 5 Stars | ⏰ Tour time: 3 hours | 🚶‍♀️ Check rates and availability
Embark on a vintage journey on this Lisbon Tram No. 28 Ride & Walking Tour.
First up, a ride up the hill on Lisbon's iconic 28 tram, a ride that will showcase the city's gorgeous panoramic views and the shimmering Tagus river below.
Post tram adventure, you'll make your way down on foot. If your visit falls on a Tuesday or Saturday, the lively pulse of Feira da Ladra, the city's oldest flea market, awaits.
Other notable Lisbon walking routes include exploring the magnificent Sé de Lisboa, marveling at the Mosteiro de São Vicente de Fora, and uncovering legends at the Panteão Nacional.
Conclude in Alfama's labyrinthine alleys, where traditional Fado might serenade you in an intimate bar, marking the perfect end to your Lisbon afternoon adventure.
Lisbon Walking Tours
⭐️ Rating: 4.8 out of 5 Stars | ⏰ Tour time: 3 hours | 🚶‍♀️ Check rates and availability
Dive deep into Lisbon's rich tapestry on this History, Stories, and Lifestyle Walking Tour. Your adventure starts in Bairro Alto, a testament to the city's resilience after the great 1755 earthquake.
As you move along, the scenic garden of São Pedro de Alcântara offers panoramic views, while the lavish interiors of the São Roque Church dazzle with tales from the Baroque period. You'll then journey downhill and let the historic Carmo convent tell stories of revolutions.
Next, a tram ride will whisk you towards the Portas do Sol, unveiling the stunning Monastery of São Vicente de Fora and the mystique of the Alfama district—its winding streets, soulful Fado tunes, and local festivities await.
Your day concludes at the majestic Lisbon Cathedral, an emblem of architectural evolution, capping off your immersive Lisbon experience. One of the best walking tours in Lisbon Portugal, every step, every sight, and every story promises an unforgettable journey.
Lisbon Walking Tours
⭐️ Rating: 4.3 out of 5 Stars | ⏰ Tour time: 3 hours | 🚶‍♀️ Check rates and availability
On this 3-Hour Guided Street Art Walking Tour, you'll find that Lisbon's tales aren't just written in history books—they're vividly displayed on walls, whispering the city's soul and spirit.
Set off on a journey through neighborhoods where creativity knows no bounds. With your guide by your side, you'll explore the narratives behind each mural, delving into the symbolism, history, and techniques employed by the artists.
What makes this private tour even more special is its adaptability. Focus on the street art styles or districts that fascinate you the most. You're in control, and with a guide to navigate, there's zero stress.
Whether you're an art lover, a passionate photographer, or a curious traveler, this is one of the best walking tours Lisbon Portugal offers, as it promises a visual feast and a deeper appreciation of Lisbon's artistry.
Lisbon Walking Tours
⭐️ Rating: 5 out of 5 Stars | ⏰ Tour time: 3 hours | 🚶‍♀️ Check rates and availability
Designed with young explorers in mind, this 3-hour family walking tour ensures that the city's magic is accessible and engaging for all ages.
Begin your family's journey at Rossio Square before setting off to visit Castelo, Alfama & Mouraria. As you wander, your guide will transform tales of ancient landmarks into gripping stories that enchant younger minds, ensuring that history feels more like an adventure than a lesson.
The leisurely pace of the tour ensures that even the tiniest of travelers can keep up, allowing the family to soak in the surroundings without any rush. In this immersive family tour, Lisbon becomes a delightful storybook filled with tales the whole family will love.
Lisbon Walking Tours
⭐️ Rating: 5 out of 5 Stars | ⏰ Tour time: 3-4 hours | 🚶‍♀️ Check rates and availability
Discover the heart of Lisbon on this Best of Lisbon Guided Walking Tour, where the city's rich history and vibrant culture come alive with every step.
Kick off your journey in the age-old Moorish Alfama. The chic Chiado district is next, showcasing its timeless charm. As you venture into the stately Baixa, landmarks like the Carmo Church and the bustling Commerce Square await, each adding a new layer to Lisbon's story.
But this tour isn't just about landmarks. With your expert guide, you'll visit the city's cafes and boutiques, experiencing the true 'Lisboa' that locals cherish.
One of Lisbon best walks and perfect for first-time visitors, this Best of Lisbon Walking Tour is limited to just 14 individuals, ensuring a personalized and budget-friendly experience that covers the main Lisbon landmarks.
Lisbon Walking Tours
⭐️ Rating: 5 out of 5 Stars | ⏰ Tour time: 2.5 hours | 🚶‍♀️ Check rates and availability
Explore the best of what Lisbon has to offer on this comprehensive Lisbon Free Walking Tour, which serves as the perfect introduction to the city.
You'll journey through Lisbon's 3,000 years, seeing the iconic sights and gathering numerous local tips and recommendations. From the bustling streets of the center to hidden gems tucked away, you're in for an authentic Lisbon experience.
The best part? At the end of this free tour Lisbon experience, you decide what the experience was worth, aligning your contribution with your satisfaction and budget.
This Free Lisbon Tour promises not just sights but the very soul of Lisbon. It is hands-down one of the best free walking tour Lisbon has to offer.
Lisbon Walking Tours
What to Expect from A Lisbon Walking Tour
To truly enjoy your Lisbon walking tour, there are a couple of things that you need to take into consideration. The first is understanding your tour's details: the key destinations, notable sights, and its overall duration. Ensure that it aligns well with your budget and you've set clear expectations for what you wish to explore and learn.
Next, Lisbon is known as the city of seven hills, which can be a problem, especially if you have young children or have specific mobility limitations. In these cases, it would be best to book a Lisbon tuk-tuk tour.
Remember to dress accordingly. Comfortable shoes are a non-negotiable regardless of the season. In the wintertime, make sure to bring warm clothes and rain protection, while in the summer, protection is key, including sunglasses, sun protection, and a hat.
Lastly, the season can influence your tour experience. Summer often means larger groups, potentially making private tours a more appealing choice for some. Regardless of the specifics, remember to immerse yourself in the moment and, most importantly, enjoy every step.
FAQS About Lisbon Walking Tours
Should I do a walking tour in Lisbon?
Yes! The best way to really explore Lisbon is by foot. Walking tours offer an intimate and immersive experience, allowing you to discover hidden gems, soak in the local culture, and appreciate the city's unique atmosphere at your own pace.
Can you walk around Lisbon in a day?
While it is recommended to take 2-3 days to explore Lisbon fully, you can certainly cover the main attractions in the city center in a day.
However, to delve deeper into Lisbon's rich history and diverse neighborhoods, consider extending your stay or pairing a walking tour with a bus or boat tour for a more comprehensive experience.
Is it easy to walk in Lisbon?
Yes—it is easy to walk in Lisbon. But keep in mind that the city is quite hilly, so be sure to wear sturdy and comfortable shoes.
The reward for navigating its charming cobbled streets and alleys is the breathtaking views and unique architectural wonders that await you at every turn.
Is Porto or Lisbon more walkable?
Both Porto and Lisbon are renowned for their historic charm, but when it comes to walkability, Porto has a slight edge.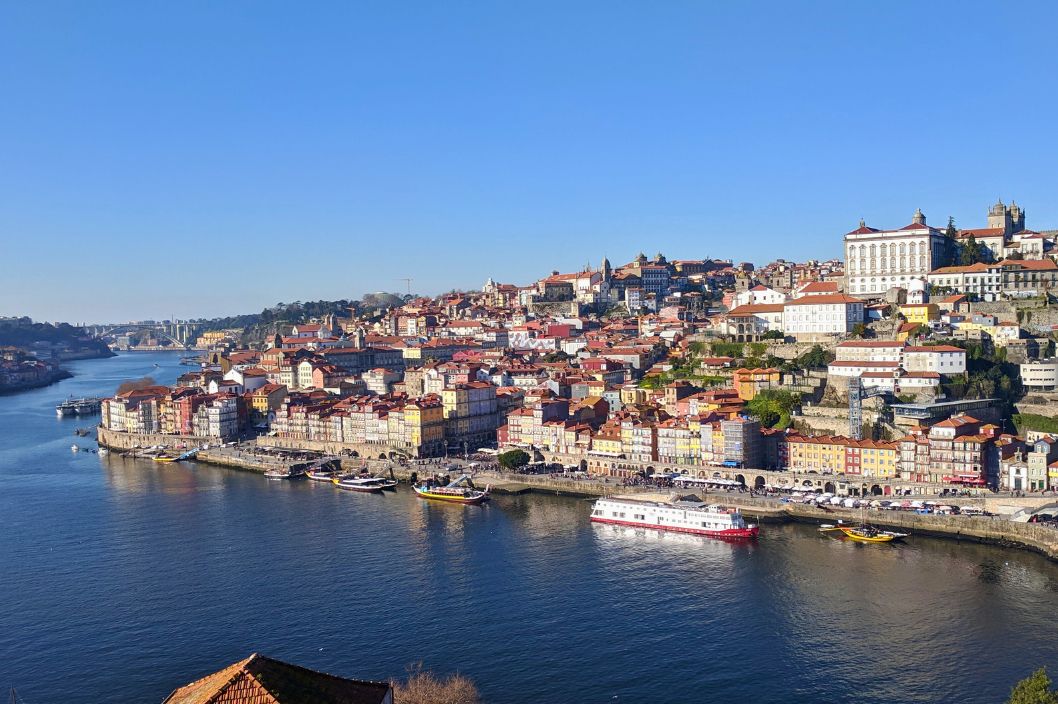 While Lisbon's beauty is spread across seven hills, which can make walking quite demanding, Porto's landscape, though hilly in parts, is more compact and manageable. Both cities boast narrow streets, scenic viewpoints, and riverfront areas, but Porto's smaller size and dense historical center make it slightly more pedestrian-friendly for those eager to explore on foot.
Can you explore Lisbon on foot?
Absolutely—Lisbon is a wonderful city to explore on foot. Its compact size and pedestrian-friendly areas make it a joy to wander through the lively streets and stumble upon charming cafes, shops, and historical landmarks.
So is Lisbon good for walking? And is Lisbon a walkable city? YES! So make sure to bring a pair of comfy shoes and set off on your own Lisbon adventure by food.
More Lisbon Travel Articles
I can tell you firsthand that a Lisbon walking tour is one of the best ways to explore Lisbon — so I'm glad you landed on this blog article to book yours.
If you're looking for more info on traveling to Lisbon, Portugal, check out these additional Lisbon travel guides:
Final Thoughts: Best Lisbon Walking Tours
A walking tour in Lisbon offers a splendid mix of history, culture, and breathtaking views. The key to fully enjoying this captivating journey lies in preparation—from understanding the tour dynamics to dressing aptly for the city's terrain and climate.
Whether you opt for a private excursion, free walking tours Portugal or dive into the vibrant energy of larger groups, always prioritize comfort and curiosity. And don't worry about the Lisbon walking tour cost — as there are many tours that fit different budgets.
⭐️ You can even try to do it yourself. You can put together your own Lisbon walking tours Google Maps option or even download a Lisbon walking tour map for a self-guided experience.
And as the cobblestone streets of Lisbon unfurl their stories, let yourself be drawn into their rhythm, ensuring an experience that is both memorable and enriching.