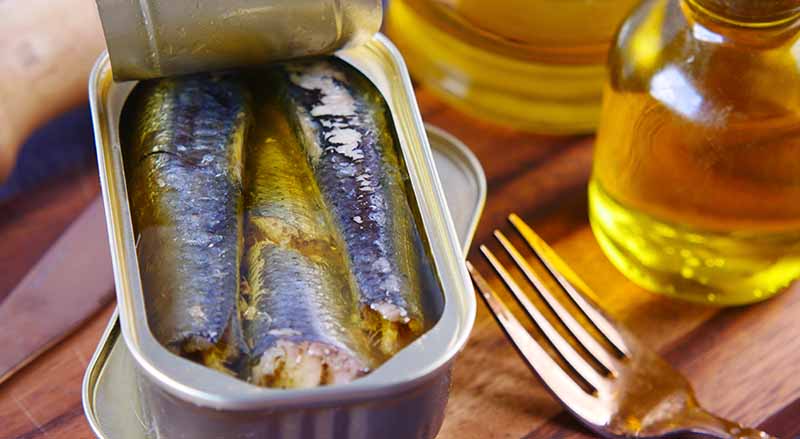 The history and culture of the Portuguese sardine have always fascinated most newcomers and tourists. These silver-scaled fish have found their way not only into culinary specialties but also into art, music, and souvenir shops.
Sardines are the Eiffel Tower of France, the Pisa Tour of Italy, and the Acropolis of Greece. Sardines even have their own holiday in Portugal, as freshly grilled sardines are the street meal of choice for St. Anthony's Day, on June 13th.
The perfect quantity and quality of sardines throughout Portugal's vast coastline turned this fresh fish into a national treasure, preserved and consumed fresh throughout history. However, the most celebrated sardine these days is not the charcoaled one but the one preserved in a tin. The sardine lies at the heart of Portugal's preserved seafood tradition and the cultural and economic fabric, even more so than bacalhau (cod fish) or cavalinha (a type of mackerel). So how has it assumed such an important role in the country, and what are some of the best Canned Sardines from Portugal?
If you've never tried fresh or canned sardines in Portugal, you've missed out on one of the country's most rewarding gastronomic experiences. This umami-rich, fish-flavored, and meaty texture Portuguese delicacy is full of nutrients. Sardines are adaptable proteins that go well with almost any sauce or flavor. You can try it with hot sauce, olive oil, sunflower oil, tomatoes, garlic, and almost anything else.
So, what makes sardines so popular in Portugal? When did tinned sardines become a meal served in gourmet restaurants? Is there a difference between whole canned sardines and filets? What about sauces? Where can you find the best canned sardines from Portugal? Where should I go to buy or taste them? Let's find out.
History and Rebirth of Canned Sardines in Portugal
Fish conservation has a long history in Portugal and has become a tradition that plays a significant part in the country's narrative. So, how did canning sardines start in Portugal, and how has it become such a staple of Portuguese cuisine?
During the Iron Age, the method of preserving fish in sea salt was introduced to the Iberian Peninsula. However, it wasn't until the early 1800s (1809 to be exact) that canning became a reality, thanks to the efforts of Nicolas Appert, a French chef, confectioner, and distiller who perfected the method of preserving food by putting it in hermetically sealed containers. He was only able to do this after 14 years of experimentation. Soon after, in 1820, the Englishman Joseph-Pierre Colin improved the technology and offered canned sardines to the market, launching a large-scale production through its canning factory in Nantes, France.
What started as a method to preserve fish in the 19th century has turned into Portuguese art. In Portugal, it all started in Vila Real de Santo António in 1865. That's when Ramirez, the first canning company in Portugal, began packing sardines, tuna, and mackerel into tin cans. This move occurred because of a shortage on the French coastline and a significantly higher number and quality of sardines in Portugal. Years later, fueled by the two world wars, Portugal significantly expanded its production, giving Europe's countries and soldiers easy-to-transport, nutritious, and long-lasting food. By 1950, the country had over 400 canneries.
Since then, the Portuguese have continued to refine new canning techniques, making the product a specialty in the country. The convenience of tinned fish moved away from the battlefield and into the daily lives of Portuguese families.
Significant declines in the 1970s and 1980s prompted several factories to close. With only 14 canneries operating today, the industry has witnessed a rebound in the last ten years. The amount of exported fish remains similar to the glory days, thanks to technological developments and increased tourism.
Ramirez, the oldest cannery in Europe, first established factories in Setubal, the Algarve, and Vila Real de Santo Antonio in the north to can sardines in olive oil. After pasteurization was adopted in 1862, several more canneries arose, not just for sardines but also for other seafood. These canneries were mostly in Espinho, Setubal, and the Algarve, all of which had thriving sardine canneries.
The good news is that this century-old canning fish tradition is still strong. Today, canneries dominate the area around six fishing ports: Matosinhos in Porto; Peniche between Porto and Lisbon; Sesimbra and Setubal, located in the south of Lisbon; and Portimao and Olho in southern Portugal.
From the Sea to the Can: Catching and Canning Fresh Sardines
People usually call any small fish canned in oil sardine. However, this is incorrect. When we speak of sardines in Portugal, we mean "Sardina Pilchardus," which lives between 25 and 100 meters deep under the surface.
Spreading along the Atlantic and Mediterranean coasts, these silver-colored fish seek refuge in deep water, escaping predators during the day. At night, the sardines rise to the surface to feed—this is one of the main reasons fishing happens at night. So, when does the sardine fishing season start? How are the sardines caught? And what happens during the canning process?
In this section, we will answer all these questions.
Sardine fishing season
Sardines spawn from October to April, which is the period when it is forbidden to fish sardines. The Portuguese sardine season runs from May through October, which contributes to their popularity as beach food. Grilled sardines, accompanied by potatoes, bread, and a salad, is THE summer meal in Portugal.
Catching and canning sardines
To catch sardines, fisherman go out at night, at about 10–11 pm, and return at sunrise. Depending on the season and the volume of sardines in the water, sometimes they can stay at sea until 12 pm the next day.
Sardines are caught using purse seine gear designed for adult fish. But what happens when the sardines arrive at the factory?
The sardines are scaled. Their heads and tails are cut off, and their entrails are removed.
They are then brined for about 30 minutes, rinsed to remove salt, and precooked in oil or steam.
While they are cooking, the workers put the spices in the can, depending on the flavor. Spices can go from laurel to carrots, piri piri, and much more.
The "canning process" begins: the sardines are canned in a tinplate, filled to the brim with high quality olive oil or another sauce. Sauces can vary from olive oil to spicy olive oil, tomato sauce, spicy tomato sauce, and much more. They can also be prepared with other ingredients like lemon and spices like black pepper.
After that, the cans are hermetically sealed to stop air from entering and ruining the fish.
Finally, the cans are sterilized to allow the fish to be preserved without adding preservatives.
Once this is done, the tins are not sent for sale directly. They are stored for at least three to six months.
Artisanal and industrial Portuguese canning factories
Of the 14 factories still operating in Portugal, only one is listed as artisanal and still uses the traditional canning process. It's Pinhais from the coastal town of Matosinhos in northern Portugal. But, what's the difference between artisanal and industrial canning factories? One of the key differences is that artisanal factories pride themselves on doing almost everything manually. They only use traditional methods for canning, and everything is cut, trimmed, and canned by hand. Whereas in industrial factories, almost everything is done using machines.
Whole Sardines or Sardine Filets?
Sardines, despite their small size, have a rich taste. These tiny but mighty fish are a sustainable source of protein, packed with nutritious benefits and full of varied flavors.
We know now that sardines' heads, tails, entrails, and fins are removed before cooking, thus preserving the skin and bones. After a few months, the skin and bones almost disappear and dissolve into the flesh, adding flavor and nutrients to the canned fish.
However, there are also sardine fillets. But, what's the difference? Before we compare whole sardines with sardine fillets, you should know that the essential differentiator is that sardine fillets are skinless and boneless. So they are boneless sardines. So, comparing the flavors of the same brand and sauce, we'd say they both have rich flavors. However, the whole sardine, with the skin and bones, clearly has something else to offer in terms of texture and taste.
As for the price, sardine fillets are slightly more expensive because deboning can only be done by hand without machines, which takes more time and resources. While whole sardines and sardine fillets weigh the same, the latter is obviously easier to make and may have a more appealing presentation.
Sardines or Small Sardines?
Sardines and their smaller cousins, also called petingas, are both popular in the canned fish industry.
In terms of can size, regular sardine cans typically hold four sardines to fill a can entirely. The petingas are smaller sardines that come in a six-pack can. In terms of flavor, petingas have a somewhat richer flavor than regular-sized ones. Small sardines are also very easy to consume since they don't have hard scales or hard spines. You can enjoy them on a piece of bread soaked in pure olive oil, as a starter, in a meal, on toast, or in a salad. So which can of sardines would you prefer?
Olive Oil, Vegetable Oils, or Sauces?
After a harsh collapse, Portugal's canning sector needed to rebound and reinvent itself. They succeeded and developed new recipes. Today, sardines are preserved in various ways other than olive oil.
You have sardines in vegetable oil, extra-virgin olive oil, tomato sauce, spicy olive oil, spicy tomato sauce, oregano, piri piri, sardines with bell peppers, cloves, lemon juice, garlic, pepper, curry sauce, and much more. They're tasty because the sauce mixes into the fish meat during the canning process, adding to the flavor of the sardines.
All these sauces have distinct flavors, but the recommended sardine style is a tin of high-quality sardines. We love sardines in extra virgin oil, smashed on a toast with a squeeze of lemon. You can also try Mark Bittman's famous pasta with sardines. It's simple to make and simply delicious.
Sardines: Great For Your Health
Besides being delicious, a perfect meal for summer, and a versatile ingredient, sardines are a healthy option. To be fair, they are not only good for your health, but they are also healthy food superstars. So, what are the top nutrients in sardines, and what are their health benefits?
Omega-3 Fatty acids: sardines are high in omega-3 fatty acids. These nutrients are beneficial for your heart since they reduce cholesterol and lower blood pressure. These fatty acids are also valuable to the brain and the skin, reducing skin inflammation.
Proteins: sardines are rich in proteins, which help control blood sugar levels by slowing sugar absorption. The high protein content also helps prevent food cravings.
Calcium: Sardines are beneficial for your bones as they are high in calcium. When whole sardines are canned, the bones soften and become easily digestible. As a result, you can eat the entire fish, benefiting from the extra calcium from the bones.
Vitamin D and B12: other nutrients essential for the bones found in sardines are vitamin D, magnesium, and phosphorus. Sardines also contain vitamin B12, which keeps the blood and nervous system healthy.
No mercury: While some fish may have high levels of pollutants like mercury, sardines are one of the better choices, thanks to their reduced mercury levels. This is because sardines are caught young, giving them no time to accumulate mercury. Because this fish is at the bottom of the food chain, it does not have harmful toxins or heavy metals.
In fact, healthy sardines are so great that we should start saying: a can of sardines a day keeps the doctor away. In the end, It is a great addition to your diet.
Where to Buy the Best Canned Sardines from Portugal
Sardines in cans are a symbol of the Portuguese industry and gastronomy. Walking through the streets of Lisbon or Porto, you'll come across sardine shops where you can purchase limited-edition sardines preserved in various sauces. There are cans with vibrant prints, classic designs, significant historical dates, and even gold-plated cans with edible gold. The added perk is that they make excellent souvenirs.
So, where can you find the best canned sardines from Portugal? Here are some of the best shops where you can buy and even taste Portuguese sardines.
Loja das Conservas
The Loja das Conservas opened its first store in Lisbon in August 2013, at Rua do Arsenal. The store became an instant hit and started to open new stores both in and outside of Portugal (including Lisbon AND Porto), as well as a restaurant. They also sell their sardines online on their website. Lojas das Conservas sells over 300 items, from sardines to tuna, octopus, mussels, and other seafood, from more than a dozen canning factories across the country.
A Vida Portuguesa
The first A Vida Portuguesa store opened in June 2007 in the heart of Chiado. Occupying the centuries-old and extraordinary premises of the former David & David perfume factory and warehouse, the store has kept the perfumery's beautiful cabinets and rice powder jars. In 2009, the particular store was also called Time Out Lisboa, one of the 10 most original stores in the city. The name, in English, means "The Portuguese Life," and this shop's mission is to sell traditional Portuguese brands that have survived the test of time. This includes tinned fish. Here you can find all the different brands like Tenório, José Gourmet, Catita, Tricana, and others. Besides their Chiado location, they also have two other locations in Intendente and Mercado da Ribeira and an online shop.
Conserveira de Lisboa
Conserveira de Lisboa was first known as Mercearia do Minho and was established in 1930. Since then, the core business was canned food because one of its founders, Fernando da Silva Ferreira, was a retailer of this product. Today, the store maintains its original look with a characteristic 30s style. For example, the main counter, the shelves, and the office didn't undergo any changes. The shelves are packed with the store's own brands like Tricana, Prata do Mar, and Minor. You can also find Conserveira de Lisboa at the Mercado da Ribeira.
The Fantastic World of Portuguese Sardines
This store probably is one of the most famous sardine shops in all of Portugal, not only because of its sardine collection but also because of its circus-like decor. Founded in 1942 in Murtosa, Aveiro, Comur is one of the most recognizable brands in the Portuguese canning business today. It produces over thirty varieties of canned foods, including sardines. There are twenty-three Comur stores across the country, which also include the O Mundo Fantástico da Sardinha Portuguesa and Fábrica das Enguias (Eel shop).
Mercearia das Flores
Opened in 2012 to promote Portuguese products, the Mercearia das Flores sells products from local producers. It features a wide range of regional products, from cheeses to charcuterie, olive oils, wines, and canned foods, including sardines. You can grab a can and take it home or sit at a table and taste it.
Casa Chinesa
A traditional gourmet grocery store in located Porto, Casa Chinesa opened in 1938 and offers a wide range of high-quality products, including canned fish.
Where to Eat The Best Canned Sardines from Portugal
If you've never tried canned fish or sardines before and are hesitant about it, we recommend going to one of the following canned food restaurants. But how does this work? So, for most of these restaurants, you choose your can and eat them in natural style, which means directly served from the can onto the plate. Some restaurants will sprinkle some herbs over the top and serve it with a side of bread. Or you can order from their menu that includes dishes with their own recipes that actually use the canned goods in them.
Can the Can (LISBON)
This restaurant is all about canned food, and they make it very clear from its name to the decor. In the center of the space hangs a massive chandelier made of recycled tins. This is a place where Portuguese canned and fresh foods meet every day and where, at the hands of chef Akis Konstantinidis, they combine to create a new concept in Mediterranean cuisine. Various typically Portuguese products are on show here, such as the best Port wines. And if you find that you like them as much as we think you may, you can always take them with you, too, courtesy of our first-floor store.
Location: Praça do Comércio 82 83, LISBON
Opening hours: Monday – Sunday: 9:00 am – 1:00 pm
Sol e Pesca (LISBON)
In the heart of Cais do Sodré, an old fishery store (the Marreco store, closed for over 20 years) was converted in 2010 into a bar and canned food store while still preserving the decor and atmosphere. The furniture was refurbished, as well as all the objects and equipment that could be used, making fishing no longer the business but the decorative theme of the house. Today, they offer a wide and fantastic selection of canned fish, including sardines. Sol e Pesca has also launched a book of quick and easy recipes, some of which can be tasted at the restaurant.
Location: Rua Nova do Carvalho 44, LISBON
Opening hours: Tuesday – Sunday: 12:00 pm – 1:00 am; Monday: 3:00 pm – 1:00 am
Miss Can (LISBON)
Following the success of Luis Soares Ribeiro's two traditional tinning factories, his grandchildren opened Miss Can, an artisanal tinned fish shop. Expect the best Portugal offers: genuine tinned fish, crunchy bread, wine that is down to earth and up to the task, and a warm, welcoming staff that will make you feel at home.
Location: Largo do Contador Mor 17, LISBON
Opening hours: Monday – Sunday: 11:00 am – 7:00 pm
Maria do Mar (ALGARVE)
Visit Museu do Portimao and learn everything about fishing and canning sardines, then go to Maria do Mar in the district of Faro in the Algarve region to try some delicious sardines and other canned fish.
Location: Rua Direita 89, Portimao, ALGARVE
Opening hours: Monday – Friday: 12:00 – 6:00 pm; Saturday: 11:00 am – 3:00 pm
Conservas Pinhais (PORTO)
Visit the artisanal canned NURI and Pinhais museum. Discover the unique handmade method of canning sardines, followed by a tasting session. You can also eat at their Can-Tin Café. They serve a variety of delicacies, including NURI and Pinhais sardines.
Location: Av. Menéres 700, Matosinhos, PORTO
Opening hours: Monday – Sunday: 9:00 am – 6:00 pm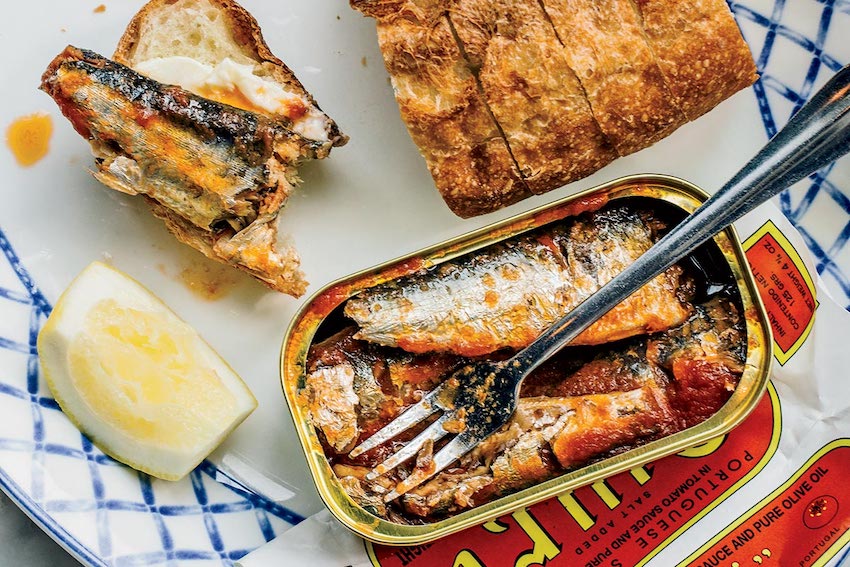 The Best Canned Sardines are from Portugal
Whether you like big sardines over small sardines, sardine fillets over whole sardines or sardines in tomato sauce instead of extra virgin olive oil is a question of taste. However, it's fair to say that sardines are easy to love. It's a versatile and simple ingredient. Try it straight from the can, as a salad topping, or on a slice of bread. Sardines are also good for your health and can be enjoyed in picnics with some Portuguese wine or even served in gourmet restaurants. So, next time you are not sure what to have for dinner, now you know. And there you go, the best-canned sardines from Portugal.
Is there a particular restaurant or canned fish brand you recommend we try? Let us know in the comments below.