Lisbon is a beautiful city, full of color and movement. However, sometimes it feels good to escape the hustle and bustle of city life and lose yourself in a lush and beautiful garden oasis. For these times, why not try exploring the many Lisbon gardens the city offers? This article will cover various green spaces, from public parks to palace gardens.
Let's explore some of the most beautiful Lisbon gardens.
Parque Bensaúde
Parque Bensaúde is a hidden gem of a park. Located in Laranjeiras, it is worth the trip if you want a relaxing picnic, even on the weekend (unlike other parks — ahem, Jardim da Estrela). The park is 3.5 hectares and includes a dog park, a children's playground, and a café with Wi-fi and bathrooms.
Parque Bensaúde used to belong to a 17th-century farm sold to the Lisbon council in the 80s, and you can still find some remnants of this farm, like old stone buildings, around the park. There's a beautiful pathway surrounded by sycamore trees that'll make you feel like you're in a Doris Day song, and the oldest identified cork oak tree in the city is located in this park.
Another curiosity of the park can be found close to the entrance, where you'll find vegetable gardens and often someone doing some gardening. These lots of land are rented out to citizens to cultivate and are part of a city-wide project for urban agriculture. If you are lucky, maybe you can befriend someone who grows their own vegetables.
---
Location: R. Cidade de Cádiz 27, Lisboa
How to get there: Parque Bensaúde is a 10-minute walk from the Laranjeiras subway stop. Buses 701, 726, 764, and 738 all stop nearby.
Hours: Summer hours (April 1st to September 30th): 7 AM–9 PM; Winter hours (October 1st to March 31st): 7 AM–8 PM
Jardins do Palácio Fronteira
If there was ever a time to dust off your 17th-century silk gown from the back of your closet, this is it: you'll fit right in. Palácio Fronteira belongs to the Fronteira and Alorna family, who still live on the premises. Due to that, visits to the actual Palace are limited to mornings and subject to e-mail scheduling. The gardens are much more accessible; all you need to do is show up.
The Palácio Fronteira gardens are beautifully decorated with ponds and fountains, whimsical statues, and Portuguese tiles. There is also an outside gallery with busts of Portuguese kings. The garden's greenery has a neat, symmetrical neoclassical feel to it. You'll feel like you stepped right into another era.
Located in Benfica, this Palace is very close to Monsanto. But be warned that no cafés or bathrooms are available if you visit the gardens.
---
Location: Largo São Domingos de Benfica 01, 1500-554 Lisboa
How to get there: Palácio Fronteira is a 15-minute walk from the Jardim Zoológico subway stop. If you don't feel like walking, take the 770 bus from the Jardim Zoológico subway exit, it'll take you right to the front door.
Hours: Monday to Friday: 10 AM–5 PM (last entrance at 4:30 PM)
Fee: Entrance to see these Lisbon gardens: 5€ Audio guide: 3€
Estufa Fria
Estufa Fria, which translates to 'cold greenhouse,' is a luscious jungle in the middle of the city. It was built in 1930 on an old quarry adjacent to Parque Eduardo VII—one of the most beautiful Lisbon gardens.
Estufa Fria is divided into three types of greenhouses. There's a cold greenhouse, covered in thin slatted wood, full of plants like camellias (which flower in the colder seasons), ferns, begonias, and azaleas. Then there's the hot greenhouse, which boasts higher temperatures and humidity and is covered with a glass roof. This greenhouse is home to plants that naturally grow in tropical weather, like banana and mango trees. And finally, there is the sweet greenhouse that carries the most extensive collection of cacti in Europe!
There is free Wi-fi inside the premises, but no cafés. Once you're done exploring the jungle, you can go to Linha d'Água, a pleasant closeby café with a waterfront terrace, and relax.
Fun fact: With an area of around 800 m2, the Nave da Estufa Fria de Lisboa is also available for events like parties and weddings.
---
Location: Parque Eduardo VII, 1070-051 Lisboa
How to get there: Since it's in Marquês de Pombal, Estufa Fria is very accessible. There's a subway stop where the yellow and blue lines intersect and several buses like the 727, 738, and the 783.
Hours: Tuesday to Sunday. Summer hours (starting on the last Sunday of March): 10 AM–7 PM; Winter hours (starting on the last Sunday of October): 9 AM–5 PM
Fee: 3,10€ for most people. Entrance is free on Sundays and holidays until 2 PM.
Jardim do Torel
Once belonging to a 17th-century farm, Jardim do Torel is currently the hotspot for a relaxing garden with a beautiful view of East Lisbon. It has two levels, the upper with the view, benches, and grass, and the lower with white tile, a café, and a fountain that was, for several summers, turned into an artificial beach.
Fun fact: the first-ever Lisbon hillside cable car—Ascensor do Lavra—was built to help walk up the steep hill that connects Avenida da Liberdade to this garden! It is still operational and beneficial for the Lisbon walker. Please consider watching the sunset from this Lisbon garden at least once.
---
Location: R. Júlio de Andrade, 1150-122 Lisboa
How to get there: If you want to take the subway, you can exit at the Restauradores stop and walk up for about 10 minutes. Alternatively, take the 19B bus that stops in Marquês de Pombal and Rato. If you'd like to ride the hillside cable car, Ascensor do Lavra (52E), you can do so from Largo da Anunciada, closer to the Avenida subway stop.
Hours: Summer hours (April to September): 7 AM–10 PM; Winter hours (October to March): 7 AM–8 PM
Jardim Botânico Tropical
If you're into botany, Jardim Botânico Tropical is a must. Built so students could find unique tropical and subtropical plants, Jardim Botânico Tropical is still an educational space.
For the general public, plaques explain the history of this Lisbon garden throughout the pathway, guided tours, and an educational app developed by Lisbon University. Some portions of this garden were closed to the public for a while and have recently been restored, making this the ideal time to visit.
The Botanical Garden is a puzzle influenced by different eras and cultures. The garden is home to romantic 19th-century, baroque 18th-century, and older 17th-century sections. This Lisbon garden has rare and uncommon plants, including a collection of trees that only grow at the top of the São Tomé island in the Atlantic. These tropical plants are peppered throughout the wider pathways or kept in dedicated gardens.
If you visit this Lisbon garden, there are two sections you should visit: a bizarre Tim Burton-esque cactus garden and the enchanting Macau Gardens. The cactus garden is peculiar because it was planted along with trees that eventually cut off the cacti's access to direct sunlight. This resulted in some cacti climbing the trees to survive. The Macau Garden mixes Chinese and Portuguese elements such as pavilions, bridges, a moon gate, and small waterfalls and balusters typical of Portuguese farms and gardens. These two unique gardens make the trip to Belém completely worth it.
Be aware that there are no cafés inside this Lisbon garden, but the Botanical Garden is very close to the Belém commercial area if you feel like going for a bite after exploring nature.
---
Location: Largo dos Jerónimos, 1400-209 Lisboa
How to get there: Jardim Botânico Tropical does not have a subway stop, but other options exist. You can either take the train in the line from Cais-do-Sodré to Cascais and leave at the Belém stop, take the 15 or 18 tram or take the bus 714, 727, 728, or 729.
Hours: Summer hours (October 1st to March 31st): 10 AM–8 PM; Winter hours (April 1st to September 30th): 10 AM–5 PM
Fee: The adult tickets are 4€, and family tickets with kids from age 10 to 17 are 10€. Entry is free on Sunday mornings.
Jardim da Gulbenkian
The Gulbenkian Garden stands out in this list due to its distinct landscaping. It is a modernist garden built in the 60s with a German landscape architectural influence, focusing on creating smaller spaces and environments rather than a neat and cohesive whole.
Gulbenkian garden is a collection of nooks and small pleasant clearings where you can stop in the shade, take a seat and appreciate the quietness, with extensive geometric pathways leading the way. Dense vegetation and water run throughout this Lisbon garden, making for an intimate and discrete experience. There are also ducks, moorhens, starlings, kingfishers, blue tits, great tits, barn swallows, and even an amazing-looking black-crowned night heron (that also shows up during the day), among many other birds.
If you prefer a bit of sun, there's a grassy area close to the museum café, in front of a pond. From this spot, you can see the outside amphitheater, accessible through the garden, where concerts and events happen throughout the hotter seasons.
Gulbenkian Museum hosts or encourages several garden-related activities, such as "garden sketching." If you feel inspired and draw a picture of the garden, your work can be shared on the museum's website!
---
Location: Av. de Berna, 45A, 1067-001 Lisboa
How to get there: You can take the subway to Praça de Espanha (blue line) or São Sebastião (blue and red lines). There are also a lot of buses that stop in the area: 716, 726, 756 (Av. de Berna), 746 (Av. António Augusto de Aguiar) and 713, 742 (Rua Marquês da Fronteira).
Hours: Wednesday to Monday: 9 AM–8:30 PM, Tuesday: 8 AM–8 PM
Jardim da Estrela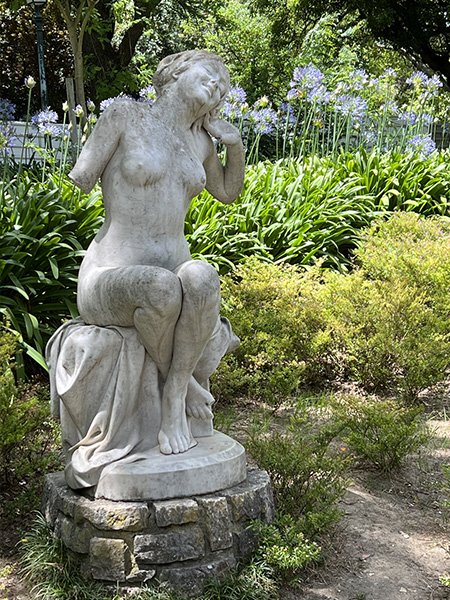 Facing the Basílica da Estrela, you will find the Jardim da Estrela, a wonderful green space in the neighborhood and one of the most beautiful parks in Lisbon.
Families can sit on the lawn and enjoy the beautiful weather or go to the kiosk/café, which sells food and drinks and offers outdoor seating. We recommend you relax in the shade of a tree, sitting on one of the easy-to-find garden benches with a cup of coffee, a glass of wine, or a fast snack. There are also picnic tables and people jogging or exercising. There is even a kiosk for the municipal library at the center of the Jardim.
If you enjoy photographing nature, this is your ideal place. Many exotic trees like jacarandas, dragon trees, and araucarias are here. Expressive sculptures also adorn the garden's paths, transforming the area into an alfresco museum where visitors can admire art or rest.
Make sure to check out the "O Despertar" ("The Awakening") and the "O Cavador" ("The Digger") sculptures.
The Jardim also hosts many events. For instance, in the center of the garden, there's a lovely gazebo that acts like an old-fashioned bandstand and holds summer concerts. Every first weekend of the month, except for January, the Jardim enjoys a craft and design market, from 10:00 AM to 7:00 PM, where designers from all over Portugal exhibit their creations.
Want to learn more about the Estrela neighborhood? We've written an article: Estrela Neighborhood Guide: The Stunning Star of Lisbon.
---
Location: Praça da Estrela 12, 1200-694 Lisboa
How to get there: Jardim da Estrela's ideal location makes it incredibly accessible. Trams 28E and 25E stop there, as do buses 773 and 774, so there are plenty of options for visiting the Jardim using public transportation.
Hours: Every day, 7AM-12AM
Jardim da Cerca da Graça
Jardim da Cerca da Graça is the largest public access green space in the historical part of town and is around 1.7 hectares. The best part? It's completely free and open to the public. That's right, no need to worry about buying tickets—you can bask in the view of old Lisbon at your leisure. The garden used to belong to a convent and has a beautiful view of S. Jorge Castle, Baixa, and the river.
This garden is interesting due to its strong community aspect. There's a kiosk café (with a bathroom), an area for picnics, and a large grass area for dogs to play on.
On Saturday mornings, neighbors and visitors have plenty of activities: yoga, gardening, and mural painting. Cozinha Popular da Mouraria organizes all these activities and more; you can check their website to see future events and enroll.
Whether you come to this Lisbon garden for a specific activity or to relax and watch the sunset, you'll feel the power of a strong community.
---
Location: Calçada do Monte 46, 1100-362 Lisboa
How to get there: One of the most iconic Lisbon trams passes by Jardim da Cerca da Graça, the 28E. You can also ride one of these buses: 10B, 13B, 734, 797. If you're thinking of going into this Lisbon garden through Mouraria, the tram 12E stops close to the entrance.
Hours: Every day: 7 AM–11 PM
Jardim Goethe Institut
A bit of a hidden gem in the middle of the city, this Lisbon garden is inside the Goethe Institut, the German language school in Campo Mártires da Pátria. There's a lovely café in their interior garden, which serves warm meals daily. Overall, it's an excellent spot for a little break.
Another thing that makes this Lisbon garden unique is the Jazz festival that happens every year in July. The "JIGG — Jazz in Goethe Garten" has a very intimate setting, with the small stage at eye level of the audience and a casual ambiance. There are several chairs, but we'd advise you to go a bit earlier if you want to find a spot to sit. The café sells pints of German beer, Apfelschorle—a drink that's a mix of sparkling water and apple juice—pretzels, and other German delicacies. If you happen to be in Lisbon around the beginning of July, do yourself a favor and listen to some Jazz bands from all over Europe.
---
Location: Campo dos Mártires da Pátria 37, 1169-016 Lisboa
How to get there: If you take the subway, you can leave at the Avenida stop and walk for about 12 minutes. Alternatively, take the 723, 730, or 767 buses.
Hours: Monday to Thursday: 8:30 AM–9:30 PM; Friday: 8:30 AM–8 PM; Saturday: 9 AM–5:30 PM
Lisbon Gardens: some last thoughts
Suppose you're interested in visiting even more green spaces. In that case, we recommend the Jardins Abertos festival, a period of two weekends where you can see gardens that are usually closed to the public or harder to schedule, such as the English Cemetery, the Ismaili Centre, or the Permalab. You can either choose to visit the places by yourself or have a guided visit, go to an exhibition or a themed guided tour. There are usually two editions per year, one during spring and one during Fall.
And there you, although we haven't mentioned all of the gardens located in the city, these are just a couple of our favorite Lisbon gardens. Have you visited any of these Lisbon gardens? Have we missed one? Let us know in the comments below.